For anyone who has even casually followed Marcellus and Utica shale gas exploration and production, here in the active gas fields of West Virginia or south-western Pennsylvania or Ohio, you know there are many concerns surrounding the complete natural gas production process, such as air pollution, water consumption and contamination, waste disposal, heavy big rig traffic on little roads and more.
We know that after all well the pad construction traffic and the drilling and fracturing are done we must have pipelines. The pipes are needed to get the gas to compressor stations, gas processing plants and hopefully to get most of it far out of Wetzel County, WV and send it to the east, and to the far, far east. Really, Far East.
According to the gas companies we need lots of pipelines, including some really big ones. The gas industry seems to be convinced that the silver bullet to improve their operations and to achieve some semblance of stability and profitability is to increase "take away capacity."  Which means, to start in Wetzel County, and maybe some other nearby tri-state counties and start building pipelines. BIG PIPELINES. Get the gas out of Wetzel County, sell it elsewhere and we are told, that, then, all will be well.
Proposed Pipeline Problems
One of the newer, very large diameter (42") proposed gas pipelines is the Mountain Valley Pipeline, originating at the village of Mobley here in eastern Wetzel County and the extending south-east through the national forests and over the Appalachian Mountains, on to Virginia.
(Other proposed pipelines in our area include the Atlantic Coast Pipeline, the Mountaineer Xpress and the WB XPress. The Stonewall Gathering Pipeline is already constructed.)
What could go wrong? After all, maybe the hydraulic fracturing with high pressure and high volumes of slick water in deep, long laterals was an ongoing new experiment, done live here for eight years with the resident Guinea Pigs in Wetzel County.
But we know how to build pipelines, don't we?   That is pretty basic, tried and true and understood technology, right. Well, yes; at least when compared to the fracturing process. The equipment, knowledge, and skill sets needed for pipeline construction is readily available and more commonly understood.
So, what could go wrong ? Glad you asked. Let me tell you.
Pipeline opponents express concern about habitat fragmentation, crossing of pristine streams and rivers, slipping and erosion, spills, diesel fumes, gas leaks and possible fires and explosions.  These are all very valid concerns. But the potential for other errors—from very simple to potentially serious can be shown clearly in my hay field here at home. How can that be?
Well, almost two years ago, EQT wanted to survey my property for their proposed 30-inch diameter Ohio Valley Connector pipeline. The application for it has now been filed with the Federal Energy Regulatory Commission (FERC). The project's FERC docket number is CP15-41-000.
The below map shows a section of the EQT Ohio Valley Connector as proposed almost two years ago. The red outlined area is our property here in Wetzel County. The yellow line shows the proposed path of the 30-inch pipeline through our land. It is an example of what one of the initially proposed routes would look like. It would have gone right through my hay field, and through and under our stream. Multiple routes were being explored at first.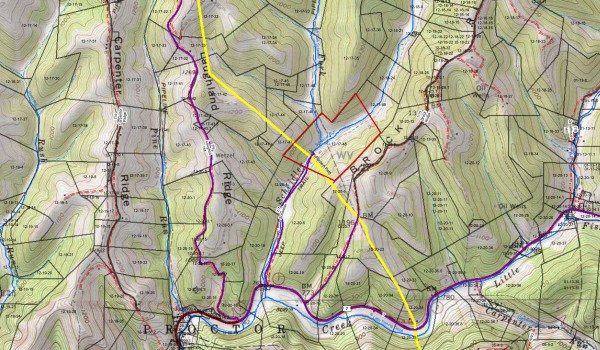 Let's temporarily set aside both the short- and long-term, specific and valid concerns of those who might oppose these large, high-pressure, big-diameter pipelines. What else could go wrong? We shall see. We will use my recent personal experience as a clear-cut, detailed and documented example of how a perfectly and professionally surveyed location on my home property contained an error of almost one mile. Yes, you read that right. How was our home, farm and property the target of a pipeline surveying error of more than 4,000 feet?
We must explain the contradiction of how two perfectly placed surveyor pins missed the mark by almost a mile. And, we wonder, could this happen again?
To find out, read Push for Pipelines – Part 2, here.