Winding, narrow country roads and the hordes of huge, heavy trucks associated with fracking activities do not mix well. Here's a little about just one of hundreds of problems that arise on the country roads these days.
From: Bill Hughes
Sent: Friday, May 01, 2015 10:43 AM
To: James Niernberger
Subject: Statoil's Wetzel County operations; traffic risk; pilot vehicle operations;
TO: Mr. Niernberger,
From: W. Hughes, Wetzel County, WV
You are more than likely not the correct person to send this to. However at this time I have no other readily available contact at Statoil. Please forward this to whomever at Statoil can address this traffic and risk management problem. The LEFT-OF-CENTER behavior depicted below is not uncommon. However it represents at least two serious problems which should be of great concern to Statoil.
1. Due to the rural neighborhood and small roads, those living near here know that the big rig equipment is going to a Statoil well pad. Some residents, might not know that it is going to the Henderson pad on Low Gap-Rocky Run road. But the residents recognized bad behavior on the part of the pilot vehicle, escort drivers and then transfer that image to Statoil. Public relations is important if Statoil wishes to become a better neighbor. Low Gap Road will remain a traffic challenge for Statoil.
2. If there had been any incident or accident yesterday due to the potential head on collision shown below, your Orion Rig move logistics would have been a nightmare. Any accident would have delayed delivery of the rig components and set up for many hours. You do not need that to happen either. The local RICOCHET traffic folks are doing a good job, but they cannot control the behavior of non-local pilot drivers like this one.
The pilot vehicle shown below had been running left of center around numerous blind turns prior to the below photo. One would think that, if he was paying attention, he would get back into his legally required lane with an oncoming 18 wheel tanker truck.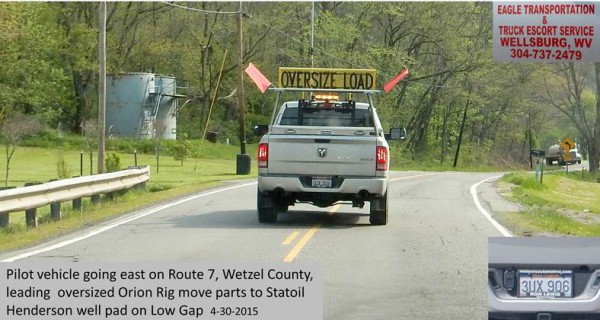 However, he continued — intentionally or absent-mindedly — to go further left of center, risking an head on collision, as can be seen below.
Statoil's attention to this problem will help you and the local residents and neighbors.
A note from OVEC: Bill Hughes works part time for OVEC. Learn more about him here.