Robin Blakeman was an OVEC organizer/project coordinator from 2008 to 2021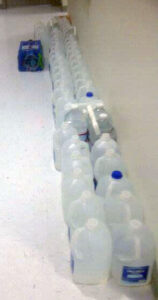 This picture at left (water bottles in the hallway of a school) captures a good memory of my time working with OVEC. Working with OVEC, I was able to make and nurture strong connections not only with my colleagues on staff, but also with other environmental justice organizations. The unity among staff members, and with those allies during times of crisis was unique and inspirational. This was possible due to mutual respect we had for each other, and a shared sense of purpose. One of our primary goals was to work for clean water in West Virginia, so—in 2014, when the primary tap water supply in our state was defiled by a coal washing chemical—it is no surprise we were able to quickly unite to help those in need and work for significant change.
Some background: The 2014 MCHM water contamination event was one of the largest environmental catastrophes—in terms of number of people affected—that has ever happened in this state. Schools, restaurants, hair salons, and many other businesses were shut down until the water supply could be deemed safe. In the meantime, water distribution sites were arranged by state officials, but these weren't sufficient to reach those who lived at the farthest reaches of the very large WV American Water Charleston intake service area. So, many public service, social justice, and environmental organizations banded together to collect and distribute potable water. OVEC was integrally involved in these water distributions in Kanawha and Boone county; such relief work was not usually on our work plan, but we saw the need and decided to do something about it—collectively as a staff, and in conjunction with many allies—like the Wheeling Water Warriors, who collected much of the donated water and critical supplies pictured, which we delivered to a school in Kanawha County during that challenging time.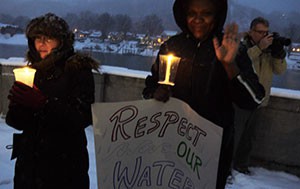 The flexibility to do this came from close association with our administrative staff, our funders, and all our colleagues—both on OVEC staff, and within allied organizations. We also communicated and worked well with each other and with allied groups to ensure that one of the best water protection bills ever heard of in WV was passed during the 2014 legislative session; to do this, we held candlelight vigils, legislative lobbying sessions, marches to and from the water company headquarters, and many public meetings to make our voices heard.  
Working with OVEC during this time truly proved to me that possibilities are endless when we unite during times of crisis—setting aside any type of personal differences and grievances.