Ohio Valley Environmental Coalition
Action Alert


Supported Organized Voices and
Empowered Communities 1987 – 2021
 

Feb 14, 2022

View / Comment Online
If you didn't already know, this news may come as a shock: OVEC has dissolved. Please know that OVEC is so grateful for all your support over the years!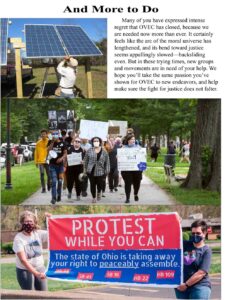 Since you won't be getting anymore action alerts and newsletters from us, and since we are in the middle of the West Virginia legislative session, we hope you will sign up for alerts, donate to, and join some of the groups OVEC worked with for decades, groups that are in the thick of it under the Golden Dome right now: 
West Virginia Citizens for Clean Elections
West Virginia Environmental Council
Note: E-Council's Virtual E-Day is Thursday, February 16 from 6 to 7:30 p.m. Register here.
West Virginia Rivers Coalition 
Please note this is far from a comprehensive list of the great groups OVEC worked with over the year that deserve your support. There are groups old and new in need of your support, such as the older-than-OVEC West Virginia Highlands Conservancy, and the new West Virginia Coalition for Truth in History, and many more, some of which are listed in our final letter to members.
Change Your Charity Link
If you donated to OVEC via Kroger Community Rewards and/or AmazonSmile, please go to their websites to change the organization to which you are donating. WV Rivers Coalition is one group set up to receive donations via Amazon Smile and the Kroger program (search the relevant web pages for "WV Rivers Coalition").
Thanks immensely for caring enough about our corner of the world to be an OVEC member and supporter. OVEC wishes you and our planet well. Onwards, in other ways…