Upshur County resident April Keating is a member of OVEC and a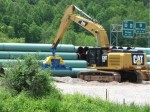 founding member of Mountain Lakes Preservation Alliance. The Alliance aims to stop, or at least slow, the gas industry's dreadful impacts to water resources and quality of life in north-central West Virginia.
April submitted a letter to the Clarksburg Exponent in which she notes:
Landowners along the (path of proposed 42-inch pipelines) can tell you that this industry is predatory. Land agents for the Atlantic Coast and Mountain Valley pipelines have been telling people they might as well sign the contract, lease the road, sell the land, because it's going to be taken eventually by eminent domain. A very important point to be understood about this is that statement is not true until the FERC decides to approve these pipelines, which they have not done.
There are people whose farms are in jeopardy, whose life savings, retirement, and businesses are on the line. West Virginia's water, and by extension the water in 13 states where our water goes, is on the line. These companies send their smiling agents to pressure people to sign away their inheritance, and for what? This is a large-diameter pipeline carrying highly flammable material, the largest that has ever been tried here. An explosion will vaporize everything within 1200 feet and burn everything in a 2-mile radius. If it is going through your property, you lose 25-75% of your property value. How is that a good deal?
Read the rest of April's letter here.
April and friends are monitoring the construction of the Stonewall Gathering Pipeline, which, in the area they are monitoring, is a "mere" 36-inch diameter. Here's April's report on a recent visit to one section of the pipeline. All photos below are by April Keating.
On October 11, we went out to do water monitoring at Goosepen Rd. in Gilmer County.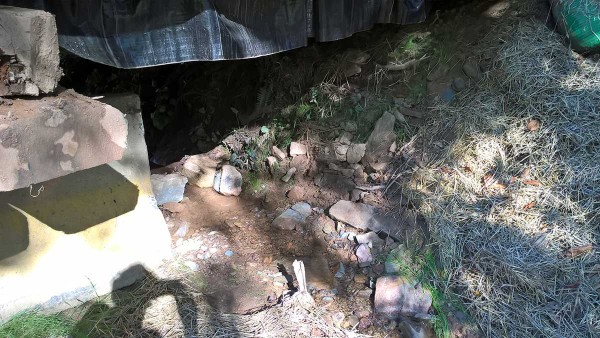 Goosepen 1, above, was taken just downstream of the bridge at the Stonewall pipeline crossing. Since we were last there 3 weeks ago, all of that pipeline segment has been buried. I have no idea if they did hydrostatic testing prior to burying it, or if they plan on doing it after burying it. The water here was clear, turbidity 120, pH was 7.0, conductivity 335. It had been raining heavily in the past 48 hours.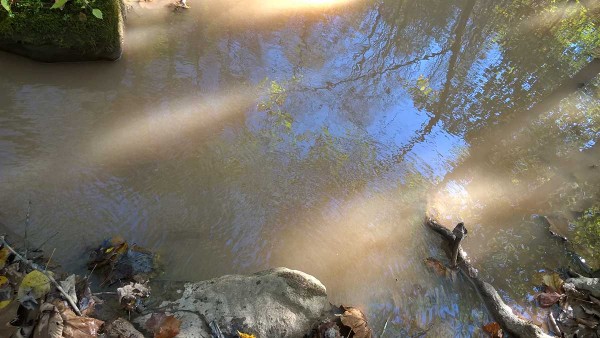 The photo of cloudy water, above, is from Goosepen 2, just downstream of the boring site on Goosepen Rd. (where they bore under I-79 S). The water here was very turbid. pH was 7.5, conductivity was 335, and turbidity was 4!
I have messages into the inspectors at DEP about this.
Incidentally, two weeks ago, a friend of ours visited a work site for the Stonewall gathering line and spoke to a supervisor, who told her that Precision Pipeline has never done a pipeline this large (36″) on this terrain, and they really don't know what they are doing. They are also way behind schedule, and they are working up to 16 hours per day, slips are occurring, and because of the lateness of completion, they must seed the hills with winter grasses now, then come back to do it again later. This man was very concerned and also stated that he believed that the other pipeline companies for ACP and MVP are watching Stonewall closely so they can avoid the mistakes that will inevitably occur. It seems that the inspectors know something we don't and I would suggest that the DEP try to keep a closer eye on the construction that is going on from here on out.
If you all follow the news, you may have seen the reports about the October 13 shale summit in Morgantown. Our officials were there with gas and pipeline companies and a few pro-gas non-profits, discussing how WV, PA, and OH could "join forces," as it were, to improve relations and collaborate on downstream projects related to the gas market in Appalachia. I'm sure no photos (such as those below, all from the October 11 Goosepen visit) showing pipeline construction were presented there.