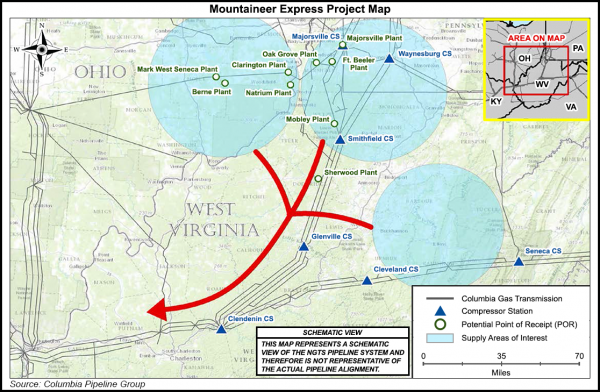 Update: April Keating reports that FERC has informed her that people can make comments to FERC up until the day a pipeline is approved. So, continue piping up! FERC is especially looking for comments during the EIS period, which is the time the agency is trying to identify problems. Pipe up!
View some more detailed maps here.
Sign the petition: FERC's Blatant Bias and Pro-Pipeline Operations Need Independent Investigation and Reform
The Federal Energy Regulatory Commission (FERC) is preparing an environmental impact statement (EIS) for Columbia Pipeline Group Inc.'s proposed Mountaineer XPress pipeline project.
FERC uses the EIS to determine whether this project meets a threshold for "public convenience and necessity." You may comment by writing through December 17 or attend one of four public scoping meetings. Be sure to reference Docket No. PF15-31-000. Details on how to file your written statement are here.
Mountaineer XPress pipeline would stretch 167 miles from Marshall County, WV to Wayne County, WV, transporting gas from the Marcellus and Utica shales to markets on the Columbia Gas Transmission (TCO) system. The pipeline would include 24- and 36-inch diameter pipeline, three compressor stations, three regulator stations and modifications at three existing compressor stations.
Columbia wants to begin construction on this project in fall 2017. FERC approved Columbia's pre-filing for the project, which is expected to cost $2.03 billion, last September (see Daily GPI, Sept. 16).
For one hour preceding each of the public meetings representatives plan to be available with maps of the proposed project's route and to answer questions.The first scoping meeting was Dec. 7 in New Martinsville. The next meetings are:
December 8: 6:00 p.m. Doddridge County Park – Main Lodge, 1252 Snowbird Road,
West Union, WV, 26456.
---
December 9: 6:00 p.m. Cedar Lakes Conference Center – Assembly Hall, 82 FFA Drive, Ripley, WV, 25271.
---
December 10: 6:00 p.m. LaBelle Theater, 311 D Street, South Charleston, WV 25303.