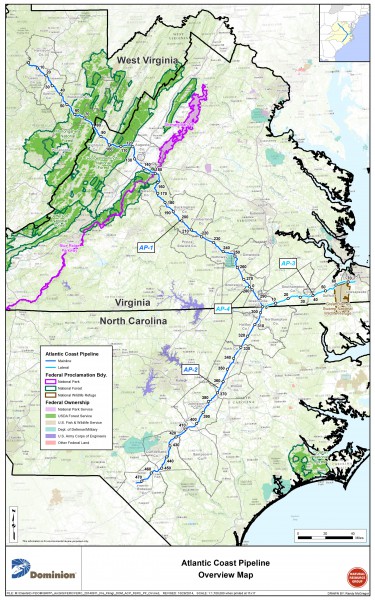 Update: April Keating reports that FERC has informed her that people can make comments to FERC up until the day a pipeline is approved. So, continue piping up! FERC is especially looking for comments during the EIS period, which is the time the agency is trying to identify problems. Pipe up!
In late March, in Elkins and Bridgeport, WV, FERC held two public scoping meetings on the proposed massive Atlantic Coast Pipeline and the Supply Header Pipeline.
Doddridge County resident Christina Woods is a member of the Doddridge County Watershed Association. Christina is also an OVEC member. She was among those quoted in a West Virginia Public Radio story covering the FERC scoping meeting at the Bridgeport meeting on March 24, where she delivered these comments: 
My wish for all of you is clean air, clean water and a safe place to live. Water contamination from fracking-related activities is real in Doddridge County. (Ed. note: An earlier speaker with ties to the oil and gas industry had implied that water contamination from fracking activities was not real, saying that one could find anything on the internet.) 
My home is approximately one mile from the Supply Header Pipeline. The proposed Mountain Valley Pipeline runs parallel to the Supply Header Project in our area. Why would we allow two pipelines so close to one another?
At a meeting in Doddridge County, Dominion told us that the pipeline's blast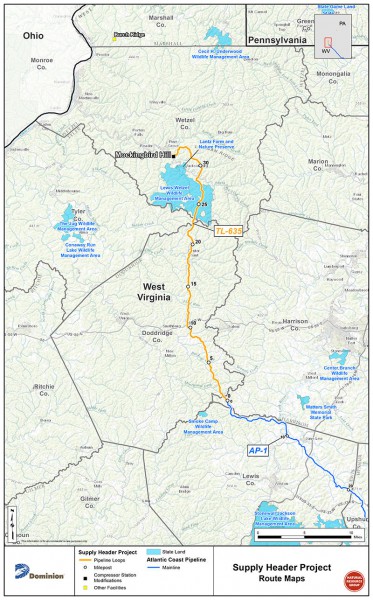 zone radius will be 942 feet — everything 942 feet around any point of explosion along the pipeline will basically be gone/toast. (The blast radius is the distance that the fire from the explosion consumes, measured in feet from the epicenter to the outer edge of the burned area.)
Here is how big that is: 2,787,740 sq ft or 63.99 acres or approximately 48.5 football fields. The company should have to mark, in red, on their maps 942 feet on either side of the pipeline indicating the blast zone radius, so that the public really can see the danger of this pipeline.
Dominion told us that once an explosion happens, basically they'd just have to let it burn. How far will the fire spread? Who will control it? What toxins will we and wildlife be breathing? What effect will it have on our air and water?
According to the 2000 report from Pipeline Safety Trust, often the blast zone in explosions in the past actually has been larger than the calculated blast zone radius. So, what is the evacuation zone? How many of us will have to leave our homes for a private company's mistakes/accidents?
Those of us living in rural areas are not expendable. We are not collateral damage.
Plain and simple, this is for private corporate profit — with risks externalized to the public. The risk is being put squarely on the shoulders of those that live around these pipelines. We are being asked to risk and pay for their risks with our air, our water, our homes, our health, our property values, our safety, possibly even our lives, along with every other living thing within our environment.
How much risk are we supposed to assume for the oil and gas industry?
We are asked to risk more and more, and all the governmental agencies look at each project like it is a vacuum —  never looking at total risk and danger being  put upon an area.
In Doddridge County, our homes are surrounded with well sites, condensate tanks, flowback tanks, pipelines, compressor stations, fracking chemical tanks and drilling-waste ponds. many of the chemicals used are are toxic, carcinogenic, endocrine-disrupting and/or radioactive, and could explode. It is like living in a minefield.
There already have been well fires, explosion, spills, leaks, well-water contamination and wrecks. Our roads have been destroyed by heavy truck traffic and full of  drilling traffic — you take your life in your hands every time you get in your car.
We are at risk now 24 hours a day every day of the year for this industry.
Now, once again we are being asked to take on more of their risk.
We, as West Virginians, deserve better. We deserve better than to be a sacrificial zone for the profit of the extractive industries.
You have until April 28 to file written comments with FERC on this proposed pipeline. Details on filing written comments, along with suggested topics to cover, are here. More pipelines will mean more fracking activity, meaning more of this, this and this (photos taken during a recent OVEC staff tour of Lewis, Doddridge and Wetzel counties in West Virginia).
Here's some of the news coverage on the Elkins and Bridgeport scoping meetings.
Pipeline Impact: Officials receive comments on project
FERC Hosts Second Atlantic Coast Pipeline Public Hearing in Bridgeport
Area residents speak for, against pipelines at FERC meeting
Job Creation Clashes with Environmental Risks at Pipeline Meeting
U.S. Federal Energy Regulatory Commission Heard Concerns on Atlantic Coast Pipeline Project
Natural Gas Industry Moves from the Absurd to the Profane
Atlantic Coast Pipeline Concerns Told to FERC in Harrison County, WV
FERC Challenged to Be Truly Independent
About 200 Attend Scoping Meeting in Elkins on the Atlantic Coast Pipeline
Atlantic Coast Pipeline Scoping Meeting Held in Bridgeport on March 24th