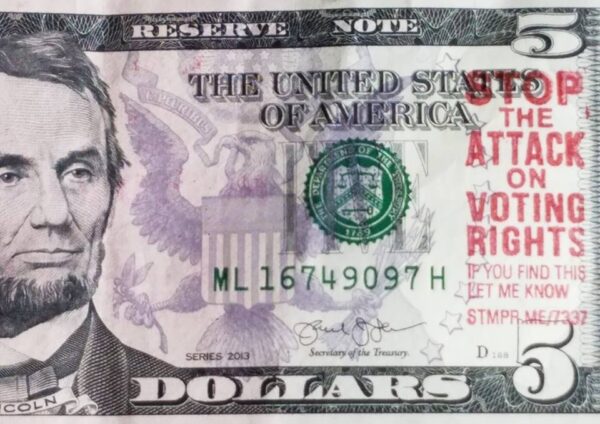 While one dollar should not equal one vote, this five dollar bill, and the image of good ole Abe himself, are spot on. Stop the attack on voting rights! We really shouldn't have to be saying this in 2019, for crying out loud! Sadly, we have to shout it at maximum volume right now.
Environmentalists know that biodiversity is key to a healthy ecosystem. Similarly, a diversity of viewpoints and cultural backgrounds is key to a healthy democracy. We've got to have a truly representative democracy if we are to restore American values and pursue American ideals. A representative democracy exists only if people of color can be full, participating members in democracy. 
That was one of the basic demands of the civil rights movement, and that movement had a huge victory on August 6, 1965 when the Voting Rights Act (VRA) was signed into law. Since then people have taken numerous challenges to the right to vote to the courts, and have often emerged victorious. We, the  People, suffered a great setback in 2013, when five justices on the Supreme Court gutted the VRA in the Shelby County v. Holder case. This case made it easier for states and localities to revert back to discriminatory practices that restrict the voting rights of Black, Brown, Native, and Asian American people. 
But we can change this. We've organized and fought back and won before. We can fix this injustice. Congress must pass HR 4, the Voting Rights Advancement Act and restore our ability to prevent racial discrimination in voting, so that we can build the truly representative 21st century democracy that is key to our ability to solving the complex problems we face as a nation. 
On Tuesday August 6, people nationwide will be standing up for voting rights.
Right here in Charleston, West Virginia, we, as part of our work with WV Citizens for Clean Elections, are co-hosting an event. Be #WVProDemocracy Please come out!
August 6: Restore the Voting Rights Act Press Conference and Rally
Stand up for voting rights!  
When: 12:00 p.m. on Tuesday, August 6, 2019
Where: Outside the Robert C. Byrd Federal Courthouse, 300 Virginia St East, Charleston, WV 25301
Help spread the word: Download and print these fliers to post and handout.
Join WV Citizens for Clean Elections to learn about what else you can do on the local level to be stand up for voting rights, organize to overcome recent setbacks, and to work for fair courts and clean elections. We must have air-minded judges and courts free from the shadowy influences of dark money (undisclosed campaign contributions). Contact info@wvoter-owned.org to get involved.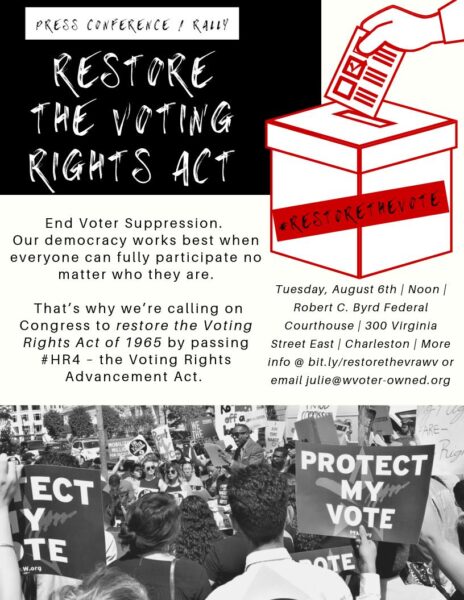 Check out WV Citizens for Clean Elections Pro-Democracy, Anti-Corruption agenda.