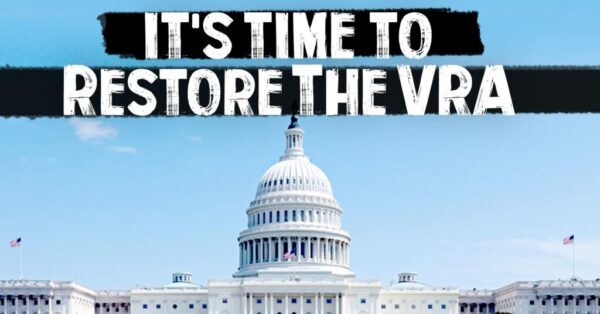 What: Stand Up for Voting Rights! On Voting Rights Act Anniversary, State and Community Leaders Call on Congress to Restore the Law
When: 12:00 p.m. on Tuesday, August 6, 2019  (please note this is the corrected time!)
Where: Outside the Robert C. Byrd Federal Courthouse, 300 Virginia St E., Charleston, WV 25301
Who: Join representatives of the WV Citizens for Clean Elections (WVCCE) coalition and member groups and allies including the NAACP West Virginia, NAACP of Charleston WV, Call to Action for Racial Equality: CARE Coalition, Civil Liberties Union of West Virginia, West Virginia Poor People's Campaign: A National Call for Moral Revival, West Virginia Citizen Action Group, OVEC-Ohio Valley Environmental Coalition, WV Healthy Kids and Families Coalition, Rise Up WV, WV Association for Justice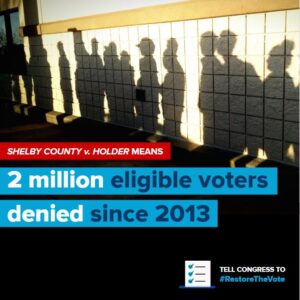 Why: This press conference and rally marks the anniversary of the Voting Rights Act (VRA). We'll call on Congress to restore the protections in the VRA and ensure that every eligible voter can make their voice heard free from discrimination.
WVCCE members and allies will encourage everyone who is eligible to vote in the May 12, 2020 primary—when several WV Supreme Justices will be elected—and  the November 3, 2020 general elections when the people will elect our next Governor and other statewide office holders, as well as the next President of the United States. Voter registration forms will be available at the event.
The VRA was signed into law 54 years ago, on August 6, 1965. It was the most comprehensive piece of legislation passed to ensure that voting rights were awarded to all citizens, especially racial minorities.
When five justices on the U.S. Supreme Court gutted the VRA in the 2013 Shelby County v. Holder case, they made it easier for states and localities to revert back to discriminatory practices that restrict the voting rights of black, brown, Native American and Asian American people. Since the decision, a number of states have implemented laws that disenfranchise voters, and disproportionately impact young people and communities of color – including voter ID laws, gerrymandering and voter purges. 
Earlier this year, Congress introduced the Voting Rights Advancement Act (HR 4), which would restore our ability to prevent racial discrimination in voting so that we can build the truly representative 21st century democracy we deserve.
Please come out to this event! Bring water bottles and umbrellas for protection from the sun and/or the rain.
We have volunteer opportunities, before, during and after August 6.
Before
–Hand out fliers inviting people to the August 6 event at Multifest in Charleston this weekend; reply to this e-mail if you would like to help.
–Print and post or handout your own flier here.
–Make fliers to bring to the event and share. Download and print from here.
–Spread the word though social media:
Share the event on Facebook. Some hashtags and ideas to use on Facebook and shorten for Twitter include: The #VotingRightsAct of 1965 is one of the most successful #civilrights statutes ever enacted. It's past time for Congress to repair it. Join us in demanding Congress take action! bit.ly/restorethevrawv #RestoreTheVOTE #WVProDemocracy
Congress must restore the protections against #racialdiscrimination in voting that #SCOTUS destroyed in 2013. Building a government that is representative of ALL its people is critical to our ability to solve some of our country's most pressing challenges. bit.ly/restorethevrawv. #RestoreTheVOTE #WVProDemocracy
During
–Come to the event, bring your friends and family.
–At the event, help register people to vote. 
After
–Get involved with OVEC's WV Citizens for Clean Elections work. Be #WVProDemocracy and demand #FairCourts. Contact vivian@ohvec.org.
Learn more by reading this Vox article:
How Shelby County v. Holder upended voting rights in America
On the sixth anniversary of the Supreme Court ruling, civil rights groups say it's time to fully restore the Voting Rights Act.