Ohio Valley Environmental Coalition
Action Alert


Supporting Organized Voices and
Empowered Communities Since 1987
 

Jul 23, 2021

View / Comment Online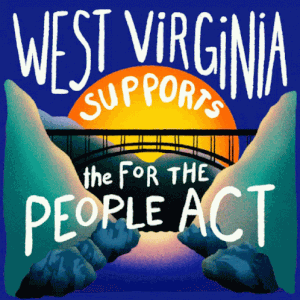 Right now, the future of our democracy is at stake.
We, as West Virginians, have the power to fix it by asking Senators Manchin and Capito to pass the For the People Act by whatever means necessary. This legislation is our once-in-a-generation opportunity to protect our freedom to vote, end partisan and racial gerrymandering, and get dark money out of politics.
The Senate will likely vote on this legislation this summer, so the time to act is now!
Will you join your community at a rally near you in support of sweeping pro-democracy legislation? 
We must stand together and let Senators Manchin and Capito hear us loud and clear: West Virginians need the For the People Act, John Lewis Voting Rights Advancement Act, and D.C. Statehood! 
Sign up here to join us for Young WV's week of action and play a part in fulfilling the promise of our democracy.
Thank you for all you do! See you soon,
The OVEC and West Virginia Citizens for Clean Elections Team