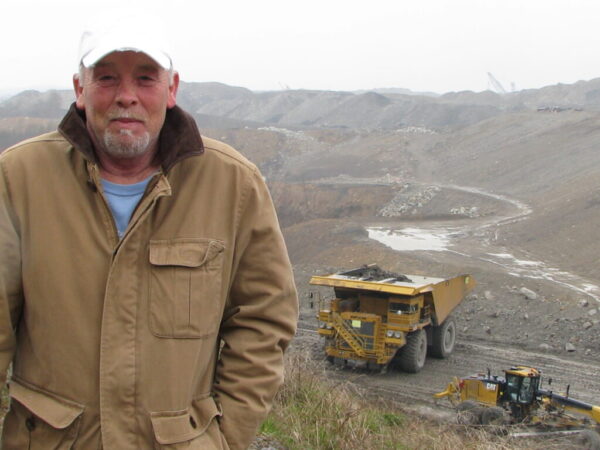 Chuck Nelson's (above, at a mountaintop removal site, photo by Vivian Stockman) note below was published in the March 2009 issue of Winds of Change, OVEC's newsletter. We republish it now as we look back upon his amazing legacy. Chuck left this realm on June 25, 2021. He was 65.
---
OVEC board member and volunteer organizer Chuck Nelson sent this note to Ashford community members two days after the DEP hearing.
Jan. 8, 2009: Just wanted to keep people in the loop of what has been going on since the hearing Tuesday night. I was very pleased with the turnout at the meeting. There were a lot of legitimate concerns brought up, and I hope that the DEP will take these concerns into consideration when making its decision. DEP's not listening to community members has been an ongoing problem at these informal hearings. That's why I brought this to their attention Tuesday night.
I think while the energy level is still high we should have a community meeting as soon as possible. This is very important in organizing.
But I want everyone to know right off the bat that success doesn't come overnight. It takes extensive time in order to reach success. It depends on how much input and energy the community is willing to invest.
It's the residents who will bring about change, create how they want their communities to prosper.
Organizations can only offer support and resources. We have many other communities that are being impacted from mining. There is much work to be done on the state level, as well as the national level.
Believe me, we are fighting mountaintop removal and the abuses from coal continuously.
Successful tactics include talking to your neighbors, writing letters to your state and national representatives, drawing media attention to the effects mountaintop removal is having on our communities, telling our personal stories, lobbying politicians.
Flooding the local newspaper with letters to the editor is a great and effective tool. Taking photos with a still camera or a camcorder is undisputable, and carries a lot of weight. Documenting damage like structural and dust problems is a must.
Keep complaining to the DEP, too, even though you might think that this has no effect. Keep calling and demanding that the DEP do its job.
This fight is as tough a fight as you will ever encounter. But always keep in mind that this is your community, and you can determine what you want your community to be like.
Do not let anyone take away your heritage, your memories and your way of life. You are not expendable for the comfort of others, and that's exactly what is happening.
Don't be content with the idea that it's "just the way it is." A contented person will never change anything. You have a voice, and you have power in your personal stories and history.
We all want our children, and their children, to have the same opportunity as we did. Don't let your community die and turn into a ghost town like so many nearby us have. Now's the time to say, "No more, we are going to preserve our communities, our heritage, our memories and our way of life."
It's going to take actions of all residents to participate and get involved. But it is imperative that we stay together, and to continue to have meetings if this community is going to be successful.
We organizers are here to help with support and resources, but if you wish to prevail, it's going to have to come from within the community. If you would like to lobby and have no way, let Robin, Maria (OVEC staffers), or me know, and we'll see that you get there, and I also want everyone to know that we will be there with you, whether it be in Charleston or in Washington.
Never give up and never quit fighting. If you should need to reach me, you can call me anytime.
---
We miss you Chuck, and we will continue to call upon your wisdom.