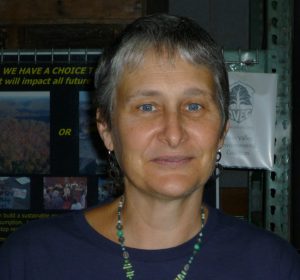 I am Vivian Stockman. I work for OVEC, the Ohio Valley Environmental Coalition, based in Huntington, WV, which will be submitting written comments, but I have a few things to say here today.
First, we ask that the EPA abandon its efforts to repeal the Clean Power Plan. We need the CPP and its outcomes that will better protect human health, curb climate change, and transition our energy sources and economy into a lower carbon era.
Next, although we thank EPA for coming to hear from West Virginians, we implore the EPA to schedule additional hearings in other areas of the nation, because the CPP has nationwide implications. While we have many low income families here, we do not have large populations of people of color. Low income communities and Indigenous, Black, and Latinx populations suffer disproportionate health impacts from power plant pollution. Hearings should be scheduled in locations nationwide that are closer to other American communities that are heavily impacted by EPA's proposal.
This is very much about the health and wellbeing of American families. A Trump administration analysis says that, by 2030 the CPP could prevent as many as 4,500 premature deaths yearly. By that time, the CPP could also prevent 90,000 asthma attacks and 300,000 missed work and school days. The CPP could also prevent pollution that worsens respiratory illnesses.
This is also very much about the economy. Dealing with the impacts of climate change is already costing U.S. taxpayers billions of dollars.
But what about the economic challenges coal mining families here in West Virginia face? We simply do not have to choose between either our health and breathable air or economic opportunities. That's a lie fossil fuel lobbyists and their bought-and-paid-for politicians desperately want us to continue believing. But, willful ignorance solves nothing. Believing those lies has brought us here, to the point of being one of the poorest states in the nation, while coal companies have whisked away the coal, and the wealth we were promised, along with clean water, clean air, and our health.
For decades coal employment has been on the decline, but not because of regulations written to protect coal miners' health and the health of people who live near coal mines. It's because of increasing mechanization, and more recently because of the rise of deep shale hydraulic fracturing for natural gas, which is another fossil fuel wreaking havoc on human health. The CPP should address methane emissions associated with the extraction, transportation, and utilization of natural gas.
Even with the rise of fracked gas, renewable energy is nonetheless the fastest growing source of employment in our nation, and the CPP would accelerate our nation's transition to cleaner energy. We can have clean air, clean water, and a sound economy. West Virginians deserve these kind of opportunities, right here, right now.
Let us remember that the EPA was created under the Nixon Administration, at a time when pollution ravaged Americans from coast to coast. The Cuyahoga River caught fire; smog killed 400 people in New York. The list went on and on. There was bipartisan support for the EPA to check the unfettered greed of corporations that had resulted in pollution literally killing Americans. Pollution is killing Americans still today. The CPP can help tamp this malady, and can help us transition to a cleaner energy era.
The U.S. Supreme Court has ruled on three separate occasions that the EPA has a responsibility under the Clean Air Act and other laws to protect our families and communities from pollution from power plants and other sources. 
There's a clear legal precedent and a clear moral obligation to leave the Clean Power Plan in place.
Also see: