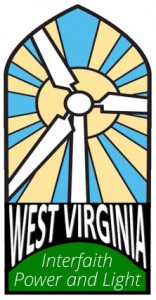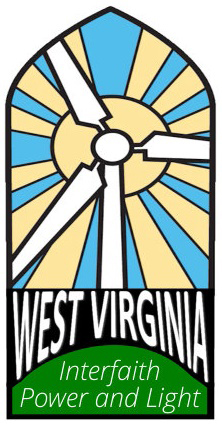 "People of faith care for creation, and clean power," a version of the commentary below by leaders of WV Interfaith Power and Light, ran in the Charleston Gazette-Mail on Sunday, November 26. OVEC helped found WVIPL.
If you plan on attending the Clean Power Plan hearings in Charleston, know that for the first day of the hearing, there's a place where you can take a break: 
WV Interfaith Power and Light will host a break room at the West Virginia Council of Churches Office (2207 Washington Street East) on Tuesday, November 28, from 9 a.m – 5 p.m. for people coming to the EPA's Clean Power Plan hearing who want a peaceful place to gather for reflection, prayer, rest, and some light snacks or coffee. This is primarily for faith community leaders attending the hearing, but all are welcome.
---
We members of the WV Interfaith Power and Light Steering Committee seek to build a coalition of faith-based voices throughout our beautiful state, who will actively engage in the work of preserving the clean air, water and over-all environment on which all life depends.  Therefore, we oppose Environmental Protection Agency (EPA) Administrator Scott Pruitt's recent proposal to repeal the Clean Power Plan.
We support the Clean Power Plan because it gives specific ways to implement the Clean Air Act by setting flexible and achievable limits on otherwise unlimited dumping of carbon pollution from power plants into our air. The CPP encourages the development of clean, renewable energy; and its flexibility allows each state to design its own plans.  We believe the Clean Power Plan is a critical step toward reducing climate pollution and enabling us to live responsibly and in right relationship to Earth. 
To help determine if the CPP should continue there is only one national hearing on the CPP's repeal.  That sole hearing will be held at the WV State Capitol November 28-29.
This national hearing gives us in the Mountain State a rare opportunity to make our voices directly heard, and it gives leaders and members of the religious community a much-needed opportunity to speak in favor of the Clean Power Plan from a faith-based perspective.
The CPP has been many years in the making and took into consideration some 4.3 million comments from citizens who overwhelmingly support setting limits of carbon pollution from our power plants.  Although most of the emphasis is on reducing carbon from burning coal, the CPP also has standards for burning gas. It does not include the entire process of getting a fossil fuel out of the ground and to a power plant for burning, which we believe is a flaw in the Plan; however, it is a major step towards a cleaner, healthier energy policy.
We will speak out November 28-29 because we believe the Clean Power Plan is an expression of putting into action healing our earth as a response to loving God. We believe it is necessary for our state, our nation and ultimately our planet.  We are concerned that US carbon pollution, which has held steady for three years is projected to rise 2% this year, which affects not only us here in WV, where, for example incidents of cancer increase near mountaintop removal coal mining sites, but life everywhere on the planet. Ultimately, we all breathe the same air and we are all affected by what happens with water – from chemical spill contamination to rising waters threatening the existence of small island nations and our own U.S. shorelines. 
We hoped that our nation would be a leader in setting an example and encouraging our citizens as well as people in countries from around the world to work together on ways to meet the Paris climate accord.  Instead we regret that we are faced with the possibility that the first-ever US standards to reduce power plant emissions may be cancelled when they are so greatly needed.
WVIPL realizes that for some our urgency on the need to work for and witness to Creation care is controversial. As a faith-based organization we believe it is important to provide space for much-needed respectful and responsible conversations. Information from fossil fuel industries that conflicts with information from renewable industries and non-profit organizations calling for creation care often block us from heeding the compassion and care central to our various faiths. There is existential angst from all concerned – from "will there be a healthy earth for our grandchildren?" to "where will the economic means to provide for my family come from if I can't mine?"  
Besides our faith traditions, we have what is known as the Lofoten Declaration to draw from as a basis for hearing one another as we talk about our differences. The Lofoten Declaration realistically calls for managed decline of fossil fuels, so they taper off by the 2030's.  Because the fossil fuel industries have wealth, the Declaration holds that they are responsible and morally obligated to lead in putting an end to fossil fuel development and to manage the decline of existing production.
We believe it is absolutely necessary to transition from fossil fuels to renewable energy.  Even if there were no concerns about climate change, the transition would be necessary for public health reasons to stop people from dying too young of the diseases that accompany polluted air and water.  As people of faith we call for "just transitions" that involve a wide swath of those affected by changes to work together for solutions.  Many of us are willing to open our congregational meeting places for community conversations because we believe in Creation care and in leaving a healthy, happy world to those who come after us. In order to preserve the sanctity of Creation, we call on all concerned to practice the idea of "first, do no harm" in the mining and drilling processes, in our dealings with one another, in our love for the earth.  Our state is blessed with natural resources, and it is our responsibility use them wisely and to maintain the purity of our air, water, and land.
But, first, we've got a hearing to attend, that calls our nation to be responsible to its citizens and to the planet, by keeping the Clean Power Plan.  (If you are unable to attend the hearing,you have until January 16, 2018 to email comments to a-and-rDocket@epa.gov).
Signed by the committee members: 
Ruby Abdulla, Islamic Association of WV
Rev.Jeff Allen, United Methodist, WV Council of Churches
Rev. Robin Blakeman, Presbyterian Church USA and OVEC staff member
Rev. Rose Edington, Unitarian Universalsit
Rev. Mel Hoover, Unitarian Universalist
Angela Iafrate, Roman Catholic
Allen Johnson, Christians for the Mountains
Allen Tweddle, Temple Israel, Steering Committee
Gary Zuckett, UU, WV Citizens Action Group, Steering Committee
Additional Signers:
Rev. Kay Albright, Pastor, Bridges of Grace United Church of Christ (Charleston)
Rev. Bonnie Boyce, Presbytery of West Virginia, honorably retired (Huntington)
Helen Gibbins, Elder, Bates Memorial Presbyterian Church, Pea Ridge
Rev. Marquita Hutchens, Rector, St. John's Episcopal Church, Charlleston
Jeannie Kirkhope, Catholic Committee of Appalachia, Appalachia Catholic Worker
Kayla Parker, Minister, Unitarian Universalist Congregation of Charleston WV
Also see: