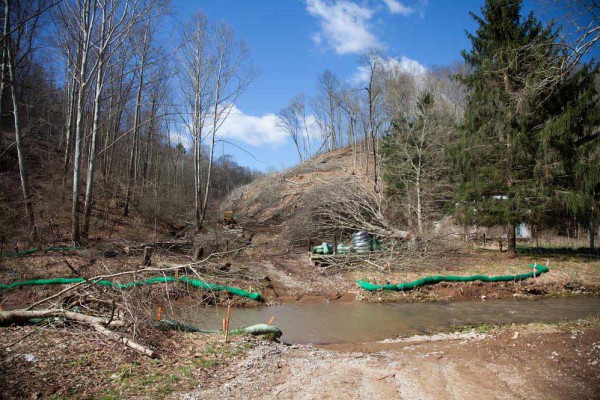 According to Bridge Too Far: How Appalachian Basin Gas Pipeline Expansion Will Undermine U.S. Climate Goals, the Appalachian Basin is the key source of potential U.S. gas production growth: "Nineteen newly proposed natural gas pipelines in the Appalachian Basin would unlock massive amounts of carbon from the earth and threaten the country's obligations under the Paris climate treaty." 
A spokesperson for the Mid Atlantic Technology Research and Innovation Center (MATRIC) has been quoted as saying "We cannot take advantage of the Utica, Rogersville and Marcellus Shale opportunities without infrastructure to support the demands and needs of the associated industries." In other words, to frack the hell out of our region, gas companies need to be able to get the fracked gas out of our region, and for that they need pipelines—big pipelines. To build the pipelines, gas companies don't care if they have to seize your property, spoil our streams and rivers, and endanger communities, in our region, or anywhere. (Find much more about Rogersville Shale here.)
Location, Location, Location 
Of all the pipelines planned for the Huntington area, Columbia's proposed Leach Xpress pipeline is farthest along in the approval process. It would originate near the Ohio/Pennsylvania border, pass through Ohio's fracking region, and then go under the Ohio River near the Camden Amusement Park, near Huntington, WV. Once beyond the Marathon Petroleum refinery on the border of West Virginia and Kentucky, it would apparently be renamed the Gulf Xpress pipeline, and it would move gas to export facilities on the Gulf Coast. Some gas would go to U.S. markets as well.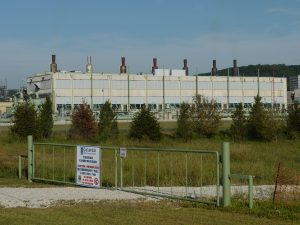 Columbia's planned Mountaineer Xpress pipeline would originate in north central WV's fracking region, go under the Kanawha River in Putnam County, join with the old, existing SM 80 pipeline in Milton, Cabell County (parts of which, including an entire new loop in Wayne County, are being renovated), and end at an expanded compressor station near the Huntington Tri-State airport. At this Ceredo compressor station (left), the gas could be sent through the Leach Xpress (also a Columbia/TransCanada project,) and then go underneath the Big Sandy or Ohio Rivers to OH, KY and south to the Gulf, via other proposed pipeline projects.
The more recently proposed Appalachian Storage Hub would consist of underground storage units and six pipelines to carry natural gas liquids. It would originate in Pennsylvania. Earlier this year, a spokesperson provided information and a map to media, which shows that these six pipelines would run adjacent to the Ohio River all along West Virginia's Ohio River border, pass by Marathon Petroleum's Catlettsburg refinery, and go to the Gulf Coast. More recently, a report on the Appalachian Storage Hub indicated that there may not be an immediate need for this project.
Marathon Petroleum is planning for a dramatic increase in activities related to natural gas liquids production. (Un)Natural gas (methane) is explosive, but (Un)natural gas liquids are even more explosive. Big machines are now leveling the hills directly across Interstate 64 from the Marathon Petroleum refinery.
The Rover pipeline is proposed to go under the Ohio River in between West Virginia and Ohio in Tyler County.
Size Matters
The Leach Xpress and Mountaineer Xpress pipelines would be thirty six inches wide, at least in some portions. We have no information about the size of the proposed Appalachian Storage Hub's six pipelines.
Large diameter pipelines are so highly pressurized that even a tiny fissure could cause a deadly explosion. Hence the legal need for evacuation plans one and a half miles wide on either side of 36 inch pipelines. County governments would be responsible for developing evacuation plans. Without such plans, FERC has no legal responsibility to provide disaster aid in the event of an accident.
Leach, FERC and EPA's Climate Concerns
In June, U.S. EPA described concerns about the Leach Xpress Pipeline in comments to FERC (the Federal Energy Regulatory Commission), which must approve an interstate fracked gas pipeline before it can be built. EPA said that the Draft Environmental Impact Statement (DEIS) is insufficient and needs to include more information. Also, EPA said that other pipelines planned for our region may make the Leach unnecessary.
EPA does not have the power to force FERC to make any changes. But, according to Ben Luckett, an attorney with Appalachian Mountain Advocates, "If the objections are not addressed in the final Environmental Impact Statement, EPA can refer the issue to the U.S. Council on Environmental Quality, but that is very rare. Significant objections do often slow down the review process, however, as agencies often at least try to produce some additional information or analysis in response to the objections."
In September, FERC, issued the Environmental Impact Statement for the Leach Xpress pipeline. A month later, the EPA rebuked FERC for not adequately studying the greenhouse gas emissions that would be caused by the Leach XPress and by the gas production which would be made possible by that pipeline.
So, we await what will happen between EPA and FERC in the new administration.
Bird's Eye View
Oil and gas prices have been low the past few years, but price increases are predicted by big fracking companies. Those companies that survived the slowdown have been developing ways to drill and frack more cheaply, and finding new markets overseas.  
Fracking-related activities have been ramping up in the Marcellus Shale region in North Central West Virginia. Dramatic increases in drilling the deep Utica Shale in southeast Ohio are planned.
The US Forest Service has approved the fracking development of 40,000 acres in Ohio's Wayne National Forest. Fracking companies are also moving into Utica Shale areas in North Central WV.
To learn more, or to be involved in plans for citizen resistance, please contact us at 304-522-0246 or info@ohvec.org. One thing you can do is join our stream monitoring streams. There's loads more, so do contact us!