On September 7, DailyEnergyInsider ran a story titled "EIS projects less-than-significant impact from Leach XPress and Rayne XPress Expansion Projects:"
The Leach XPress Project will include a total of approximately 160 miles of new 20- to 36-inch-diameter pipeline in Pennsylvania, Ohio and West Virginia, as well as three compressor stations, three regulator stations, nine mainline valves and five odorization stations. The smaller-scale Rayne XPress Expansion Project will see two new compressor stations built in Kentucky.
"We determined that construction and operation of Columbia Gas' LX Project would result in some adverse environmental impacts," FERC staff said. "These impacts would occur during both construction and operation of the Project on vegetation, aquatic resources, wetlands, and wildlife as discussed in Section 4. However, if the proposed Project is constructed and operated in accordance with applicable laws and regulations, the mitigating measures discussed in this final EIS, and our recommendations, these impacts would be reduced to less than significant levels."
FERC anticipates a significant impact to forests affected by clearing for the LX Project, but regrowth projections as well as intentional mitigation efforts are expected to reduce impact levels to below significant.
Less-than-significant impact? You be the judge. Each of these pipelines will require compressor stations to either be built or expanded. Compressor stations can be nuisances in the communities where they are located because of the intense and constant noise and air pollutants emitted on a regular basis. They can also be a public safety hazard in that emissions of odorless and colorless, but toxic and highly explosive gas can occur.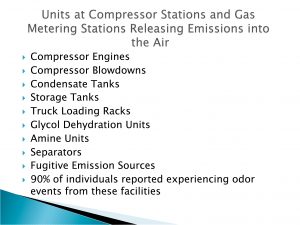 About the same time the FERC statement was hitting our inboxes, my co-worker, Vivian Stockman (with her camera), and I were on a little field trip near our office in Huntington. We visited the the Columbia Ceredo Compressor Station located near the Tri-state airport.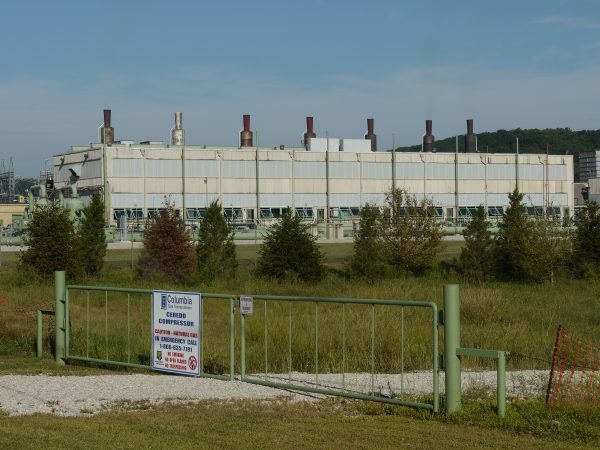 There are at least a dozen homes located very close to this compressor station, which will be expanded if the Mountaineer XPress and Leach pipelines are approved and constructed, because both are slated to tie into this station.
Would you want to live near this type of "less-than-significant impact"?