In August, I visited Doddridge County, WV. The undulating green hills, the well-kept modest houses nestled in narrow valleys accessed by winding gravel roads, the hillside farms with their barns, outbuilding, and pastures of cattle, all spoke to me of childhood circa 1970. A two-story white farmhouse with wide front porches upstairs and down could have been plucked from my grandparents' farm on Wolfpen in Wayne County, WV and sat down in this hauntingly familiar place. I could imagine the inhabitants, people with a common background, possessing country wisdom and a dialect that flows easy in my ears. But the nostalgia evoked by this place was vastly overshadowed by the heartbreaking reason for the visit.
I was there with the rest of the OVEC staff to meet with Diane Pitcock. After retirement, she and her husband relocated from Baltimore, MD to West Virginia to escape the hubbub of the city. As Kentucky poet Jim Wayne Miller said in "Brier Sermon," they represent the outsiders who recognize and appreciate the beauty of our state and the value of our culture; they had come to "sit a spell with us. We had something they wanted." In 2005, they bought a small farm in bucolic Doddridge County and settled in to what they hoped would be quiet life. When a neighbor leased his land to a gas company three years ago, the nearby fracking sites (four surround them) not only shattered their peace, but exposed her family to the air, water, light and noise pollution that fracking brings. To draw attention to the horrible impacts she and others are enduring, she helped organize WV Host Farms, a program where landowners allow environmental groups, journalists, researchers, etc. to view and study the impacts of Marcellus Shale drilling.
What I witnessed on this trip was an all-out attack not only a place of beauty, but a way of life. Everywhere we went, we encountered a barrage of trucks transporting gas, water, fracking waste, heavy machinery, etc. The heavy traffic on narrow gravel roads had covered buildings and vehicles in a thick white layer of dust. On several occasions, traffic was held up by pipeline workers operating heavy machinery along the roadways; more chillingly, we were also stopped at gas-company guard checkpoints set up along public roads.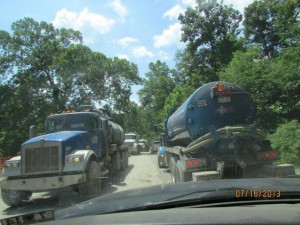 We learned that mineral-owner rights supersede those of surface owners; for example, we spoke with the owner of an 80-acre farm where miles of roads have been pushed through forested land, trees dozed into valleys, fracking-waste ponds constructed (and buried), and a huge well pad with several tanks constructed, all without the owner's consent. The gas lease signed in 1901 by a former owner basically allows the gas industry to destroy this man's land, and there's nothing he can do to stop it. Because he refused to sign an agreement, the companies can build the infrastructure necessary to extract the gas, then pay him the damages they deem appropriate. The haul road is constructed up the mountain directly above his cabin. He worries that, once winter comes, the snow slicked road will send a truck crashing over the hill onto his house. Very little of his 80 acres remain undisturbed, and I don't imagine he will ever be able to sell it to escape the destruction and pollution.
Pipelines crisscross the landscape like a devastating spider web. Not only do workers slash through wide swaths of forests and farmland, but they also dig or blast through waterways and cut through roadways; last year, two works died and another was injured in an explosion at a Eureka Hunter Pipeline operation near Wick, WV. According to an NBC report, some of the gas pipelines are bigger and more dangerous than their predecessors, where they "sometimes run within feet or yards of homes with little or no safety oversight." According to the report, gathering lines are "subject to the same risks – corrosion, earthquakes, sabotage, and construction accidents — as transmission lines." However, "about 90 percent of gathering lines do not fall under federal safety or construction regulations because they run through rural areas (my emphasis)." As with so many other destructive industries, rural people are expected to pay the high environmental, safety, and health costs while elite outsiders reap the huge economic gains.
On our "frackland" tour, we visited a very noisy compressor station built just a few hundred yards from several houses. Not only is the noise unbelievable, but it runs around the clock. These devastatingly loud stations are built all along the length of the pipelines, destroying the peace of anyone living nearby. Furthermore, while we were viewing the compressor station, a woman in the community told us that her entire family is now sick from the fumes.
Gas is leaking from an old well due to nearby fracking activity, some of the staff became nauseated and developed headaches; and we were only there for a few minutes. The lady who lives across the road from the well has been trying to get it capped off for three years without success. The potential health impacts from this leaking gas are extremely alarming. In fact, several families have had to vacate their homes, not only because of exposure to gas fumes, but also because of flaring at nearby well sites. Flaring is the controlled burning of the initial release to determine the pressure, flow and composition of the gas from the well, and can last for several days or weeks. Emissions can not only produce Carbon Monoxide, soot, ash, and volatile organic compounds (cancer causing agents), but the extremely loud and bright process goes on night and day.
As much of our country is drying up, the gas industry is destroying millions of gallons of water each day. Tanker trucks suck up water from streams; it is mixed with a witch's brew of toxic chemicals and injected deep underground to crack the shale deposits and release the gas (fracking requires between 3-5 million gallons of water per well). On our tour, we saw a permitted water withdrawal site located above the water intake for the town of West Union. Furthermore, not only does fracking threaten waterways, but many believe it is also polluting drinking water wells. When we stopped for a break in town, the owner of the gas station told Diane that his well water is now ruined by the fracking.
A major problem for the industry is the disposal of the toxic fracking material that flows back from the wells; and every method the industry uses has major implications for human and environmental health. Storage ponds are susceptible to leaks, underground injection threatens ground water supplies and has been shown to cause earthquakes in some areas, and some drillers have sent the fracking waste to municipal sewage plants where it is simply diluted and released back into the water supply. As crazy as it sounds, fracking fluid has also been used to spray on roads to control dust, where it runs into nearby waterways.
On top of this, drill cuttings from the well sites are now being disposed of in municipal landfills; these cuttings contain radioactive waste. Testing of water leaching from the Meadowfill landfill near Bridgeport, WV shows widely varying levels of radioactivity, sometimes spiking to 40 times the clean drinking water standard.
The sense of loss and foreboding I felt, and continue to feel, after my day-long tour of "frackland" is hard to express. As a lifelong country girl with a fierce pride of my heritage and cultural upbringing, it's almost unbearable to realize that a way of life I love is being destroyed without so much as a whimper from the majority of those not directly impacted. But what people fail to realize is that this is just the gathering storm. Gas industry representatives are working at a frenzied pace to obtain gas leases and property easements everywhere in the Marcellus and Utica shale fields. The impact this type of extraction is having on farmland and water supplies is truly frightening. Furthermore, in their fanatic crusade to wrest every dollar from the ground, the gas industry has located fracking well sites near schools and hospitals. Also, unlike most conventional extraction, many of these gas leases are permitted within city limits. With the Marcellus and Utica shale fields stretching across much of Appalachia, including Eastern Kentucky and most of West Virginia, if we don't stop this onslaught of fracking now, you can rest assured it will be coming to your own back yard.
Editor's notes: Help stop the assault! Come to Beyond Extreme Energy Week of Action starting November 1 in Washington, D.C.
See photos from OVEC staff's tour of one small part of Fracklandia here.