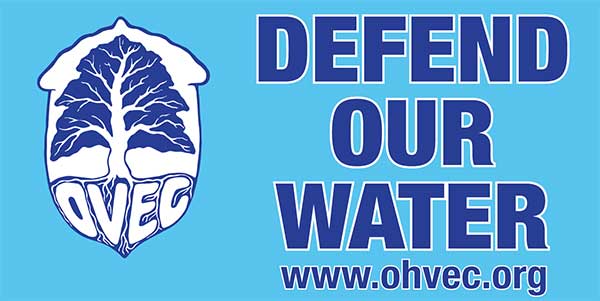 Calling on you to be a WV water monitor!
Streams across the state are under risk from the development of fracked gas pipelines. For the West-Central part of the state, the proposed Mountaineer Xpress Pipeline threatens streams in Putnam, Wayne, Jackson, Cabell, Roane, and other counties. 
That's why, in partnership with WV Highlands Conservancy, we are bringing Trout Unlimited and WV Rivers Coalition's WV-VA Water Quality Monitoring Program training to Charleston. 
What: Fracked Gas Pipeline Volunteer Water Quality Monitoring Training
When: Sunday, October 16, 1:00 – 6:00 p.m.
Where: Coonskin Park Tennis Center, Charleston, WV
If you are interested in attending the training, please fill out the application here.
Please apply by Monday, October 10; applying takes just a few moments. Directions to the training session and an agenda will be provided the week of the training.
At this training you'll learn to effectively monitor water quality along proposed pipeline routes before, during and after potential pipeline construction. (We aim to stop the need for any "during" and "after" monitoring!)
After the initial training, you can choose how much or how little to be involved, from rotating monthly monitoring tasks at a single site with other citizen monitors, or leading in our efforts to train other individuals and expand our monitoring capacity. The monthly monitoring session at a stream or streams in your county will be a fun and simple task. 
Do note that the initial focus of OVEC's water testing program is on selected streams in Roane, Jackson, Putnam, Cabell and Wayne counties.
If you have questions, call 304-637-7201 to learn more about this opportunity.
Mountaineer XPress pipeline would stretch 167 miles from Marshall County, WV to Wayne County, WV, transporting gas from the Marcellus and Utica shales to markets on the Columbia Gas Transmission (TCO) system. The pipeline would include 24- and 36-inch diameter pipeline, three compressor stations, three regulator stations and modifications at three existing compressor stations.
The WV-VA Water Quality Monitoring Program is a program developed by Trout Unlimited that is being implemented by Trout Unlimited and WV Rivers Coalition to train volunteers to monitor coldwater streams for impacts from shale gas and pipeline related development and other sources of non-point source pollution. Ohio Valley Environmental Coalition and WV Highlands Conservancy have partnered with TU and WV Rivers to organize this training session.