During the 1970s, Exxon drilled an oil and gas test well into the deep Rogersville Shale layer beneath Wayne County, WV, in the Pritchard area. More recently, the Kentucky Geological Service evaluated these Wayne County test samples and issued a 2014 report, concluding that a "viable petroleum system exists in the Rogersville." Results also showed natural gas (methane), and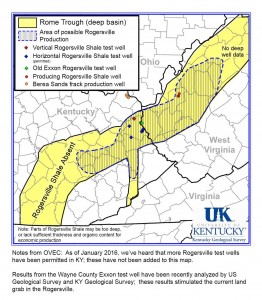 natural gas liquids. 
At least 19 companies hoping to profit from fracking the Rogersville Shale have leased land in Kentucky and West Virginia. Cabot Oil and Gas alone has leased close to a million acres in southwestern WV.
But people who live above the Rogersville Shale should know that in Pennsylvania, where Marcellus Shale fracking started several years earlier than it did in northern WV, landowners and the PA Department of Environmental Protection disagree on how many private wells are contaminated. But even the PA DEP has written that 245 sites are potentially contaminated by fracking.
Plus, Pennsylvania doctors are calling for a moratorium on drilling and fracking. The 300 delegates of the PA Medical Society voted unanimously. Dr. Walter Tau, past president of the American Public Health Association, said "growing evidence has shown its increasingly deleterious effects outweigh any economic benefit."
Marathon Petroleum Plans to Develop the Rogersville Shale
Earlier this year, Marathon Petroleum bought MarkWest, a pipeline and fracking services company. We found an online report indicating that Marathon and MarkWest have budgeted $1 billion to develop infrastructure for the Rogersville Shale. We have no indication of when Marathon plans to begin this work.
In a 2015 report found online, Marathon Petroleum's CEO told employees, "The Rogersville Shale happens to sit right underneath the Catlettsburg refinery. So just think about the synergy long-term to get those liquids and we think condensate. Unlike Utica and Marcellus Shales that are in maybe the five- to seven-thousand-feet level, this is twelve to fourteen thousand feet that you're going to go down with horizontal wells."
A January 2016 Marathon Petroleum presentation to investors indicated that Marathon is well positioned to "capture export possibilities." Today, the hills next to Marathon's KY refinery are being leveled.
Low prices for oil and gas have slowed down new Rogersville development. However, this past August, Cimirex/Bruin Energy announced a town hall meeting in Louisa, KY (adjacent to Wayne County, WV), to discuss drilling its next Rogersville Shale deep well.
Rogersville Shale Deep Wells as of April 2016
Some of these wells have been drilled, but shut in (temporarily closed) due to low prices. All of the modern wells seem to be at least 14,000 feet deep. All were permitted in the past few years.
Here's a list of the Rogersville Shale wells we know about at the moment.
West Virginia, Wayne County — Exxon test well near Pritchard, WV, drilled in the 1970s. Results from this well generated the current interest in the Rogersville.
Putnam County — Cabot Oil & Gas vertical well has already produced dry gas (methane).
Hardrock Exploration 1- Permitted as a test well.
Kentucky, Lawrence County (adjacent to Wayne County, WV) Chesapeake Energy has two vertical oil and gas wells already permitted. The Northrup well is permitted for a 5,200 foot horizontal well. Shut in.
Bruin Exploration 1 Walbridge test well. Both this well and the Chesapeake Northrup sit on the border of Wayne County, WV.
Bruin Exploration 1 Young (Cimirex) — Drilled with slickwater frack (677,000 gallons of fluid, 600,000 pounds sand), 576 foot interval (this means that separate fracking operations would take place at 576 ft. intervals along the well). Permitted for 14,000 deep vertical well and 4,800 feet horizontal lateral well. Shut in.
Kentucky, Johnson County Horiz. Tech. Energy (EQT) — One horizontal well.
In addition, permits have been granted for three more KY horizontal wells.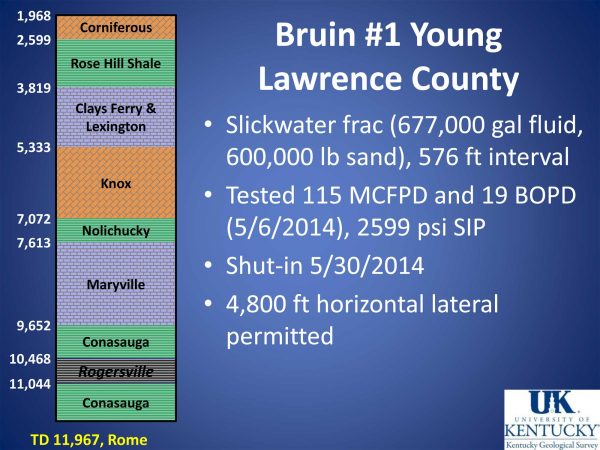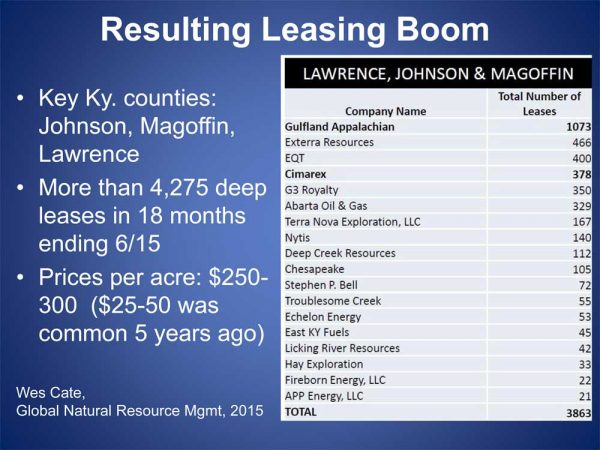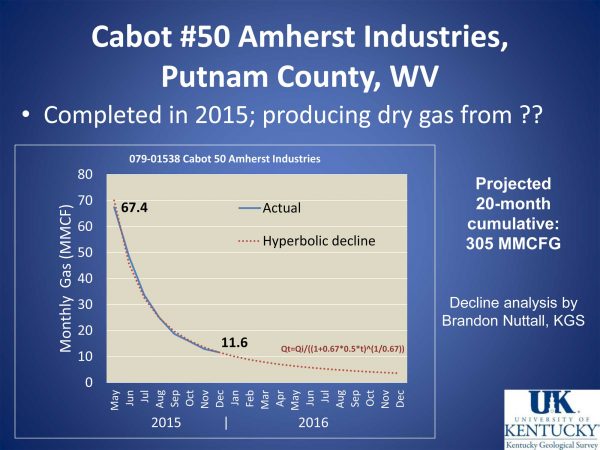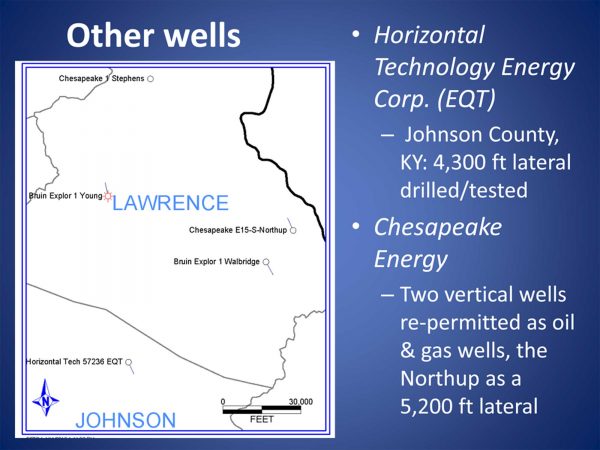 Join in our efforts to educate ourselves and one another on the Rogersville Shale! Contact as at info@ohvec.org or 304-522-0246.
Here are some more of our earlier posts about the Rogersville Shale:
February 25, 2015: Rogersville Shale: Next for West Virginia?
March 19, 2015: Rogersville Deep Shale Drilling Next for Our Area?
March 19, 2015: Rogersville Shale Info Sheet  
July 2, 2015: Rogersville Shale: USGS Report on Rome Trough
Fall 2015: Winds of Change Newsletter
December 18, 2015: Shale and Pipelines: What the Frack is Going On in Putnam County? 
January 21, 2016: Fact Sheet: What the Frack is Going On in Putnam County? 
Be sure to see our Deep Shale webpage, too.