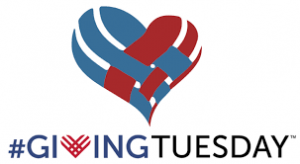 If you take part in #GivingTuesday, will you consider making a donation to OVEC as part of our $30 for 30 campaign? Donate here or see several other ways to donate here.
To mark our 30th anniversary, we have a goal of raising $30,000. We've raised about $7,860 as of mid-day Monday, November 27, so your donation can really make a difference!
If you want a sampling of what we've accomplished in our 30 years, check out some of the highlights here. 
Now's a good time for us to share a couple of reminders with you, too, of ways you can give to OVEC without adding a cent to your purchases at Kroger or online at Amazon.
If you are shopping online with Amazon, please use Amazon Smile linked to "Ohio River Valley Environmental Coalition Inc." 
Organization Name: OVEC*Ohio River Valley Environmental Coalition
Organization Number: 82772
---
For #GivingTuesday, please do donate to OVEC! Imagine what our area would look like if we weren't around! Janet Keating, who was OVEC executive director until her retirement in 2016, writes:
Many of us take for granted the air we breathe, the land on which we reside, and the water that sustains us. Naively, we assume that environmental agencies do their jobs, unhindered by politics, along with all the necessary resources to protect us. In an ideal world, that would be true. Unfortunately, after three decades of experience, I know that without the engagement of persistent, sincere citizens, polluting industries are seldom held accountable and frequently are granted a "free pass" by state and federal regulators.
For the past 30 years, in our Tri-State region, the air, water, and forests—and the people who depend on a healthy environment—have benefited because of citizen engagement. Our region is healthier because of OVEC.