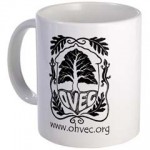 If you are looking for holiday gifts, we have some ideas that we think carry deeper meaning than a neck tie or scarf you purchase at a department store.
For instance, we offer gift memberships in OVEC, a gift that gives twice! When you purchase a gift membership, not only will you be helping to build OVEC's membership base, but you will be giving your friends or relatives a connection to a community of folks working for environmental and social justice. We'll mail those receiving a gift membership print copies of OVEC's 
quarterly newsletter, Winds of Change, to keep them informed on our work to defend our air, land, water and the places we love. They'll also receive invitations to our special events such as our members' picnic, but most importantly, they'll be tuned in to a committed network of folks who are striving to make our neck of the woods healthier and happier.
Your own membership is a gift to OVEC. Please join or keep your
membership current. Dues are at least $20 per year and/or "sweat equity" — no one is turned away due to lack of funds. If you aren't already a Sustainer, please consider (re)joining at that level, which is at least $60 per year.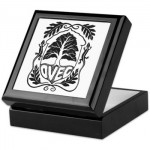 E-mail info@ohvec.org or call us at 304-522-0246 to learn more about our gift memberships and how you can give one, or to check on your membership status.
Another way to give to OVEC while gift giving is to purchase OVEC merchandise, such as the items pictured here, at our CafePress online store. 
And while we encourage one another to shop for gifts at locally-owned stores, such as Taylor Books in Charleston or The Wild Ramp in Huntington, we may succumb to shopping online. If you end up using Amazon, you can at least give a little bit to a good cause. Log into Amazon Smile and search for "Ohio River." Choose "Ohio River Valley Environmental Coalition, Inc." from the drop-down menu (yes, that's the full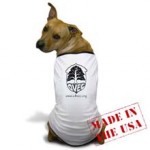 "official" name of OVEC — no wonder we prefer our acronym).
When you make an eligible purchase, the AmazonSmile Foundation will donate 0.5% of the purchase price to OVEC (as long as you choose us as your charitable organization of choice, and as long as you enter amazon via smile.amazon.com). There's no price increase for you.
And a reminder — if you shop at Kroger, check out with your Kroger Community Rewards card that you've linked to OVEC. Again, there's no price increase to you, but OVEC receives a donation for your purchases. Remember to re-link your reward card to OVEC every August (or whenever you remember). Details here.
If, after all the gift-giving of the holidays subsides, you find yourself with a few items you'd be better off without, you could sell them over on eBay for Charity.
As ever, thank you for all the ways you support our work!