January 5, 2018 update: Thank YOU! You helped us raise $17,511 in our $30 for 30 campaign. Your support is truly appreciated! Your help means we start 2018 on solid ground… Here's to the next 30 years!

OVEC is in the midst of a campaign to raise $30,000 for our 30 years of fighting for the environment, and we need your help.
Times are tough, but your contribution will help us solidly complete our 30th year!
Here's what we need to reach our goal: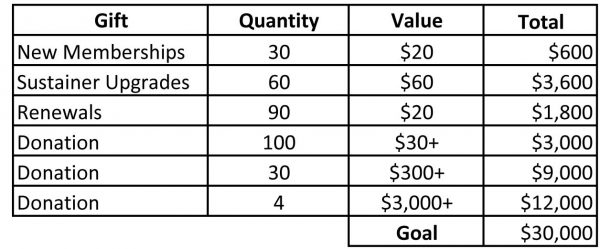 So, you see, we need at least 100 folks to donate at least $30, etc. 
We need your help! Become a member. Ask friends to join. Send an extra gift of $30 or more.
Call 304-522-0246 or e-mail info@ohvec.org to donate, check on your membership status, join for the first time, order gift memberships, or ask questions about why you should join OVEC.
Of course, you can join and donate online, here. Please earmark your donation as part of our 30 for 30 campaign. Thanks!
——-
Tenacious. Feisty. Visionary. OVEC.
These words describe the small group of dedicated folks who, in 1987, began organizing to protect the Huntington Tri-State region's air, land, and water from industrial pollution. Their dream was one of a cleaner, healthier environment, where people's lives and health come before profits.
As an all-volunteer group, they rolled up their sleeves and dived into the work, meeting in living rooms, pooling their personal funds, researching issues, educating others, holding regulators and politicians accountable and most importantly, reaching out to people like you, to build a larger base of support.
And out of their successful efforts, OVEC was "born" and now, because of supporters like you, is stronger than ever, firmly rooted in West Virginia.
Please do join or renew your membership and donate today for our $30 for 30 campaign.