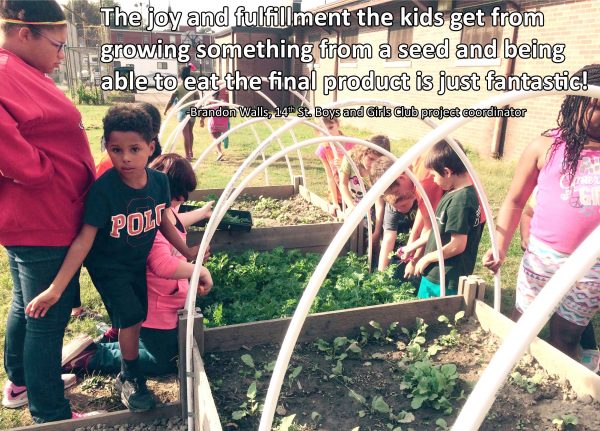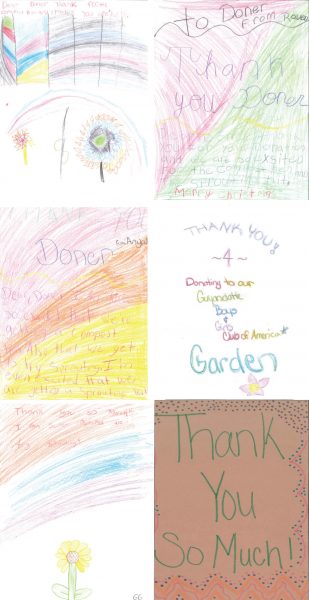 Update: Thank you!  We exceeded our goal—we raised $525 on #GivingTuesday! All funds will go to the Gardening and Healthy Eating Project. Thanks so much folks; we are so thankful for your support!  
At left are some of the thank you notes the Boys and Girls Club members sent us, to send on to you, the "doner." Thanks loads, you doner folks!
Given the chance, kids can excel with hands on learning. They can develop skills and habits that serve them for life. That's why, for two years, OVEC has been partnering with the Huntington Boys and Girls Club, Huntington's Kitchen and the WV State Extension Office on the Gardening and Healthy Eating Project. This project has been funded in part from a Try This WV mini-grant.
This year, your donations to OVEC on November 29 for #GivingTuesday* will help fund the Gardening and Healthy Eating Project, a project that will keep on giving far into the future. Establishing healthy eating habits early can lead to a lifelong focus on health, from personal to planetary. 
We carry out the project at two Boys and Girls Club locations, one in Guyandotte and one right across the street from our office on 14th St. in West Huntington.
If we raise $63 on #GivingTuesday, then we can purchase a microgreens (you know, baby lettuce and other greens that fetch a pretty penny in supermarkets) growing kit. If we raise another $63, then we can have one of these kits at each club. 
$110 will buy the project a compost tumbler; again we're looking to provide each club with one of these gizmos. We know the kids are going to love "growing" their own soil.
For the colder months, we are looking to keep the kids growing and eating fresh, so we are hoping to introduce them to sprouting. About $44 dollars will buy four cases of Mason jars in which to sprout seeds, that is two cases for each club. $14 dollars will purchase two lengths of cheesecloth used to top the jars. It's going to cost about $20 for about two pounds of alfalfa and other seeds.
So, if we can raise $424 on #GivingTuesday, then we can fully fund the current needs for the Gardening and Healthy Eating Project, as described here.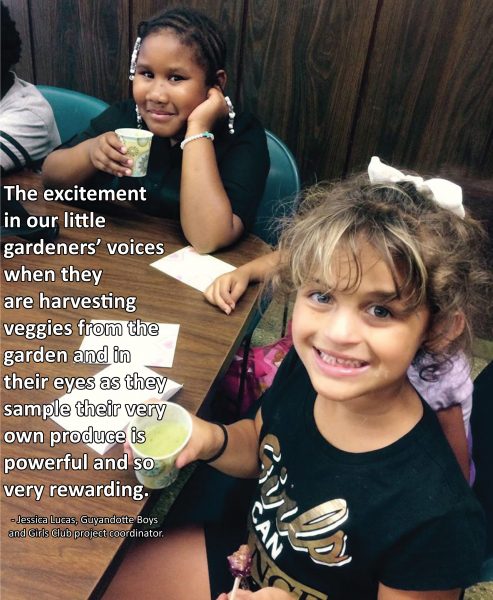 The results of your #GivingTuesday donation will sprout seeds and greens, build soil and fertilize young minds. You'll be helping to connect kids with nature, and that's so important to developing environmental awareness.
Be sure to tag your donation with "#GivingTuesday" in the "notes" section at the bottom of this form. You can also donate via PayPal or check, just be sure your donation is earmarked "#GivingTuesday."  You don't have to wait until November 29 to make your #GivingTuesday donation.
We've been so thrilled by the kids' responses to learning about where their food comes from and how to garden. In addition to planting and caring for the crops, the kids keep a weekly gardening journal, and conduct research on various plants to learn about planting times and growing needs.
Not only do the kids snack on vegetables fresh from the vines (they love the cherry tomatoes), but they also learn to make some simple recipes, such as fresh salsa and smoothies. We never thought we'd see kids jumping for joy over drinking their greens, but they are, perhaps because these are truly their greens. 
* November 29: #GIVINGTUESDAY

Whether you partake in the frenzy that is Black Friday or observe Buy Nothing Day, and whether or not you are into CyberMonday, you can be part of a beautiful worldwide celebration on #GivingTuesday. Refocus on the deeper traditions of the holiday season by joining in #GivingTuesday, a global 14-hour campaign, in which people around the world come together for one common purpose: to celebrate generosity and to give. Give your time by volunteering, give a donation to one or more of your favorite non-profits, or give your energy by giving a helping hand.