Below is the front page story of the Spring 2015 issue of OVEC's newsletter, Winds of Change. The newsletter is at the printer's now, but it will still be weeks before it ends up in your mailbox. We wanted to make certain you got this info right away, so here you go: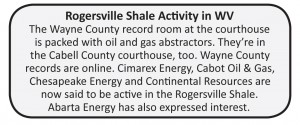 On January 6, Erica Peterson of WFLP reported in "Is Fracking Coming to the Cumberlands?"
Speculation has begun in Eastern Kentucky about a potentially large reserve of oil and natural gas trapped about two miles underground. If the Rogersville Shale is proven productive, it would be the region's first major oil and gas play. This has excited the industry, but some residents are worried about the toll large-scale oil and gas production would take on human health and the environment.
The Rogersville Shale is a Cambrian-age formation that lies under much of Eastern Kentucky and extends into West Virginia.
Peterson noted that one energy company had breathlessly blogged, "The Rogersville Shale is even older and deeper than the Marcellus or Utica shales and is Cambrian age (+500 million years). This makes the potential shale play extremely risky and expensive, but the rewards could also be extreme!" (You can guess who would suffer the risk and who would garner any "rewards.")
Eastern KY landowners are being approached by companies wanting to lease their mineral rights, Peterson reported. That's what sparked the formation of a new group, Frack Free Foothills.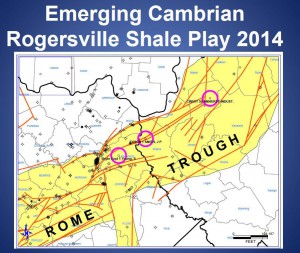 FFF's Jim Scheff told the Richmond Register, "These companies will do whatever they can to get (landowners') signatures (on leases). It's not uncommon for someone to sign something then feel like they have been outright duped. The language in these documents can be confusing for someone who isn't knowledgeable about contract writing."
And Scheff told Petersen, "When a landowner leases their land, they're putting all these effects that we know happen — increased fatalities, increased illnesses, increased birth defects, contaminated groundwater, contaminated surface water, lower property values, all of those things come to a community when somebody chooses to lease their minerals."
To educate folks about what fracking could mean for their communities, FFF invited Bill Hughes and Tom Fitzgerald to present at a community forum held in late January at the Acton Folk Center in Berea, KY.
FFF invited Hughes to outline all the troubles WV communities have faced as fracking activities have moved in. Hughes is on the Wetzel County Solid Waste Authority and he works part-time for both OVEC and the FracTracker Alliance. FracTracker paid Hughes' expenses for the trip to KY.
OVEC's Robin Blakeman attended the meeting. Besides underlying eastern KY counties, the Rogersville Shale runs into WV, under her home county of Cabell, as well as Putnam, Boone, Wayne, Lincoln and Kanawha counties, in areas with a lot of fault lines (fracking activity has been linked to earthquakes). Blakeman had to stand in the back of the room, because the nearly 400 people present filled every seat and lined every wall of the room. Organizers said fire codes forced them to turn away more than 100 folks after the meeting space was filled.
Fitzgerald is an environmental attorney with the Kentucky Resources Council. Both he and Hughes advised landowners to get a trusted attorney with expertise in property rights to go over any lease document prior to signing. He also advised that, in Kentucky, it is possible to appeal to the Attorney General to reverse a lease, if the landowner can prove they were given fraudulent or incomplete information. The best advice, however, is to "lawyer up" prior to signing anything. People should make certain any lease includes sampling their water to establish baseline data, before any shale-related activities begin.
And although leases may look lucrative, industry maneuverings can leave people with much less than they thought they were bargaining for. If people feel they were misinformed when they signed leases, they should contact an attorney to see if their signatures can be retracted, noted meeting participant Craig Williams, with the KY Environmental Foundation.
But what comes with the leases is only a small part of the story. Hughes told the crowd that fracking activities in a community bring a lot of negatives, especially water issues, air pollution and traffic accidents from the onslaught of numerous large trucks traveling on narrow, winding rural roads.
"If you have oversized, over-width, over-height and over-weight vehicles traveling on these roads, there might be a problem during even the best conditions," Hughes told the crowd.
This summer, all of OVEC's staff spent time talking to people horribly impacted by Marcellus shale drilling in Doddridge County, WV. We witnessed the transformation of a once bucolic rural area into what looked like a war zone — gigantic trucks everywhere. We saw gas company checkpoints on public roads that stopped all traffic. We met physically sick and heartsick surface landowners (who didn't own their mineral rights) whose homeplaces had been transformed into industrial complexes, often with horrible odors from gas activities. Is this same misery heading to western West Virginia and eastern Kentucky?
A couple of days after the meeting, Hughes told OVEC staff, "I just got another phone call today for information from a resident 20-30 miles from Berea, KY, who knew nothing about this meeting. He also had questions about the leasing process and general questions about what might happen. It is really fortunate that these KY folks have some warning and also now some resources to become better informed, organized and get out in front of the invasion."
Stay tuned for more from OVEC about the Rogersville Shale.