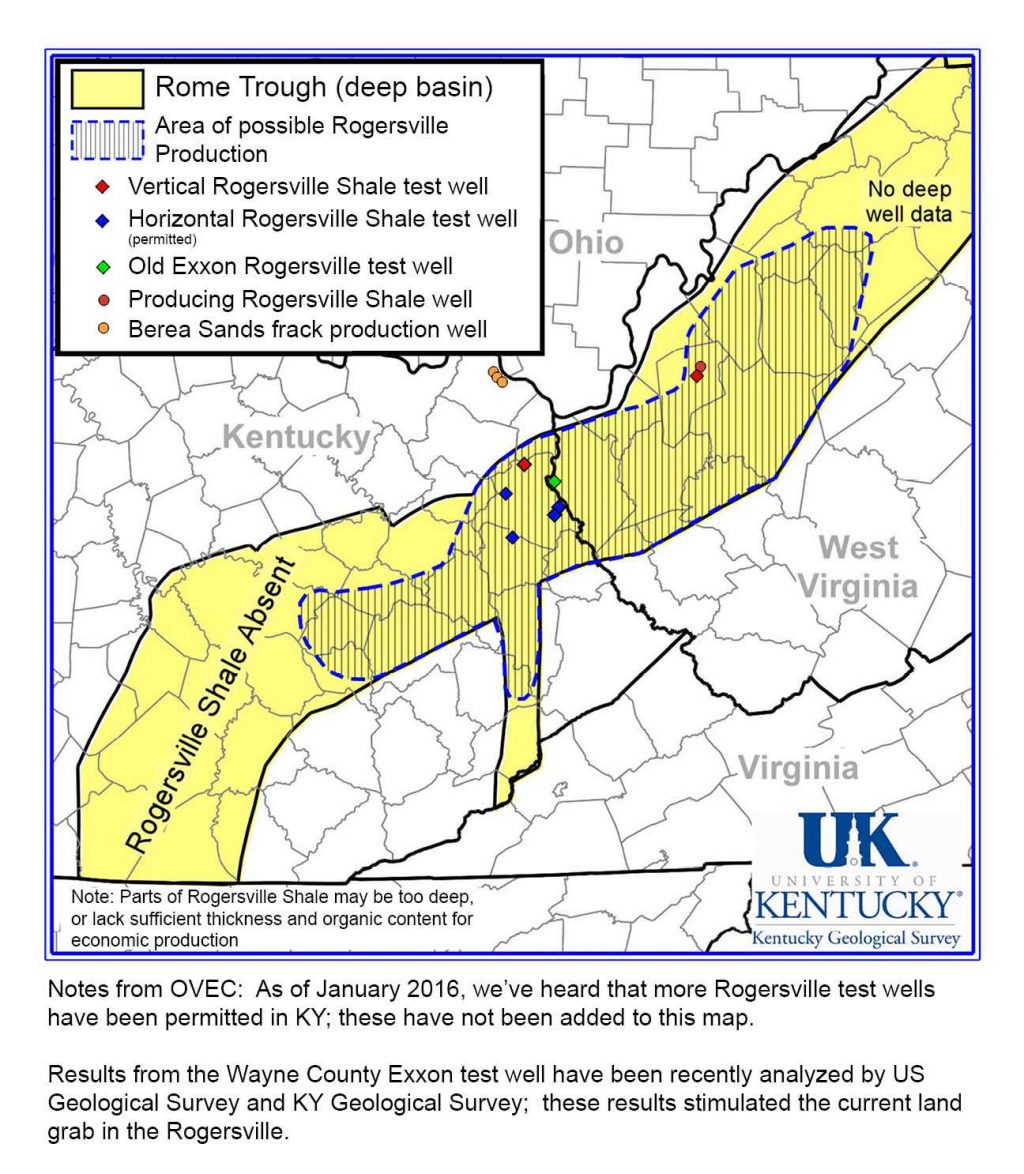 Press Release: Rogersville Deep Shale Drilling Next for Our Area?
Gleanings from Internet Research on Rogersville Shale
Results of online searches lead to OVEC staff wondering whether any oil produced from the Rogersville would be similar to the explosive oil and gas mixture that is being shipped from the Bakken Shale in North Dakota. According to new sources, Bakken oil, mixed with explosive ethane and propane, fueled multiple explosions after a train carrying Bakken oil detailed in Fayette County earlier this year. A 2014 U.K. Kentucky Geological Survey report shows evidence that an older Wayne County WV, Exxon Rogersville test well contains propane, ethane and methane.
This report says that fracking companies have more recently drilled Rogersville test wells in Putnam County, WV, in Lawrence County, KY (which is just across the Big Sandy River from Wayne County, WV). This report concludes that a "viable petroleum system exists in the Rogersville."
Upstream magazine reports, "Cimarex Energy drilled and completed the first modern Rogersville shale test to date in Lawrence County, Kentucky earlier this year using a shell company. Bruin Exploration, a Cimarex subsidiary, according to filings with US securities regulators, at first permitted the Sylvia Young 1 well as a stratigraphic test but later amended the permit to an oil well."
We've learned that the Kentucky Division of Oil and Gas will release the completion report from this Bruin well in August, 2015.
---
Cimarex Energy's "Rogersville Shale" Production Estimates?
February 7, 2015
Notable excerpts:
Production rumored by some to be slightly over 2000 bod for each of 3 zones which is crazy high… 
Based on the two large flow tanks and no more than 8-12 frac tanks on the site there would have been nowhere to store the large oil flows during the tests…
Should these numbers hold up, even If we cut these flow rates in half leaving a net 2000 to 2300 and use BOED in lieu of BOD, this is definitely shaping up to be a world class play.
---
An open listing for a sale at mergernetwork.com/for-sale/Rogersville–shale-oil-play said, "Significantly, the prospect is closer to the Wayne Co. WV Exxon Smith #1 Well (highest Total Organic Carbon in core) than any other control well previously drilled or currently in progress as of 1-12-2015."
---
A 2014 University of Kentucky Geological Survey report states that "Rogersville unconventional play should be possible in higher TOC (total organic carbon) areas, but need to consider depth and economics."
---
ROGERSVILLE SHALE ACREAGE BRINGS $1,250 PER ACRE FOR 85%WI =$1,470.00/NET ACRE
Chesapeake and EQT in Rogersville test phase
Duo drilling wildcats on emerging Kentucky shale play originally considered too old and deep
By NOAH BRENNER, Upstream – The International Oil and Gas Newspaper
27 February 2015
Notable excerpts:
APPALACHIAN giants EQT and Chesapeake Energy are drilling ahead on closely watched wildcats testing the emerging Rogersville shale play in eastern Kentucky.
EQT has asked state regulators for permission to drill the first horizontal test of the formation. The Pittsburgh-based company spud its stratigraphic test in Johnson County, Kentucky in late January and is currently drilling the well, according to local sources.
Chesapeake Energy also spud its Rogersville wildcat in late January to the north of EQT in Lawrence County KY, along the Kentucky-West Virginia border.
The company filed the permit under the name of a shell company — Horizontal Technology Energy Company — to conceal their involvement, according to local reports.
---
Notable excerpts from a presentation by University of Kentucky Geological Survey at Eastern Unconventional Oil and Gas Symposium, Nov 5-7, 2014. Lexington KY.
New Putnam County WV Rogersville test well has permit to drill 14,000 feet.  This is Cabot #50 Amherst Industries well.
Bruin Rogersville well in Lawrence Co. KY (across the Big Sandy River from Wayne County, WV) has permit to drill 15,000 feet.
Wayne Co older  Exxon Rogersville well  was drilled to 11,161 feet (though this report also mentions a drilling depth of  around 10,000 feet.)
According to a  2005 report, methane, ethane and propane found in Wayne County Exxon Rogersville well.
---
Operators embark on quiet rush to Rogersville
Story by NOAH BRENNER in Upstream Magazine, The International Oil and Gas Newspaper
7 November 2014
Notable excerpt:
Meanwhile, sources indicate that Cimarex continues to lease aggressively in the area using land services company Gulfland Appalachian Energy in Lawrence and Johnson counties. Cabot Oil & Gas finished drilling the second recent Rogersville test in Putnam County, West Virginia earlier this autumn.