Our 30th birthday has us reflecting on three decades of standing our ground. Below are some highlights from OVEC's third decade. Read up on our first decade here and our second decade here. 
As you reflect on our accomplishments, please consider supporting our $30 for 30 campaign. Here's to our fourth decade!
---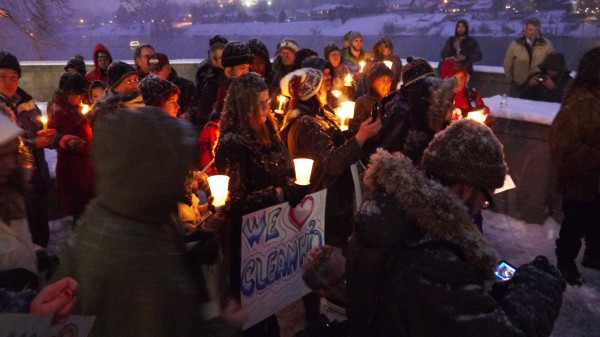 2008
Four released studies indicate that residents in coalfield counties face a greater risk of early death (especially women) and heart, lung and kidney disease. Coalfield residents provided input for these studies conducted by Dr. Michael Hendryx with WVU.
U.S. District Judge C. Robert Chambers temporarily blocks valley fills at three mines and orders the corps to provide more timely notice to citizen groups when they issue new permits for mountaintop removal valley fills.
Judge Chambers orders Apogee Coal Company to stop discharging toxic levels of selenium into WV waterways and orders the company to develop plans to permanently reduce selenium discharges.
OVEC attorneys ask for and receive a temporary restraining order at Hobet 22. Our lawyer then learns that the coal company has already destroyed the streams on the site, which effectively robbed the court of jurisdiction. However, the WV DEP agrees to add limits on toxic selenium discharges to the company's water pollution permit, and Hobet 22 officials agree to hire an expert recommended by environmental groups to advise it on a forest reclamation plan for the site.
OVEC is featured in a chapter in 50 Simple Things You Can Do to Save the Earth.
We complete and distribute the second volume of transcribed interviews with coalfield residents—Mountaintops Do Not Grow Back.
The documentary, Burning the Future – Coal in America, which features OVEC staff and volunteers, is shown several times on the Sundance channel, Link-TV and is featured at numerous national, state, and international film festivals. It is the Pare Lorentz Award Winner for the Best Social Documentary of 2008.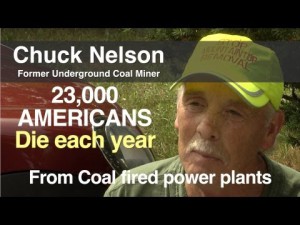 OVEC board member and coalfield resident, Chuck Nelson, appears on a segment of CNN's Anderson Cooper 360 as well as in a segment of Morgan Spurlock's documentary show 30 Days.
An OVEC staff member speaks to more than 500 Citibank shareholders at their annual meeting in New York City, asking them to support a resolution calling for Citibank to stop financing mountaintop removal and coal-fired power plants.  The CEO of Citibank agrees to participate in a fly-over of mountaintop removal. Citibank later creates a due diligence policy on mountaintop removal.
OVEC board member and lead volunteer, Chuck Nelson, receives the WV Environmental Council's Laura Forman Grassroots Activist award.
The Boone County Commission approves $300,000 towards a municipal waterline for Prenter, where underground slurry injection has contaminated water wells. Community leaders establish the Prenter Water Fund and raise money to purchase 55 gallon water barrels to be placed at people's homes. They also purchase a used tank to haul water to over 400 residents. OVEC member, Chuck Nelson, worked closely with residents to make this happen.
OVEC and Coal River Mountain Watch co-sponsor the Appalachian Community Economic conference. The focus is sustainable, community driven jobs.
Judge Chambers blocks a permit for Fola Coal.  The judge acknowledges potential job losses, but states that allowing the continued burial of streams could result in an "environmental catastrophe, arrived at one small step at a time."
OVEC helps arrange for top level officials from the Bank of America to tour Kayford Mountain and meet coalfield residents. Bank of America later announces they will phase out financing for coal companies whose primary means of coal extraction is mountaintop removal.
OVEC begins working with the Just and Open Businesses (JOBS) project to promote renewable energy technologies and a more diversified economy. One component of this project is developing a community owned wind farm.
---
2009
OVEC helps organize Energy Independence Day in Mingo County attended by over 170 local residents.
An article in Smithsonian magazine focuses on mountaintop removal near the Gauley River area featuring several OVEC members. OVEC staff worked with the Smithsonian reporter for over a year and a half on this article.
An OVEC lawyer appeals a permit renewal for Gauley Mountain on the basis that the company has a history of water pollution violations. Although they do not deny the permit outright, the OSM says the company has to produce a plan to reduce the pollution to legal levels. Mining is stopped on Gauley Mountain at this site!
OVEC's Sludge Safety Project members release the Citizen's Report on Underground Sludge Injection. An independent analysis of water samples shows high concentrations of toxic heavy metals that exceed federal primary drinking water standards.
West Virginia Division of Environmental Protection finally releases the study on coal sludge (mandated by the legislature after OVEC members' successful lobbying efforts) and announces a temporary moratorium on new underground injection of coal sludge.
The Sludge Safety Project organizes a "Health in the Coalfields" meeting.
OVEC member, James Tawney, pressures the Nicholas County Public Service District to provide 14 gallons of water per person per day for folks on Jones Branch where water is contaminated by underground sludge injection.
OVEC organizes over 50 volunteers for flood relief in Mingo County and begins reaching out to residents, many who blame mountaintop removal for the flooding. Unbelievably, two mining companies take responsibility for flood damage caused by their mining activity and agree to provide restitution. This would never have happened if residents hadn't organized and pressured the coal industry and politicians.
The U.S. Environmental Protection Agency denies six mountaintop removal permits in Central Appalachia and announces that it will review hundreds more to evaluate the impact of mountaintop removal coal mining on the nation's streams and wetlands.
OVEC co-Sponsors the first annual Mountain Aid concert, held in North Carolina.
Plundering Appalachia is released. It includes first-person testimonies by OVEC members and over 20 eye-popping images, including the cover, by OVEC staffer, Vivian Stockman. Vivian receives special acknowledgement for the key roll that she played. OVEC worked for several years with the Foundation for Deep Ecology on the production of this book about mountaintop removal. OVEC received almost 1000 copies of the book to use for outreach.
Federal District Judge Joseph R. Goodwin issues a major ruling stating that regulators may not approve mountaintop removal operations in Southern West Virginia through a streamlined permitting process (Nationwide 21).
OVEC produces a booklet outlining the need for cemetery protection, including stories from coalfield residents whose family cemeteries have either been destroyed or are in danger of being destroyed from mountaintop removal mining.
The Ansted Historical Society, with whom OVEC works closely, wins a precedent-setting victory when U.S. District Judge John T. Copenhaver Jr. rules that private deals between coal companies and the West Virginia Department of Environmental Protection do not block citizens from filing their own enforcement lawsuits under the Clean Water Act.
On September 11, after reviewing hundreds of mountaintop removal permits, the United States Environmental Protection Agency announces their recommendation that 79 mining permits do not comply with the Clean Water Act and require further review.
Several OVEC staff, board, and members join over 12,000 students in Washington D.C. to lobby Congress to rebuild the economy through clean energy policies. They participate in Capitol Climate Action, where around 3,000 protesters shut down the coal-fired power plant that heats the Capitol. This was the largest climate change protest ever.
A front page New York Times article focuses on the water pollution in Prenter and the related health and dental problems residents are suffering. A resident of Prenter also appears on the Dr. Oz show where she speaks about the toxic water and health problems in her community.
With Coal River Mountain Watch taking the lead, OVEC helps organize over 300 people to attend a rally at Marsh Fork Elementary School. Thirty two people are arrested, including NASA scientist James Hansen, actress Daryl Hannah, OVEC board member Larry Gibson, former board member Winnie Fox, and member Congressman Ken Hechler.
Shortly after the rally, Senator Byrd issues a stinging and unprecedented indictment against Massey Energy for refusing to help fund the building of a new school for Marsh Fork Elementary students; he is joined by Sen. Rockefeller and Congressman Nick J. Rahall, Jr.
OVEC and other community organizations submit a petition to the Environmental Protection Agency (EPA) urging the agency to incorporate environmental justice considerations into its review of pending applications for mountaintop removal.
OVEC collaborates with several state and national groups to organize over three hundred people, including Robert Kennedy, Jr., for a protest at the WV DEP office to demand mountaintop removal be stopped on Coal River Mountain.
Senator Byrd releases a strong statement that outlines some of the problems associated with mountaintop removal, calls into question its continued use, and states that there is strong bi-partisan opposition to it in Congress.
---
2010
Two OVEC staffers, including Dustin White, are part of a group of coalfield residents and environmentalists who meet with Governor Joe Manchin to talk about the health, social, and environmental problems caused by mountaintop removal and the increased violence and intimidation they are facing. This is the first time in more than a decade that a sitting governor met with groups concerned about this issue.
The Supreme Court Public Financing Pilot Project is passed and signed into law. Since 1997, OVEC has organized and led Citizens for Clean Elections, a diverse coalition of 28 organizations promoting a voluntary system of public funding for state-level political campaigns.
After much citizen pressure, lawmakers finally pass a cemetery protection bill. While the faith community took the lead on this issue, they were supported by OVEC and OVEC members.
OVEC's Sludge Safety Project members spend one month of the 2010 legislative session meeting each week for private negotiations with the WV Coal Association, and Acting State Senate President Jeffrey Kessler. OVEC organizes coalfield residents, health experts, and scientists who testify during a legislative interim-long study of the health and environmental impacts of impoundments and coal slurry injections.
Twelve of the nation's top scientists release a study outlining the "pervasive and irreversible" impacts of mountaintop removal and call for the government to stop issuing permits. The peer-reviewed paper is published in Science. OVEC worked with one of the co-authors, Dr. Michael Hendryx, for over three years, connecting him with coalfield residents suffering from illnesses attributed to mining-related toxins. Two other co-authors served as expert witnesses in OVEC's legal cases.
Carol Warren, OVEC's faith-based liaison and point person on election reform, receives the Martin Luther King, Jr.'s "Living the Dream" award as an Advocate of Peace (one who has advocated for non-violent social change).
Ohio Citizen Action presents OVEC board members, Larry Gibson and Chuck Nelson, Enduring Courage awards, which recognize community activists who have exemplified unwavering courage in fighting for their communities.
Patagonia features OVEC's work, along with a photo by OVEC's Vivian Stockman, in their 2010 Environmental Initiatives Booklet—both a printed and on-line version.
On June 17, the US Army Corps of Engineers announce the suspension of NWP21 permits in Kentucky, Ohio, Pennsylvania, Tennessee, Virginia and West Virginia.
In July, the U.S. Environmental Protection Agency announces the release of an interim guidance document to help agency staff incorporate environmental justice into the agency's rulemaking process. This is something OVEC and other groups have been pushing for.
In October, EPA Region III recommends a revocation of a permit for the largest strip mine in West Virginia citing "environmental justice" concerns that low-income residents would be subjected to a disproportionate amount of pollution from mining.
After three years, the Senate Concurrent Study Resolution 15 on the environmental and public health impacts of coal slurry injection is completed and presented before the legislature. Not surprisingly, it is inconclusive; however, it recommends the state follow the precautionary principle and not conduct any activity that could expose communities to toxic pollutants.
Because of OVEC's litigation, in 2010 the U.S. EPA develops new guidance policies that require coal companies and regulatory agencies to demonstrate that the function of streams will be restored in waterways buried by mountaintop removal waste.
As a result of an OVEC led lawsuit, a federal judge finds Patriot Coal in contempt of court and orders selenium pollution clean up at two mine sites.
 As a result of OVEC's and Ansted Historic Preservation Council's litigation, offending coal companies are ordered to donate $2 million to allow WVU School of Law to open and operate a legal clinic focusing on helping local and county governments, and non-profit groups, to reduce water pollution, including "straight pipe" pollution. WVU also agrees to contribute nearly $1 million for this legal clinic which will assist groups in gaining government funding for water protection and land protection efforts.
 In September, OVEC staff, board, and members joined over two thousand people at Appalachia Rising, marching on the White House to deliver the message that mountaintop removal must be abolished. OVEC board member Larry Gibson and at least five other OVEC members were among the 114 people arrested in front of the White House.
OVEC's years of protests and collaboration with Coal River Mountain Watch and Pennies of Promise pay off! CRMW secures an amazing contribution of $2.5 million from the Annenberg Foundation, so the children of Marsh Fork Elementary will be getting a new, safe community school. The state agrees to provide the rest of the funds (and Massey Energy is kicking in $1.5 million).
OVEC begins working on issues related to Marcellus Shale gas drilling.
OVEC partners with WV Sierra Club and the Marshall University Student Environmental Action Coalition (SEAC) to sponsor the successful Toll of Coal on Human Health conference with 75 participants. The goal of the conference was to raise public awareness about the various impacts coal has on human health across the entire cycle of coal.
Half of the residents in Prenter, WV (where drinking water wells were polluted from toxic coal sludge), are hooked up to municipal water. Funding still needs to be secured to provide municipal water to the rest of the community.
---
2011
With input from residents, Acting State Senate President, Jeffrey Kessler, drafts legislation calling for a ban on underground slurry injection. Although the bill does not pass, we gain allies in the legislature and broaden the coalition of folks fighting underground sludge injection.
An OVEC staff member is among those is featured in The Last Mountain, which has its premier at the Sundance Film festival.
 The West Virginia Air Quality Board rejects key portions of an air pollution permit for the TransGas Development coal-to-liquids plant proposed for Mingo County. OVEC and other groups rightly contended that the air permit did not qualify as a "minor" air pollution source.
In response to a legal challenge by OVEC and other groups, U.S. Judge Robert C. Chambers issues a temporary restraining order to immediately halt coal mining operations at the Reylas surface mine in Logan County. The US Army Corps of Engineers then suspends the permit for further review.
In response to another OVEC lawsuit, Judge Chambers rules that Massey Energy and Arch Coal must pay civil penalties for discharging selenium into streams in violation of water quality permits.
OVEC collaborates with several groups to support a first-of-its-kind community-level health survey in the Coal River Valley to try and determine if mountaintop removal impacts human health. A recent peer-reviewed article referring to this study indicates that adults living in the Coal River Valley where mountaintop removal is conducted have 50% more cancers than at a reference site in Pocahontas County.
OVEC staff and leaders participate in the Appalachian Community & Ecosystems Health Collaborative Summit. Sixty five Central Appalachia community members and academic researchers from across the ecological and health sciences arenas convened for the event. The purpose of the summit is to develop research plans to fill in the knowledge gaps regarding community and ecological health in our region.
Working with Windustry and local land owners, we get an anemometer up and running to collect the needed years' worth of meteorological data at the proposed site for a community owned wind farm.
As a follow-up to the hugely successful Appalachia Rising event in Washington, D.C. last year, coalition partners decided to orchestrate a march on Blair Mountain. After six months of planning and despite enormous obstacles and intimidation along the way, 250-300 people took part from June 4-11 in the 50 mile march from Marmet, WV, to Blair, WV. The event culminated in a rally attended by approximately 1,200 people where Robert Kennedy, Jr. as well as OVEC leaders, spoke to the crowd. Additionally, around 700 people marched up Blair Mountain.
Residents from the Rawl area win a multi-million dollar settlement which includes a medical monitoring program for residents. Although OVEC was not involved in the lawsuit, we connected them with lawyers; our organizing assistance helped residents to harness their personal power and take on the coal industry. Here's what Donetta Blankenship, an OVEC leader from Mingo County who suffered from life-threatening liver failure, had to say about the settlement: "People can see that they don't have to put up with it anymore. I want everybody all over the country to find out they don't have to do that. They can fight and stick together. They can fight and win."
A study published in the peer-reviewed journal Environmental Research indicates that babies born between 2000-2003 in Central Appalachian Counties where mountaintop removal mines are in operation were 42 percent more likely to suffer from some kind of birth defect. That's compared to babies born where there is no coal mining or where coal is mined other ways. In July, OVEC and other groups participate in a D.C. press conference regarding this health study, and distribute 500 copies of the report on Capitol Hill.
OVEC works closely with Boone County residents to collect signatures petitioning that Rt. 26 be designated a Civil War Memorial Highway. In July, the road is granted that status in honor of William Chapman "Chap" Cook, a civil war soldier buried in the Cook Family Cemetery, which is threatened by mountaintop removal.
On August 11, Sierra Club, OVEC and other groups settle a consent decree with five Massey Energy surface mines with aluminum water violations. Massey agrees to pay a $40,000 civil penalty, as well as $400,000 to the WV Land Trust to conserve property of special significance in perpetuity in three watersheds.
---
2012
In May, OVEC co-hosted the first-ever women's climate justice tribunal. Women from WV, VA, KY and TN testified about the impacts of coal, especially mountaintop removal. Among other things, jurists called for an immediate moratorium on mountaintop removal and increased health studies. OVEC's Executive Director presented the findings to EPA Administrator Lisa Jackson at the UN Conference on Sustainable Development in Rio De Janiero, Brazil.
In June, Prenter residents settled with Alpha Natural Resources (formerly Massey) over sludge-contaminated water that resulted in severe health problems. Although OVEC never becomes involved in personal injury lawsuits, we believe our previous organizing assistance that helped Prenter residents get municipal water service also gave them the confidence to hold the coal industry accountable for causing their health problems.
In September, OVEC co-hosted the Wellness and Water Conference in Morgantown, WV with over 100 people in attendance. The conference focused on water and health issues related to Marcellus Shale drilling and mountaintop removal mining. 
In September, two OVEC organizers, including Dustin White, participated in the Mountain Heroes event in Washington, D.C. where approximately 250 participants rallied in front of the White House to ask President Obama to stop mountaintop removal coal mining and hand-delivered a photo petition of 14,000 people.
In September, OVEC staff took two representatives from Wells Fargo on a tour of mountaintop removal. Rainforest Action Network arranged the meeting; our aim is to have Wells Fargo stop financing mountaintop removal.
In November, Patriot Coal, the second largest surface mining company in WV, announced it would immediately begin phasing out all mountaintop removal in Appalachia. Although Patriot filed for Chapter 11 bankruptcy, they are still responsible for $440 million to clean up toxic selenium stemming from a previous settlement agreement with OVEC and other groups. OVEC and its partners consented to an extended clean-up schedule, and Patriot agreed to phase out large-scale surface mining operations and abandon permit applications, including one that that would have obliterated part of the Blair Mountain battlefield! Patriot CEO, Ben Hatfield, issued a statement acknowledging the negative impact mountaintop removal has on communities.
As a result of OVEC's long-term work on campaign finance reform, in 2010, the legislature approved a pilot project to provide funding for candidates for the WV Supreme Court. In November 2012,  Allen H. Loughry II became the first-ever publicly funded official in West Virginia to be elected to office despite being heavily outspent by his opponent, the wife of a WV State Senator who has strong ties to the coal industry.
An abstract presented at the Annual Coal Processing Exhibition and Conference 2012 revealed that coal companies are turning to methods that do not include new coal waste impoundments because of the difficulty in obtaining new permits. We count this as a huge success for our work with the Sludge Safety Project.
OVEC was part of a coalition of citizen groups and states (along with the U.S. EPA) that reached a landmark settlement agreement with American Electric Power (AEP) requiring AEP to stop burning coal by 2015 at three power plants in Indiana, Ohio and Kentucky.  AEP also agreed to replace a portion of these coal plants with new wind and solar investments in Indiana and Michigan, bringing more clean energy on line.
---
2013
In January, the new Marsh Fork Elementary School opened in Raleigh County. For more than six years, OVEC worked with Coal River Mountain Watch and Ed Wiley's Pennies for Promise campaign to close the old school adjacent to a coal silo, with an ever-growing mountaintop removal site and a massive toxic coal waste impoundment looming over the school children. Years of protests finally paid off.
In April, OVEC arranged for two representatives from the Office of the United Nations Commissioner for Human Rights to meet with nearly twenty affected residents regarding human rights violations, especially the right to clean water and health. Findings and recommendations were later included in the official report presented to the Human Rights Council in June 2014.
In May, WV Governor Tomblin signed HB 2805, making the WV Supreme Court of Appeals Public Campaign Financing Program permanent. OVEC has been a primary leader and organizer of Citizens of Clean Elections since 1997.
OVEC partnered with the Southern Appalachian Labor School on the Coalfield Environmental Health Project in Fayette County, a series of trainings and forums to inform residents about protections granted under federal law (e.g. Clean Water Act), and how to identify and report mining violations. These seven meetings attracted nearly 200 participants and resulted in a health study, led by volunteers, being conducted in Beard's Fork. This study indicated elevated levels of cancer, asthma, heart problems, etc.
OVEC and other groups organized the second Wellness and Water conference in June; around seventy-five people participated, bringing together folks working on mountaintop removal mining and Marcellus gas fracking issues. We established a permanent Wellness and Water Facebook page.
OVEC organized and sponsored "From Buffalo Creek to Broadway" to call attention to the dangers of toxic coal sludge dams. The featured speaker was Kerry Albright, the "Miracle Baby" who, as an infant, survived the Buffalo Creek disaster that killed 125 people in West Virginia in 1972.
In March, OVEC staff and members joined Mountain Justice and other groups at a protest at the WV State Capitol to highlight the health and environmental impacts of extreme gas and coal extraction. Around 100 protestors demand that our lawmakers take into account the harms of mountaintop removal and gas fracking when considering legislation. 
A federal appeals court in Washington, D.C., ruled that the Environmental Protection Agency has the legal authority under the Clean Water Act to revoke a permit for one of the largest mountaintop removal mining operations ever proposed for West Virginia. OVEC, as part of an original lawsuit in 1998, was signed on as a friend of the court on behalf of the EPA.
After the WV state legislature passed weaker water quality standards last year, our legal team issued a Notice of Intent to sue the U.S. EPA for failing to ensure the state enforces the Clean Water Act. We had a victory this spring when the EPA reported that the WV DEP had improperly left 255 streams totaling about 1,000 miles off its list of impaired waterways. The EPA said those waterways must be added, bringing the new list to nearly 1,200 rivers and streams.
In April we learned that the 6th U.S. Circuit Court of Appeals reversed a lower court's ruling in Eastern Kentucky that upheld the Nationwide 21 permitting process, a streamlined process making it easier for companies to get large-scale mountaintop removal permits. OVEC actually won a victory in 2011 that stopped this permitting process in West Virginia. This latest legal ruling, in which OVEC was also a plaintiff in the lawsuit, strengthens our victory by making the process illegal nationwide.
Our legal appeals to the WV Environmental Quality Board regarding permits issued by the WV Department of Environmental Protection resulted in six coal companies being required to monitor for and abide by legal limits of selenium discharges into streams.
In February, OVEC members and staff were among the tens of thousands people who marched on the National Mall in D.C. to demand that President Obama carries through with his promise to address climate change.
We helped launch Citizen Action for Real Enforcement (CARE), to hold government agencies accountable for their failure to protect the environment and respect citizens' rights, including issuing permits in open violation of the Clean Water Act.
---
2014
After the water supply of more than 300,000 West Virginians was contaminated by a coal-related chemical leak, OVEC networked with allies and formed the WV Clean Water Hub to deliver water and other needed supplies to people in need, especially in the southern region. OVEC posted updates about the crisis on our website, connected affected residents with journalists to garner nationwide exposure, and helped organize rallies and meetings where citizens could hold politicians and regulators accountable. In response to citizen outcry, the legislature passed Senate Bill 373 that imposes the first-ever regulation of above-ground storage tanks.        
In 2012, residents of Cedar Creek contacted OVEC after a rash of cancer cases in their community made them suspect their water was contaminated by coal-related pollution. OVEC raised money for water testing that revealed elevated levels of contaminants; we then connected residents with lawyers. Recently, a judge ordered the company to provide replacement water for 16 homes. Cedar Creek resident Paulette Blankenship: "If my son hadn't happened to see that OVEC flyer on the (Marshall University) campus, we wouldn't be here today."
We learned that six coal treatment plants began using a dry press method for disposing of coal slurry; OVEC had pushed for this since 2004. The dry press method eliminates the need for slurry impoundments that leach toxic chemicals into groundwater and nearby streams.
OVEC coordinated and co-sponsored the 3rd Wellness and Water Conference October 3-4 in Charleston, WV, focusing on the environmental, health, and water impacts of fossil fuel extreme extraction. Keynote speakers included the chief health officer for WV, Dr. Rahul Gupta, and the 2014 Goldman Prize winner, Helen Slottje, who helped towns across New York pass fracking bans.
In September, OVEC organizer Dustin White and volunteer Paula Swearingen spoke at the International Day of Peace Symposium about mountaintop removal's impacts on water. They also participated in the People's Climate March, joining over 100 fellow Appalachians as part of the front-line communities, urging United Nation's action on climate change.
In July, we coordinated with the NAACP on a press event where NAACP released Just Energy Policies; Reducing Pollution and Creating Jobs, a West Virginia Report.  It focused on state energy policies that can reduce harmful impacts from fossil fuel extraction and energy production while creating jobs.
In July, Federal District Judge Robert C. Chambers issued a ruling in a major water pollution case against Alpha Natural Resources (OVEC was lead plaintiff); he ruled that high conductivity from two of its surface mines turned once quality streams into impaired waterways.
OVEC helped lead Energy Efficient WV. As a result of its efforts, WV legislators passed a pro-energy efficiency bill that requires WV electric companies to submit future electric generation plans to the WV Public Service Commission that include consideration of energy efficiency as part of demand-side energy resources.
We hired Bill Hughes from Wetzel County to work part time on deep shale oil and gas issues. His diligence led to JB Oil and Gas being cited for creating "imminent danger that a fresh water source or supply will be contaminated or lost."
---
2015
OVEC purchased the building that had served us for 17 years, expanding our space and firmly rooting us in the Huntington community. Coalfield Development Corporation, a non-profit that provides on-the-job training and more for young folks, completed the remodel, which includes many reused/recycled materials and energy efficiency measures.
 We worked with the West Virginia Safe Water Roundtable to organize "A Month of Water" in January to refocus public attention on the water crisis. Approximately 300 people attended a screening of Elk River Blues, 150 people attended the educational workshops and dinner, and 50 attended the interfaith candlelight vigil (Honoring the Waters) at the Kanawha River, with participation from the Hindu, Muslim, Christian and Native American community.
In March, OVEC helped organize, publicize and host The People's Foot Rally at the WV Department of Environmental Protection's office. Approximately 200 residents demanded a moratorium on mountaintop removal permits. The next day, directors of the state health and environmental departments said the state would review health studies tied to mountaintop removal.
For over a year, OVEC worked with the Kanawha Forest Coalition and community leaders to stop a mountaintop removal site that threatened the Kanawha State Forest. In June, the DEP issued a press release announcing that Keystone Industries (the permit holder) and Revelation Energy (the mine operator) were added to the "Applicant Violator System," blocking the company from new mine permits anywhere in the country until they addressed the ongoing violations at the KD#2 mine.
OVEC staff and volunteers organized a WV event in conjunction with the international event, The Ground Beneath Our Hearts. More than twenty-five participants joined communities around the world impacted by mining and/or gas and oil development to celebrate their resilience and love of place.
Our earlier work with EarthQuaker Action Team (EQAT) to protest funding of MTR paid off in April when PNC announced it would effectively cease its investment in mountaintop removal mining.
OVEC initiated and helped organize the Ohio River Citizens' Alliance, a multi-state alliance aimed at protecting the Ohio River from the impacts of shale oil and gas development.
 Two community fracking forums attracted nearly 240 participants. In September, we took seven folks who attended these meetings on a ground tour to northern WV, where shale development is already impacting communities. We also organized a tour and presentation in July for OVEC's board members.
In December, OVEC organized a statewide meeting for 31 organizations working on various aspects of deep shale oil and gas development to learn from each other's experiences and explore opportunities for strategically working together.
In December, one of our mountaintop removal lawsuit settlements resulted in over $500,000 for the WV Land Trust.
The documentary, Time To Choose, was screened in Paris during the UN climate-change conference. OVEC's media liaison helped researchers extensively with the mountaintop removal portion of the documentary and served as an on-the-ground and aerial guide.
In April, OVEC received the second annual Jean and Leslie Douglas Pearl Award, given by the Cornell Douglas Foundation to organizations "who are dedicated to improving the lives of others and to providing a sustainable earth for future generations."
In August, OVEC's then Executive Director, Janet Keating, was named one of Environmental Working Group's Women of Courage.
In September, OVEC was presented with the 8th annual FOCIS award from the Catholic Committee in Appalachia. In part, it's given to groups exhibiting a tradition of service and an appreciation of Appalachia.
---
2016 
In August, we celebrated with the Kanawha State Forest Coalition and other allies when the DEP announced that the mine site adjacent to the Kanawha State Forest was being permanently shut down.
Alpha Natural Resources settled a lawsuit in which OVEC was the lead plaintiff, agreeing to pay $7.5 million for land and stream restoration projects, and provide more than $1 million of in-kind services.
In August, OVEC, WV Highlands Conservancy, and the Sierra Club also won a $6 million stream restoration and reforestation settlement with the Virginia Conservation Legacy Fund; funding will support pilot restoration projects at the massive Hobet mountaintop removal mine. Appalachian Headwaters will oversee the projects.
OVEC provided environmental justice training for 14 participants in the Coalfield Development Corporation's environmental remediation classes, a program focused on economic transition.
We recruited five teams of volunteers to conduct water testing to obtain baseline data on streams potentially impacted by the Mountaineer Xpress Pipeline. WV Rivers Coalition, Trout Unlimited, and WV Highlands Conservancy are partners on this project.
In July, OVEC spear-headed a regional meeting of 26 groups from 6 surrounding states; participants formed the Appalachian Gas Working Group to address shale gas and oil problems, including pipeline issues.
After much citizen pressure, which OVEC helped organize, the National Academy of Sciences appointed an expert team to examine mounting public research suggests Appalachian residents living near mountaintop removal sites are at an increased risk of serious health problems.
OVEC organizers worked with Dr. Michael Hendryx (Indiana University) on a successful pilot study, which showed that residents near mountaintop removal sites are exposed to increased levels of carcinogenic PAHs (polycyclic aromatic hydrocarbons).
As part of an international day of solidarity with Standing Rock, OVEC and others organized a November 2016 rally in front of the U.S. Army Corps of Engineers office in Huntington that attracted more than 200 people.     
---
2017
In January, U.S. Court of Appeals for the Fourth Circuit issued an opinion affirming that Fola Coal operations contaminated water in Stillhouse Branch with pollutants. The opinion upheld an earlier U.S. District Court decision, flatly rejecting efforts by the state of West Virginia to deny that high conductivity mining pollution harms stream life.
In February, Federal US District Judge Robert C. Chambers ruled that the West Virginia Department of Environmental Protection and the U.S. Environmental Protection Agency have failed to comply with Clean Water Act Language requiring remediation for streams that don't meet water quality standards.
In April, OVEC organized a sister rally and march to the People's Climate Movement with speakers ranging from Marshall University (MU) science professors to representatives from the MU Native American Student Organization, Climate Change Project, Citizen's Climate Lobby and more. Approximately 150 people attended the march in Huntington. The focus was on how the proposed widespread development of deep shale oil and gas puts our region at ground zero for climate change.
OVEC worked with the Alliance for Appalachia and Earthjustice to bring the ranking Democrat on the House Natural Resources Committee (Congressman Raul Grijalva) to central Appalachia in June to see mountaintop removal firsthand and meet with affected residents.
In May, OVEC's Vivian Stockman spoke live on C-SPAN for a half-hour segment on coal's impacts on Appalachia countering Bob Murray, CEO of Murray Coal. In March, she led journalists with PBS News Hour on a tour of mountaintop removal and connected them with affected residents for their two-part series, "Clean Coal: Myth or Reality."
OVEC was included in a Ms. Magazine report regarding organizing models of women-led groups helping build the grassroots movement to boost renewables and combat climate change. On June 4, Executive Director Natalie Thompson was one of two presenters on an international webinar hosted by Ms. Magazine regarding OVEC's successful organizing efforts around these issues.
In June, U.S. District Judge Robert Chambers ruled that two WV streams were polluted by runoff from Fola Coal's Monoc #2 Surface Mine. The judge found the toxic run-off had impaired aquatic life and violated key state and federal water quality protections. The court will conduct a trial to determine how to remedy the problem. OVEC was the lead plaintiff in this lawsuit.
 In October, OVEC organized the "Tri-State Water Defense Citizen Summit" in Huntington, WV. The meeting brought together OVEC members and allies to determine a focus and coordinated actions on oil and gas issues in the Tri-State Huntington area. They decided to focus on pipelines.
 OVEC partnered with WVSUN (now Solar United Neighbors of West Virginia) to cultivate a 30+ member solar co-op in the Huntington Tri-State area.
OVEC staff and board members helped form and now lead the first official WV Interfaith Power and Light Chapter.
OVEC Executive Director Natalie Thompson and others in our community established the first WV State Chapter of SURJ (Showing Up for Racial Justice), a national network of groups and individuals organizing white people for racial justice and supporting the work through leadership development, citizen trainings, and public education.
---
Stay tuned! With your continued involvement and support, there's more to come!