Our 30th birthday has us reflecting on three decades of standing our ground. Below are some highlights from OVEC's second decade. Read up on our first decade here. As you reflect on our accomplishments, please consider supporting our $30 for 30 campaign.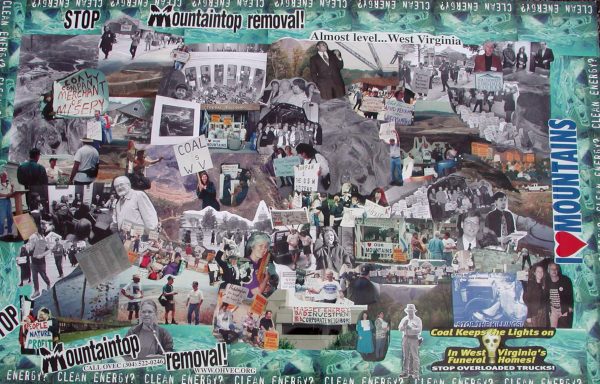 1998 to present 
OVEC, often with Coal River Mountain Watch, West Virginia Highlands Conservancy, and other groups, organizes numerous stop mountaintop removal citizen meetings, rallies, protests, educational events, and more.  This builds our membership and brings growing national and international media coverage.
---
1998
OVEC launches its World Wide Web site.
OVEC and WV Highlands Conservancy win a lawsuit forcing the U.S. Environmental Protection Agency to develop water pollution clean-up plans for WV waterways.
As a result of OVEC members, the WV Highlands Conservancy and others joining in a lawsuit led by attorney Joe Lovett, Arch Coal is blocked from a 2,100 acre mountaintop removal mine near Blair, WV, the largest in the state.
After extensive outreach by OVEC, the Commission on Religion in Appalachia and five religious denominations pass a resolution calling for an end to mountaintop removal mining, including the United Methodist Church, of which then-WV Governor Cecil Underwood was a member.
ASHLAND OIL VICTORY! After OVEC applies ten years of unrelenting pressure on environmental regulators and politicians, the U.S. Justice Department and U.S. EPA level the then-largest fine in their history ($38.5 million) against Ashland Oil, requiring that they bring all their U.S. refineries into compliance with environmental regulations.
---
1999
OVEC receives the National United Methodist Social Justice Award.
Vivian Stockman, on staff with OVEC since 1998, receives the WV Environmental Council's highest award—the Mother Jones Award.
Mike Miano, head of the WV DEP, resigns after OVEC files a lawsuit under the federal Clean Water Act to remove him from office due to his conflict of interest as a former coal industry executive.
Chief U.S. District Judge Charles Haden rules that mountaintop removal affecting some streams is illegal. OVEC members are plaintiffs on this suit.
OVEC and Larry Gibson organize the "Walk for the Mountains" from Harper's Ferry to Huntington, WV to raise awareness of mountaintop removal in West Virginia. Larry, often with Julian Martin and others, walked from one end of West Virginia to the other, a total of over 490 miles. Many weekends and evenings Larry led programs at towns he walked through, generating much support and attention.
---
2000
U.S. District Judge Robert C. Chambers refuses the WV DEP's request to dismiss the Cumulative Hydrological Impact Assessment mining lawsuit filed by OVEC and Hominy Creek Preservation Association.
U.S. District Judge Robert C. Chambers issues a Temporary Restraining Order, blocking Green Valley Coal's attempt to expand its valley fill waste dumps into the Hominy Creek watershed.
A permit that would have buried the headwaters of a naturally reproducing trout stream in Nicholas County is overturned after OVEC files a lawsuit against the WV DEP for their routine failure to enforce provisions of the federal Surface Mining Act when issuing mountaintop removal permits.
---
2001
Dianne Bady, Janet Keating, and Laura Forman win one of the Ford Foundation's inaugural Leadership for a Changing World awards – with a prize of $130,000. They are one of 20  awardees chosen from over 3,000 nominees!
OVEC organizer Laura Forman organizes a mountaintop removal protest at the US Army Corps of Engineers in Huntington. She collapses and dies of a heart dysrhythmia at the protest. Four hundred people attend her four-hour-long memorial service. We take time to mourn.
---
2002
Work by the WV People's Election Reform Coalition results in legislation being introduced into the WV legislature that would provide for public financing of elections. OVEC and WV Citizen Action Group and their sister organization are founders.
---
2003
As an outcome of OVEC winning the Ford Foundation's Leadership for a Changing World award in 2001, an ethnography on OVEC is published: WAGING DEMOCRACY IN THE KINGDOM OF COAL: OVEC AND THE MOVEMENT FOR SOCIAL AND ENVIRONMENTAL JUSTICE IN CENTRAL APPALACHIA
Also published as  an outcome of the Leadership for a Changing World award: ORGANIZING COMMUNITIES TO PROTECT WEST VIRGINIA'S NATURAL
ENVIRONMENT
The Sylvester "DustBusters," Coal River Mountain Watch and OVEC members Pauline Canterbury and Mary Miller, along with local residents, win a major lawsuit against Massey Energy for coal dust pollution from the Elk Run processing plant, costing the company $2 million in damages.
Homer III Processing, a subsidiary of Massey Energy, is denied a permit to build a similar coal processing plant in nearby Peytona.
After OVEC and other groups sue EPA for their approval of West Virginia's inadequate plans to protect water quality, U.S. District Judge Joseph R. Goodwin sends the anti-degradation policy back to the EPA to be rewritten.
Due to legal pressure from OVEC and Coal River Mountain Watch, the WV Surface Mine Board orders Massey Energy to monitor groundwater near the Brushy Fork sludge impoundment for toxic heavy metals, including mercury, lead, arsenic, cadmium, cobalt, and copper.
OVEC and others launch a national "road show" to raise awareness about mountaintop removal and the Clean Water Protection Act. Thanks, Dave Cooper!
Dianne Bady wins the West Virginia Citizen Action Group's Excalibur Award.
---
2004
Janet Keating receives the Mother Jones Award, the West Virginia Environmental Council's highest award.
After a lawsuit by OVEC and others, U.S. District Judge Joseph R. Goodwin bars the U.S. Corps of Engineers from approving mountaintop removal mining activity that affects water ways under a streamlined Nationwide permit.  The Appalachian Center for the Economy and the Environment represents us.
With OVEC's assistance, West Virginia Supreme Court blocks the sale of the Caudill family's ancestral home place in Lincoln County, thus keeping the old home place from becoming a mountaintop removal site. removal on their land.
---
2005
Dianne Bady is the cover girl for On Wisconsin magazine and the keynote speaker at the 16th annual Midwest Renewable Energy and Sustainable Living Fair, the largest such event in the world.
After pressure from Coal River Mountain Watch, OVEC, and Mountain Justice Summer, the WV Department of Environmental Protection revokes the permit for a second coal silo to be built adjacent to Marsh Fork Elementary School.
OVEC works with Sierra Club and others resulting in the West Virginia Archives and History Commission agreeing that Blair Mountain belongs on the National Register of Historic Places. Thanks, Regina Hendrix!
U.S. District Judge Robert C. Chambers rules that the Office of Surface Mining cannot rubber stamp rule changes by the WV DEP that weaken limits on the amount of damage coal companies can do to West Virginia streams and ground water. OVEC is a plaintiff in this legal action.
A coalition of Clean Elections supporters, which OVEC took the lead on organizing, results in the West Virginia legislature passing a first-in-the-US law curbing political contributions to 527 groups, like Massey Energy CEO Don Blankenship's "And for the Sake of the Kids."
---
2006
During the 2006 West Virginia legislative session, six legislators co-sponsor legislation calling for a moratorium on the permitting of additional coal sludge impoundments and to prevent the expansion of existing ones.
OVEC leaders in Rawl, WV, succeed in getting $15,000 in emergency funds for replacement water and a municipal water line because their wells have been polluted by underground injection of toxic coal waste.
The U.S. Army Corps of Engineers suspends four Massey Energy mountaintop removal permits that OVEC challenged in federal court, including one which would have impacted historic Blair Mountain, site of the famous battle of Blair Mountain.
OVEC leaders in both Boone and Mingo County win reverse 911 systems (know as WARN) to alert entire communities in the event of a sludge dam failure or potential flooding.
Abraham Mwaura wins a Generation Next Award for West Virginia's up and coming young leaders, sponsored by the Charleston Daily Mail.
A jury awards $200,000 to two OVEC members (vocal opponents of mountaintop removal) in a major Strategic Lawsuit Against Public Participation (SLAPP suit).
The U.S. Fourth Circuit Court of Appeals upholds a decision in a case brought by OVEC barring the federal Office of Surface Mining's approval of a change by the state in the definitions it uses to review new mountaintop removal mining permits.
---
2007
Citizen efforts coordinated by OVEC result in the West Virginia legislature passing a resolution requiring that state agencies study the effects of toxic coal sludge injection on drinking water and the environment as well as determining the composition of coal sludge.
After several years of citizen organizing by OVEC in Mingo County, a municipal water line project is completed, serving over 700 people whose water is contaminated by underground injection of toxic coal sludge.
OVEC receives the Appalachian Studies Association e-Appalachia award for our outstanding website, which averages 500 hits per day. On one day in August, after the New York Times ran a front page article, our website had thirty seven thousand hits!
OVEC board member, Larry Gibson, is chosen as a CNN Hero. A segment focusing on Larry's fight to save his home place from mountaintop removal was broadcast three times on CNN in August.
U.S. District Judge Robert C. Chambers rules that the U.S. Army Corps of Engineers violated the law by issuing permits that permanently buried vital headwater streams near five mountaintop removal mines in West Virginia. He orders the Corps to comply with the law and rescinds the permits.
In a second order, Judge Chambers outlaws the common coal industry practice of turning small stream segments downstream of valley fills into waste treatment systems declaring that the Corps had no authority under the Clean Water Act to permit the discharge of pollutants into these stream segments. OVEC is lead plaintiffs on these lawsuits.
After these court decisions, a mountaintop removal friendly West Virginia newspaper editorializes that "Opponents of coal are winning inch by inch. They have succeeded through persistence…  Uncertainty about the viability of future mining operations keeps investors away."
Judge Robert C. Chambers issues a temporary restraining order on a Boone County, WV, mine.  For the first time ever, a federal judge rules that permanent damage to streams and the environment trumps the temporary economic losses for a mining company.
American Electric Power, one of the largest power generators in the US agrees to pay $4.6 billion to reduce pollution in the Northeast. AEP is required to pay an additional $75 million in civil penalties, clean-up and mitigation costs to help heal parkland and waterways damaged by their pollution. The settlement marks one of the largest government fines in an environmental case. OVEC is one of a dozen environmental groups in nine states that brought suit against the AEP.
---
Read up on our third decade here.