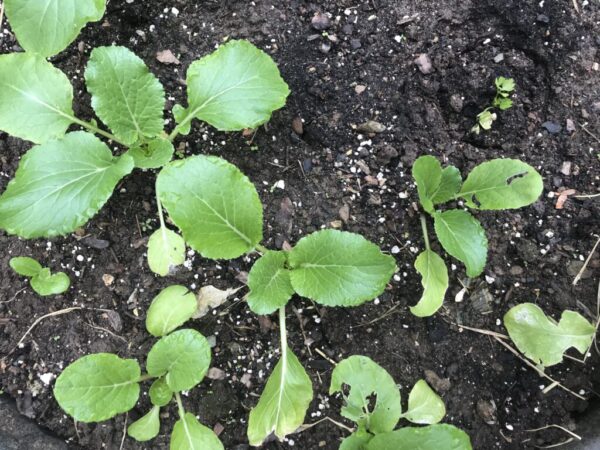 A version of this column first ran in the Roane County (WV) Reporter and Times Record. Support local journalism! Subscribe to your local newspaper. This is one of a series of blogs for new gardeners. Read the rest: Part 1. Part 2. Part 3. Part 4.
Brassicas, cole family plants, are members of the cabbage family and include broccoli, cauliflower, bok choy, cabbage, Brussel sprouts, collards, mustard greens, kale, and Chinese cabbage. All like cool weather and rich soil, and can take a light frost. Some kale can tolerate much lower temperatures.
Most of them do best if planted early in the spring and harvested before really hot summer weather sets in, or planted in June or July (probably indoors; the seed won't germinate well in hot dry soil) and grown through the increasing chill of fall, to harvest before real winter sets in. With a little protection you can grow kale, bok choy, and mustard greens all winter. These plants like rich soil and ample moisture, and may do better with partial shade if growing in summer.
Most brassicas will be bothered by the two kinds of cabbage worms—striped cabbage loopers and the all-green imported cabbage worms. I usually get both. If you have only a few plants you may get by picking off the worms, but with more than a few, it's worth spraying them with Bt—which stands for bacillus thuringiensis, a naturally occurring bacteria that preys on the worms. It stops them within a day, although you may need to spray more than once, as the butterflies that lay the eggs that hatch into these worms are around quite a lot of the year.
Another problem I've seen only in August and September is the Harlequin bug. It's a bright orange and black, round beetle the size of a carpet tack, and can suddenly appear in numbers high enough to turn your plants to lace. But if you catch it quickly you can eliminate this bug; fortunately they only appear in early fall.
Sometimes cabbage, Chinese or western, never really heads up; sometimes broccoli doesn't produce much of a head. Thus I've taken to growing mostly bok choy because it seems reliable—it produces quickly, before—or after—summer heat. I've done well with a variety called Prize, which is open-pollinated—that is, non-hybrid—so I could and did save seeds. It's also less bothered by the bugs.
Brassicas are good for freezing, but not for canning. They're good to have when it's cool and cloudy, at both ends of the growing season.