Ohio Valley Environmental Coalition
Action Alert


Supporting Organized Voices and
Empowered Communities Since 1987
 

Nov 12, 2020

View / Comment Online
There's never been a more important time for a strong environmental movement in the United States, and the most effective way to defend our land, air, water, and communities is to work together at the local level. That's one reason OVEC is a member group of the West Virginia Environmental Council. 
Join OVEC as we attend the West Virginia Environmental Council's virtual annual meeting tonight, Thursday, November 12, from 6-8 p.m. It's free to attend, but registration is required. Register here.
This meeting will focus on our 2021 legislative priorities, and will feature a panel of West Virginia lawmakers who will be participating in our discussion and taking questions.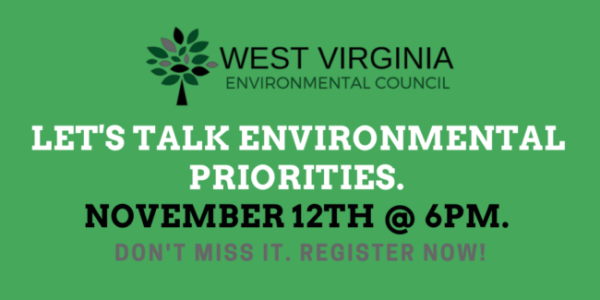 Brief agenda for the annual meeting:
6:00 PM – Welcome
6:15 PM – Introductions/Overview/Election Recap
6:30 PM – Presentation of 2021 legislative priorities/results of survey
7:00 PM – Panel with West Virginia lawmakers
7:30 PM – 8:00 PM – Q&A and discussion
We hope you can join! Click here to register.