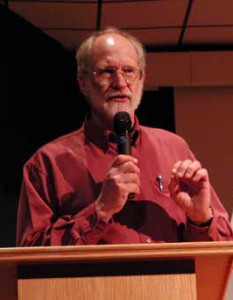 Christians For The Mountains was one of the nearly 40 groups signing on to the letter of solidarity from West Virginia to Flint, MI. CFTM's Allen Johnson  (left) wants to be certain folks who care about what is going on in Flint know about an upcoming webinar, as he explains here:
You may be familiar with the active group Green Faith, which was the primary organizer of religious voices during the People's Climate March and related events in New York City in September 2014.
As the letter that went out on February 9 to the people of Flint points out, West Virginia people stand in solidarity with those who are victimized by corporate and government callous disregard for the safety of citizenry, especially those who are marginalized by race, socio-economic status, or class.
For a short time in the aftermath of Freedom Industries' chemical leak that contaminated the drinking/bathing water of 1/6 the population of West Virginia, our local public outcry seemed to have a chance to turn a new chapter toward a safer water future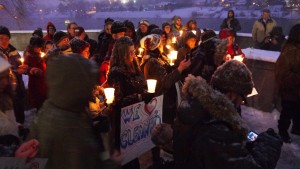 for our fellow West Virginia neighbors. However, this initial momentum was unable to turn into such a national embarrassment and shame that would improve policy. With the eyes of the nation's conscience turned away, the corporate masters of West Virginia scuttled many of the attempts to move decisively forward.
The Flint catastrophe is garnering massive national attention. Will this attention parlay into successfully addressing the vast amount of polluted drinking water spread across many of the states, cities, towns, and rural folks?
The letter to the people of Flint amplifies this essential and vital message: Safe, unpolluted water is a fundamental God-endowed right. Furthermore, such water is a commons for the fundamental basic needs of people and nature's ecosystems, and should not be privatized for profiteering, or short-circuited to save government funds.
I could point out that while Congress and the White House fuss about the $8 billion EPA budget and the $2 billion toward infrastructure in improving potable drinking water infrastructure, the national defense budget is $600 billion (not counting lots of add-ons, etc.). So what is the priority for true "homeland defense"? Will we see protection of American citizens from the terror of unsafe drinking water, carcinogens in all sorts of abounding untested and tested chemicals, bad air that has exponentially exacerbated asthma, and other pollutants?
The webinar, featuring Dr. Melanie Harris, is set for 8 – 9 p.m. (Eastern) on February 18 and is titled "Flint, Environmental Racism, and the Black Church's Environmental Heritage."
Here's Green Faith's invite to the webinar:
Over the past two months, the world has watched in disbelief as the residents of Flint, Michigan – most of them African American and poor – have learned that the water they've been drinking is contaminated with lead. Over 8,000 children under age six in Flint may have already suffered irreversible brain damage from this exposure.
Flint is environmental racism in plain sight. During Black History Month, we want to share the story of Flint, show how it fits a larger pattern, and share resources from within the Black Church tradition.
GreenFaith's Black Church and Environmental Justice Scholar in Residence, Dr. Melanie L. Harris, is Associate Professor of Religion and Environmental Ethics at Texas Christian University, where she teaches Environmental Ethics, Interfaith Dialogue, Womanist Theology, African American Religion, and Media and Religion. She is an African Methodist Episcopal pastor, an accomplished singer and performing artist, and a former broadcast journalist for NBC, CBS, and ABC affiliates.
Register today for this webinar – and please share this invitation with friends and colleagues. Register even if you can't attend, and we'll send you the recording link.