Read Part 1 here.
Beyond climate chaos, the biggest issue we will be facing is water, quality and quantity. The first realization I had that water would become a defining issue of the 21st Century came when I attended graduate school. My major professor was focused on the impacts of pollutants on water quality, especially toxic substances sequestered in sediments of the streams or rivers. Fast forward to the late 90s when OVEC was trying to stop the construction of what would have been the largest pulp and paper mill in North America (using an outdated, dioxin-producing bleaching method). In the course of OVEC's litigation over permitting, one of our attorneys discovered that West Virginia regulators had not been enforcing portions of the federal Clean Water Act for fifteen years.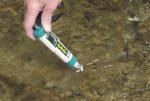 When portions of a stream no longer meet water quality standards, the state is supposed to require a clean-up plan, technically known as the Total Maximum Daily Load or a TMDL. West Virginia regulators were not doing their job and polluting industries had been given carte blanche to pollute our waterways even if a pollutant was above the allowable limit. I recall a meeting with a federal Region III EPA official, state regulators, attorneys for industry and state DEP officials. The EPA official gave the state regulators and industry an ultimatum. Either the industry needed to prepare and adhere to water clean-up plans for polluted streams and rivers at the state level or these TMDLs would be written by regulators in Philadelphia. Polluting industries had finally hit the wall in West Virginia and actually seemed surprised that they might have to curb their water pollution. That was 1998.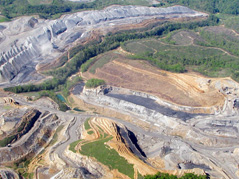 Fast forward to the new millennium. Mountaintop removal "exploded" on the scene and in 2000, and George W. Bush became President. Along with Bush came new federal "regulators" including Jeffery Jarrett, the new Director of the federal Office of Surface Mining Control and Reclamation (OSM). This was the first and actually the only meeting (with Jarrett) that OVEC and other allies had with any federal regulators about mountaintop removal's impacts on the environment and communities during Bush Administration. In that meeting, when it was my turn to speak, I recall saying, "I have one word that I would like you to take back to your boss. Water. In a world, dying of thirst it is beyond common sense that in West Virginia, we are burying water beneath millions of tons of rock and mining waste. This just doesn't make sense."
Apparently Jarrett didn't deliver this message, or if he did, it fell on deaf ears since OVEC and others now have litigated for nearly two decades on the issue of mountaintop removal valley fills and their association with water pollution. Under the federal Clean Water Act filling a stream with waste material is a clear violation of the law. Bush, however, resorted to what we call "linguistic detoxification." With a stroke of a pen, resorting to an administrative order, Bush redefined "waste material" as "fill," something that was allowed when the U.S. Army Corps of Engineers issues permits. The sheer process of taking coal through mountaintop removal mining has smothered and obliterated approximately 2,000 miles of streams in Central Appalachia; unfortunately, when it comes to impacts on our state and region's water, processing coal for market also plays a major role in water pollution.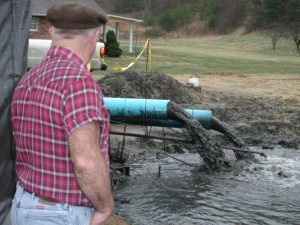 A major case in point was the failure of the 72-acre Martin County coal waste impoundment October, 2000, in Inez, KY, failed; 307 million gallons of toxic coal waste inundated more than 75 miles of streams between West Virginia and Kentucky shutting down water intake systems and businesses along the Tug Fork and the Big Sandy rivers, killing all the aquatic life. This disaster, then described by the U.S. EPA as the worst environmental disaster east of the Mississippi, prompted citizens to implore that the federal government (Mine Health Safety Administration) to look into concerns around the hundreds of unlined coal waste impoundments in Central Appalachia. In response, Senator Robert C. Byrd-WV provided funding which led to the development of a website, coalimpoundment.org, where citizens could see where hundreds of impoundments were located, which company owned them and what risk each posed to communities. While this information is still critical, further action is needed—elimination of the storage of liquid coal waste (or sludge) altogether. Hundreds of billions of gallons of this toxic waste continue to be stored in impoundments or in underground injection wells throughout Central Appalachia, threatening our water supply.
Soon after the Martin County slurry disaster, OVEC, concerned residents of Mingo County and Coal River Mountain Watch formed the Sludge Safety Project, prompting Dr. Ben Stout (Wheeling Jesuit University) to work directly with community members to ascertain what might be causing citizens living near coal sludge impoundments and coal waste underground injection sites to be sick. For example, in the community of Prenter, WV, residents living in 4 different households each had a family member with brain tumors; when they met to talk about the issue, they concluded that the common denominator was their well water. After two years of organizing, they won replacement water and eventually a municipal waterline was constructed for about half the community members in the upper portion of that hollow.
While some water quality issues have developed over decades, like those related to coal waste impoundments and underground injection of coal sludge, other incidents are the result of a sudden, catastrophic failure.
The collapse of a Tennessee Valley Authority (TVA) fly-ash retention pond in Harriman, TN, in December 2008, at the Kingston Power plant, while disastrous to homeowners\\ in harm's way, served to draw attention to the problem of storing coal ash near waterways. It was the largest ash spill in U.S. history. A dike failed and roughly 1 billion gallons of toxic coal ash covered about 300 acres of land and water near the Kingston Fossil Plant. The ash, containing toxic heavy metals such as mercury, lead, arsenic, chromium, and others, filled three embayments north of the coal-fired plant and flowed into the Emory and Clinch Rivers. 
Unbelievably, the toxic gray sludge, which destroyed and devastated homes, was 20 feet deep in places; what had once been described as a beautiful place to live, had been reduced to muck and rubble. A test of river water near the spill showed elevated levels of lead and thallium, which can cause birth defects and nervous and reproductive system disorders. While clean-up efforts have taken years, with a price tag over $1 billion, toxic coal ash still lingers in the receiving streams. Who really knows what health impacts might be from long-term exposure to water riddled with heavy metals?
For more, please see part 3, here.