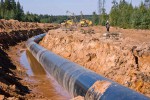 Update: April Keating reports that FERC has informed her that people can make comments to FERC up until the day a pipeline is approved. So, continue piping up! FERC is especially looking for comments during the EIS period, which is the time the agency is trying to identify problems. Pipe up!
We wanted to make sure you know about these FERC public scoping meetings on the proposed Atlantic Coast Pipeline:
Tonight, Monday, March 23, 2015 at 7:00 PM.  Elkins High School, 100 Kennedy Drive, Elkins, WV.
Tomorrow, Tuesday, March 24, 2015 at 7:00 PM.  Bridgeport High School, 515 Johnson Avenue, Bridgeport, WV.
Details here: WV Scoping Meetings for Atlantic Coast Pipeline in Elkins & Bridgeport
Here, from the MARE project, are some sample comments you may use to build your own comments.
Allen Johnson with Christians for the Mountains alerts us: be sure to arrive early and sign up early if you want to speak.
A hearing in Virginia was jammed packed, with pipeline supporters from outside the area, apparently bussed in by Dominion, all of whom signed in several hours before the meeting began.
You'll likely have about three minutes to comment, but you can send in more extensive written comments, whether you speak at any of the hearings or not.
Details on filing written comments are here. Submit your comments by April 28.
For inspiration, you might want to check out this article: Seeking Dominion over His Own Land