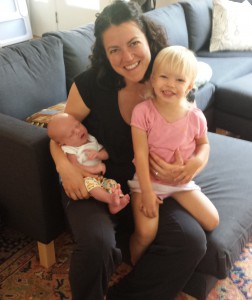 Guest blog post by Rebecca Roth, pictured at right, with her children on September 14, 2014. Rebecca delivered the comments below during a January 7 tele-press conference about the one-year anniversary of the MCHM water contamination crisis in WV
You can listen to a streaming audio replay of the tele-press conference here.
I'm Rebecca Roth. I was born and raised in West Virginia and have lived in Charleston for the last 6 years.
A year ago at this time my daughter was not yet two and I was pregnant with my son — I went from feeling happy anticipation for what the new year held to being filled with uncertainty and fear for our family's health. Being afraid that you are not keeping your children safe and healthy is one of the worst fears I have ever experienced.
A year ago, after the water crisis, my life centered around making arrangements for drinking, cooking, dishwashing, laundry, and bathing without using tap water.
A year ago, after the water crisis, we tried to do our best to keep our family safe, but it was hard, especially with additional new, and sometimes conflicting, information. Our family followed the flushing directions for our house's pipes to a T, but afterwards we learned that children shouldn't have been around during the flush and that the windows should have been opened, information that we didn't have at the time. We have no idea how dangerous this stuff is, this stuff that got into our water and shouldn't be there.
A year ago began an extremely stressful time in which my husband and I considered every single decision of everyday life — even whether to sign up our daughter for swim lessons — in light of what the health implications would be, but what we worried about most last year was the effect the chemical spill was having on our toddler daughter's future health and how it was affecting the stages of critical development of the fetus growing inside me.
The urge to feel that things are back to normal is irresistible, and maybe everything looks normal now. But I'm not convinced that things have changed significantly. I'm not convinced that it couldn't happen again. We need to make sure that the corporations that can impact our water supply are playing by the rules and are being held accountable. We need a renewed commitment by our elected officials to rebuilding our water infrastructure. We need regular updates about medical monitoring, the current state of the water, the success rate of the filters, and when we will get more than one source for the water supply that 300,000 of us rely on. We've lost the trust that people in other places have in their water systems and we want to get it back.
I spent too much time last year being afraid. When my son Sid was born in August, I was relieved to count 10 fingers and 10 toes, but not all signs of health are so easy to see. It will be years before our family knows, for example, if the reproductive health of either of our kids has suffered at all because of the chemical spill. Water is the most important resource we have and it is essential to our children's health. We've put down roots in our community but they need water.