What follows is a letter to the editor that was submitted by M. Beram on December 3 to The Herald Record, a weekly newspaper in Doddridge County, WV.
Monday, October 29, 2018
Dear Virginia,
It has been awhile since I have written to you. I hope that all is well in your world. I wanted to take a moment to share with you and other folks in the area what has been going on related to work TransCanada/Columbia has been doing on Riggins Run Road this past week. The pipeline that they are putting in is called MXP (Mountaineer Xpress Pipeline) and the work is being done by Associated Pipeline out of Texas. There are many other contractors that are working on this line. This pipeline heads southwest in West Virginia and will end up somewhere in the Gulf. It is 36 inches in diameter and will operate at around 1440 psi.
Sunday 10-21-18
I received a call from landman John to tell me that the road I live on would be closed on 10-22 and 10-23 for an open road cut so that the 36-inch pipe could be put in the road. I asked him if he was going to contact the rest of the people on the road that would be impacted by the road closure. He said yes. He asked if I could tell him who needed to be called. I said that if he had a list of people he was calling, I would confirm the names that I knew. I think I also asked if the impacted agencies were contacted (911, post office, fire departments, etc.) I think he may have said yes and that they had been notified several weeks ago. No notice was placed on HEADS UP COMMUNITY*. He did say that the road would only be closed during the work day for the people doing the work. I called several of my neighbors to let them know.
*An app county or local governments can pay for that gives them the ability to post info for their communities to inform them of emergency or other situations. Many counties in WV participate, http://headsupemergency.com/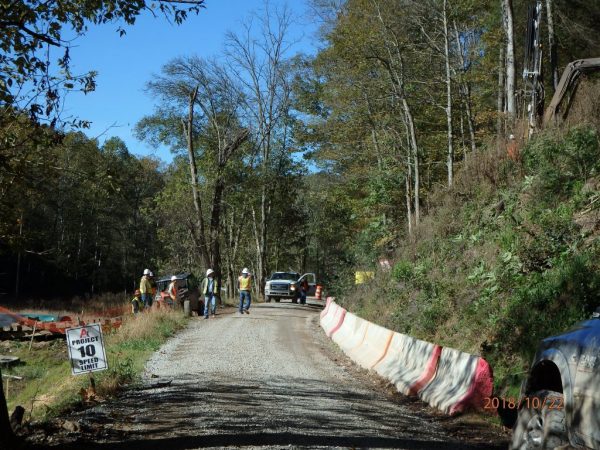 Monday 10-22-18
The company from Maine that has been doing the blasting on the ROW (right of way) showed up and drilled the holes for the explosive to go into. I allowed them to set up a seismic device that monitored the explosion in my front yard. I took photos from the state road of some of the activity that was occurring. I stayed behind the barriers that were set up across the state road. The explosion occurred sometime after 4 p.m. A big pile of the blasted soil and rock landed in the middle of the road. Heavy equipment went into action to open up the road. The pile was moved into the bottom land. At the end of the work day, timber mats and steel plates were placed across the open ditch so that folks could use the road. A light was placed illuminating the newly constructed road crossing.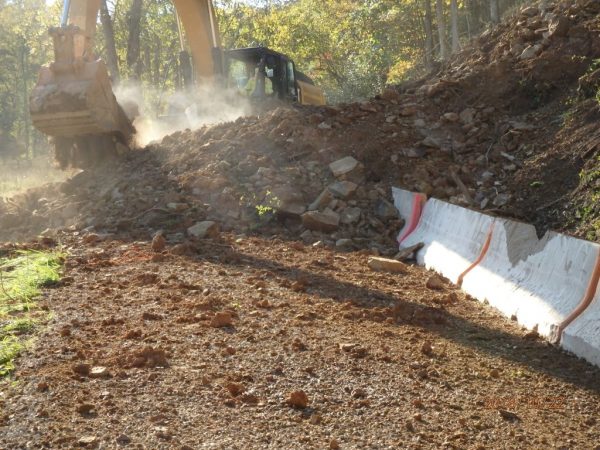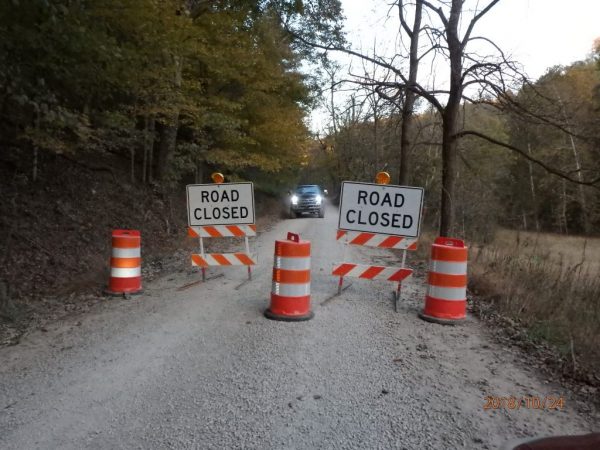 Tuesday 10-23-18
Road closed. I took more pictures from the road. I ventured out to run some errands. I took Riggins to Rt. 23 north to Big Flint south to Rock Run. This route added time and extra mileage, 14 miles as opposed to 6 miles, to my trip to West Union. Return home followed the same roads. I was stopped on RT. 23 side of Riggins Run Rd. due to soil and rock on the road because blasting had occurred there also.
When I got home, my Frontier phone and internet were not working. I walked down to the pipeline work site, watched the workers scatter like a bunch of cockroaches as I tried to get their attention to tell them that they may have cut our phone lines. The security guard on site finally came to speak to me. He said that he was told that the phone line was not cut close to me but that the phone lines on the Route 23 side had been cut. I continued to say that our phone service was out. The security guard said that he would call someone at TransCanada when he got back into a phone service area to report  the outage.
When the pipe line workers were done for the day, I drove out to call Frontier to report the outage. The person that I spoke to was unaware and stated that the outage had not been reported. I was issued a ticket number. I called sometime around 8 p.m.
Wednesday 10-24-18
Road closed once again. I took more photos from the state road. The pipeline workers at this point were using the road as a parking lot. Many of the vehicles on my side were left running. Department of Highways representative was on the ROW talking to the workers. He had no hard hat on. 
I once again asked about our phone lines being cut. Scott, who may or may not be an inspector working for TransCanada, told me that TransCanada had permission from Frontier to do so. He also told me that the higher ups in the company were working on a repair.
I was told that I needed to get off the road and that I was trespassing. I was threatened that if I did not get off the state road that the sheriff would be called. This was done by Scott. Scott also said this would start the process  so that the TransCanada could start legal proceedings against me. I asked if I could walk across the ROW to use a neighbor's phone that was before where the phone lines were cut. I was told that I could walk around the long way. The sheriff's department was called. I spoke to the Department of Highways representative and he told me that once road closure signs go up, the road between those signs becomes part of the construction work zone for the company doing the work. The road closure signs for this site were close to a mile apart. There were no NO TRESSPASSING signs evident as far as I knew, since my home falls between them.
The deputy showed up. He was polite. No citation was issued. I asked how I was supposed to leave my home if I could NOT step foot on the state road and was I allowed to drive on the road when it was open to other traffic. I believe he said, if others were allowed there was no reason why I could not.
Thursday 10-25-18
Road still closed. Orange Barrels appear slightly past my house that has a NO TRESSPASSING sign strung between them. No signature is evident on the sign. I went out the long way. The "road closed" signs placed by the next house down from me now have NO TRESSPASSING signs on them. The signs were placed so that a vehicle could not drive between them. I approached the workers and asked them to kindly move the signs so that I could get out. I wondered if this meant if someone was coming to see me that they could not. Would this block the mailman from getting to my mailbox?
I went to the Sheriff's office to see if I could get a police incident report for what happened on Wednesday. I talked to another deputy who said that normally a report is not generated if no citation is written. I was advised to talk to the magistrate's office, as perhaps they could help. Magistrate said that basically their hands were tied and could not help me unless there was a monetary value of damages up $10,000 that could be proven.
I called the phone company to check on the repair ticket. I was once again told that the telephone company does not issue permission to have their lines cut. I was given a number to call in Frontier's presidents complaint department.
I walked down into the field and took some more photos. Someone from the ROW yelled out to me that I was not allowed on the road. I yelled back and said that I was NOT on the road, I was in the field.
Friday 10-26-18
Road still closed. Pipeline workers were on site until midnight getting the pipe that goes under the road in. This same pipe had been placed in the road cut and had been removed several times. Hard to say if this was just a second attempt at correct placement.
My car stalled in the road at 9 or 10 p,m. I walked down the road to tell the workers it was in the middle of the road. They ignored my attempts to warn them. I did what I could to prevent my car from being hit. Workers left the site sometime after midnight.
I called the Frontier complaint line and was issued a complaint ticket number. I was once again told that Frontier does not give permission to have their lines cut. I was told that the line repair would occur before close of business on 10-29-18. The woman also told me that the area supervisor stated that Associated, TransCanada/Columbia was a very big company and that this happens all of the time.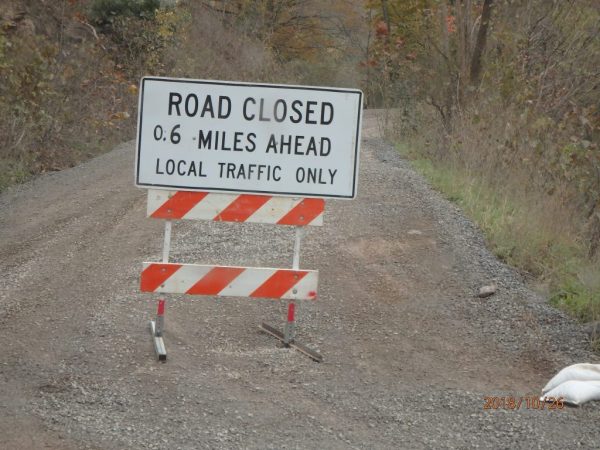 Saturday 10-27-18
A parade of cement trucks arrived to put cement in the road crossing to encase the pipe. One neighbor counted seven but had been told that there may have been 17 cement trucks. The road was open. Placement of the timber mats and the steel plates was by far the worst and it may have been difficult for low clearance vehicles to get through. No steel plates were placed on the timber mats.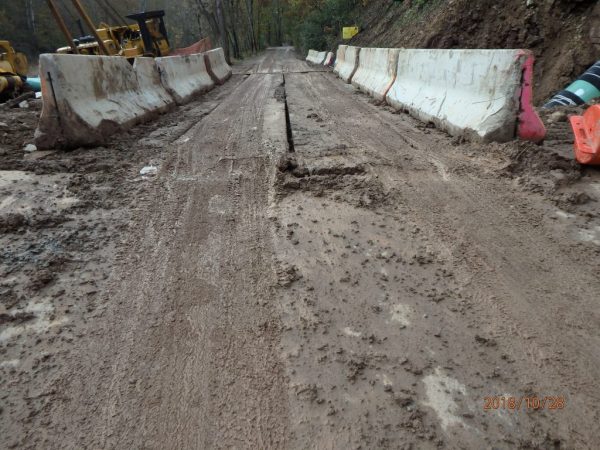 Sunday 10-28-18
Road open. No workers on site. Phone still out.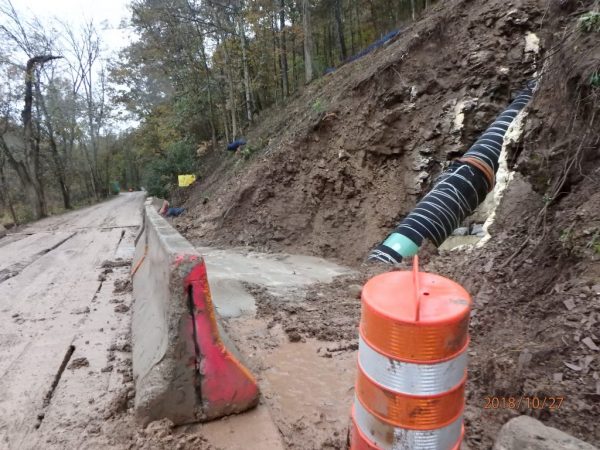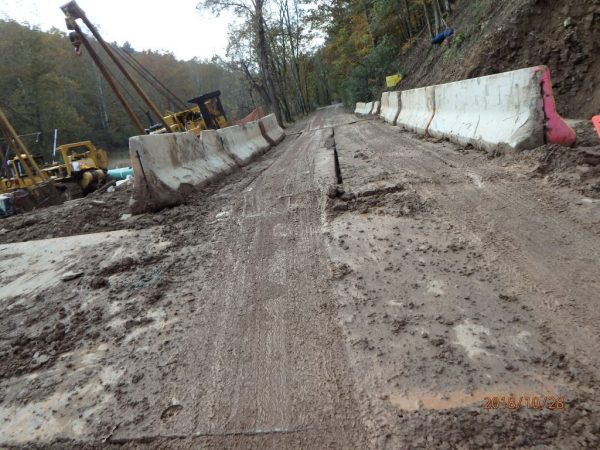 Monday 10-29-18
Road closed. Phone and internet was repaired by end of business Frontier as promised.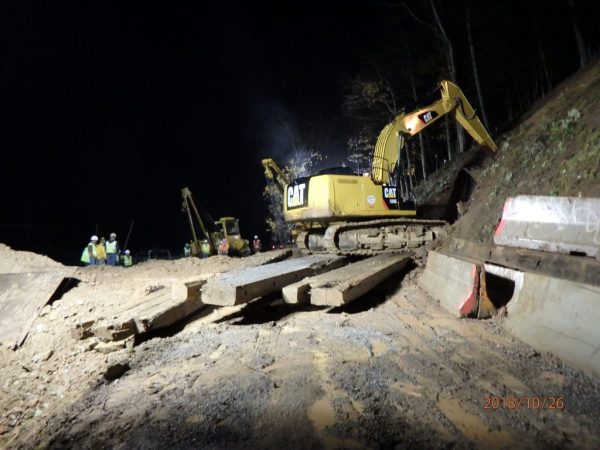 People in our area rely on landline as a life line. Many people in other rural areas are in this same position.
I have no respect for any company that blatantly lies to the people living in the areas that they are impacting. I have no respect for DOH personnel who continue to issue permits to these companies with no advance notification to people being impacted, who give folks no opportunity to voice their opinions and who put citizen safety over the almighty profits for companies.
Thank you for allowing me to use my voice
M. Beram, Riggins Run Rd., Impacted Resident, Doddridge County
Update:  As of today, 12-3-2018, the pipe close to me is in the ground waiting to be buried and to have whatever additional work needs to be done. Sadly, complete restoration of this site will not be able to occur until next spring or summer.
Yesterday, 12-2-2018, several slips occurred. The worrisome one was located where the pipe is buried on a very steep slope. The only thing that prevented the slip from going on the road was the foresight of a site supervisor to place timber mats behind the jersey barriers to stop they the soil movement. There were two additional slips that occurred outside of the ROW. Workers were out yesterday and today to clean up the mess.
12-8-2018: A company representative brought me an alternate source of communication in case my phone line was impacted again.
12-9-2018: Telephone line that crossed the road to my home was ripped out. This may have occurred as the dump truck was dumping stone on the road. I was not home when this happened. This had occurred this year and the contractor at that time was kind enough to tell me.
12-11-2018: Frontier restrung the line and placed it higher to possible prevent  this from happening again. The pipes all appear to be buried, water bars are being put in and clean up of the site appear to be in progress.
NOTE: WV DEP issued 22 Notices of Violation to this company for the work that has been occurring in our region. A paltry-for-them fine of about $122,350.00 was issued. It can be viewed at https://dep.wv.gov/pio/Documents/MXP%20Draft%20Consent%20Order.pdf