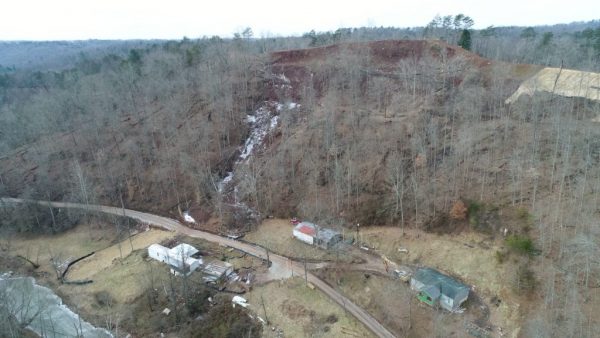 This is Hogs Back Mountain, Sulug Road, on the Sulug Branch of 18 Mile Creek in northeast Putnam County, WV.
It is a place. It was a home.
This is a glaring example of hubris catching up in a big way with TransCanada–Columbia Gas Transmission along the route of its 170-mile-long, 36-inch-diameter Mountaineer Xpress Pipeline.
Driving around on a Sunday in early February, I saw dozens of slips just in my little section of the pipeline in Putnam County, but this was definitely the worst. It makes me wonder how many there are in total between Wayne County and Moundsville.
You just can't take the trees off of the landscape here and expect the ground to stay put. I can't help but think this is what it looks like when some engineer in an office somewhere draws a line on a map without ever stepping foot on the ground and seeing the place firsthand.
According to people I talked with in the area, they warned crews that the mountain was unstable when they began cutting trees. Since then, this is just the latest in a series of slips at the location. Crews have had to move the pipeline itself twice since it was initially put in the ground. Now, it is at the far limit of the right-of-way and still the slip is threatening to undercut it.
Henkels and McCoy, the Pennsylvania-based company building this section of pipeline, had to hire a special crew of local heavy equipment operators with experience in this terrain to try to stop this slip from getting worse, but to no avail.
What you are looking at in these pictures is its state after months of mitigation efforts, and there has been litigation, too. At the beginning of the project, Columbia Gas Transmission tried to buy out the people living in these two trailers. Initially they refused; they did not want to move.
After the slips got worse and threatened their safety, the homeowners reluctantly evacuated. According to neighbors, the company was able to settle with them out of court, and they bought a nearby farm with a new doublewide already on it. Columbia gas now owns all the property you see here, with the exception of the county road right-of-way.
This most recent massive landslide happened on December 28 last year, while the company's environmental inspector was on holiday break. It was his job to notify the Federal Energy Regulatory Commission (FERC) of any slips that result in the off right-of-way migration of material that impacts protected resources, public roads, residential properties, etc.
This slip checks all those boxes, but FERC was not notified until January 7. By the time they got to the scene on January 8, workers had already cleared the road, the yard, installed sediment barriers, and driven piles above and below the road to keep it clear. In official reports, the FERC inspector said there "was no indication that the slip reached the waterway," though I seriously question his ability to judge that based on the fact that crews had over a week to clean up and cover up the mess. Although this is a clear violation of protocol, FERC did not take any punitive actions at that time aside from a verbal reprimand of the company's lead environmental investigator for late reporting.
The company is apparently paying Putnam County deputies in their patrol cars (presumably off duty?) to guard the area even on Sundays and the road is closed to through traffic; still, dozens of people who live on Sulug Road have to drive through the slipping area daily to get to and from work.
Columbia Gas has already pressure tested the pipeline in this area and FERC has granted permission to put the majority of the MXP into service. It is unclear to me if this section was included in any of these permissions, but I know I will never trust this part of the line.
I fervently hope it is never so, but if I ever hear about a pipeline explosion in Putnam County, I will look to Hog's Back Mountain on Sulug Road. I live about 10 miles away as the crow flies; odds are I'll be able to see it from here. 
——-
As part of its obligation to the Federal Energy Regulatory Commission (FERC), Columbia Gas Transmission is required to submit reports on its own Environmental Compliance Monitoring Program during construction of its 170-mile Mountaineer Xpress Pipeline.
These reports document that during construction, so far, 260 company-documented slips—landslides of assorted sizes—have occurred. One hundred and two of these slips extended outside the pipeline's right-of-way (usually from 100 to 150 feet wide, depending on the stage of construction and the terrain through which the pipeline is passing). This means that additional land had to be "acquired," so the pipeline contractors could attempt cleanup and stabilization of the land. In several cases, the landowners where these slips occurred are being represented by lawyers in their interactions with Columbia Gas and its parent company TransCanada.
The slips are already troubling, given what they mean in terms of property rights, property safety, the stability of the hills where the pipeline lies, and potential stream sedimentation. They are downright frightening when you recall that the June 7 rupture and massive explosion of TransCanada's Leach Xpress Pipeline near Moundsville, WV, was attributed to a landslide. The Leach Xpress had been in operation only a week when the blast took place, thankfully in a forested rather than inhabited area.
Are pipeline safety regulations keeping pace with the flood of natural gas?