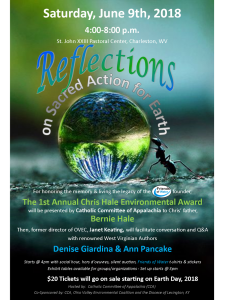 There's so much going on in June, we wanted to make sure you are updated on some of the events you can attend and actions you can take to help the long arc of the moral universe bend ever closer to justice…
June 7: EPA Regional Administrator to Host Minden, WV Listening Session
---
June 8 – 10: Old Central City Days in the West End of Huntington, WV. OVEC will be tabling right outside our office on Friday, June 8. Stop by to learn more about our programs and all the ways you can support our work. We'll also have a table at the next day at this event:
---
June 9: We hope to see many of you on June 9 for Reflections on Sacred Actions for Earth. This Catholic Committee of Appalachia (CCA) event takes place from 4-8 pm at St. John XXIII Pastoral Center in Charleston and features West Virginian authors Denise Giardina and Ann Pancake on a panel moderated by retired OVEC Executive Director Janet Keating. If you do Facebook, then you can join the event here, and invite your friends.
News on the event: Award to be given in memory of local activist
---
June 10: WV Poor People's Campaign hosts the second of three community meetings to learn more about  Poor People's Campaign National Call for a Moral Revival Rally to Fight Poverty Not the Poor, and to plan how we can follow up locally. The meeting takes place at 6 p.m. at Simpson Memorial United Methodist Church, 607 Shrewsbury Street Charleston, WV. Want to hop a bus to DC for the Rally? See June 22 – 23 entry below.
---
June 11: Stand with Public Employees: PEIA task force hearing at 6:30 p.m. at the Culture Center on the State Capitol grounds. Details here.
---
June 11: An End to Net Neutrality? Not Yet! An Emergency Info Call. Obtain details and register here.
---
June 12: Two American climate scientists–Michael E. Mann Ph.D. and Rear Admiral (Retired) David W. Titley–will be honored at an event Tuesday, June 12 at noon at First Presbyterian Church in Charleston. This lunch event is being hosted by Citizens' Climate Lobby of Charleston WV on the second floor of the Activities Building at the corner of Leon Sullivan Way and Kanawha Boulevard. Details here. 
---
June 13: RECLAIM Act Webinar: an Update and Conversation. Join the webinar at 1 p.m. or 7 p.m. Register Now: http://bit.ly/RECLAIM-6-13-18
---
June 16: A big day for member-groups of the Tri-State Water Defense Network, and you are invited to take part. First, several members of the network will join in a Huntington, WV portion of the Ohio River Sweep. If you want to take part, starting at 8:45 a.m., come to the Harris Riverfront Park picnic shelter on the west end of the park. Find the event on Facebook here, and invite your friends. 
Next, it's the group's main event of the day: Radical Joy for the Ohio River. This event is part of People Binding the Earth, the 2018 Global Earth Exchange. 
The Ohio River is the most polluted river in the United States, so show it some love!  Join us as we gather at noon at Harris Riverfront Park to be in solidarity with the Ohio River. We will meet near the boat ramp to tell stories about our connection to and concerns for the river, sing songs to the river, do readings, and make art as a gift to honor the Ohio River. 
Learn more about the event here. 
Finally, folks are off to Ritter Park in Huntington at 3 p.m. for the 2nd Annual Huntington Pride Picnic. Tri-State Water Defense Network will join the picnic and set up an outreach table at the event.  
The picnic, which is free to attend, will feature family-friendly entertainment and a cookout-style buffet, catered courtesy of primary sponsors Marshall University, Cabell Huntington Hospital and Sodexo. Find the event on Facebook here, and invite your friends. 
Contact robin@ohvec.org if you'd like to join in any or all of the June 16 events.
---
June 18: Fair Courts 101: "Protecting Our Democracy"
West Virginia Citizens for Clean Elections invites you to a training and discussion about the critical role the courts play in achieving success on the issues we are fighting for in West Virginia.
Join the event on Facebook and invite your friends here.
The event takes place at the Four Points Sheraton in Charleston, WV.
Reserve your free tickets here. Please do reserve your tickets ASAP to help us with logistical planning.
Choose a session (each session will cover the same topics):
–Afternoon session from 1:00 – 4:30 p.m.
–Evening session from 5:30 – 9 p.m.
*Attendance includes an appetizer buffet reception from 4:30 – 5:30 p.m.
With civil rights and democracy increasingly under attack, the strength and impartiality of our courts may be the last mainstay for achieving justice on all of our issues. Our rights as voters, parents, workers, and community members depend on the decisions of our elected judges.
What can you learn about this critical piece of our democracy? How do the courts play a role in justice for our people? In attendance will be an experienced judge, as well as expert trainers and facilitators from Wellstone Action.
---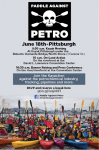 June 18: #GetIn on the #KayAction and Paddle Against Petro with us! Top executives from the fracking and petrochemical industries will be in Pittsburgh at the David L. Lawrence Convention Center, and plans are afoot (and afloat!) to let them know they and their Appalachian Storage Hub are not welcome. Details here.
---
June 22 -23: The WV Poor People's Campaign invites you to hop on the bus from Charleston, WV to Washington D.C. for the Poor People's Campaign National Call for a Moral Revival Rally to Fight Poverty Not the Poor
If you want to take the bus, the cost per person is $82. There are a few donated and reduced costs seats available. Donations are welcome to cover costs for others to attend. If you want to reserve a seat for yourself or provide a seat for someone else to go, please contact Ann at 304-543-2696 or MelRose Ministries at 304-346-6645.
This will be an almost 24-hour round trip. The bus will depart from Simpson Memorial United Methodist Church, 607 Shrewsbury Street, Charleston WV (across from Covenant House). Check-in for the bus is at 11:00 p.m. on Friday, June 22, with boarding from 11:30-11:45. The bus must leave by midnight in order to get you to the event on time (10 a.m. Saturday, June 23). There will be a stop in Lewisburg to pick up additional passengers, with time for a bathroom break and provided snacks. Loading for return is at 5:30 p.m. Saturday.
---
June 23-25: Crack Open FERC: Action in Washington, D.C. Beyond Extreme Energy convergence and actions, including as part of Poor Peoples Campaign mass demonstration on June 23, at FERC on June 25, and at World Gas Conference on June 26: "There are cracks appearing at FERC; it is time to escalate." 
---
June 30: Stream Monitoring Training: Watch Over Mountaineer Xpress Pipeline Construction
OVEC will host another stream monitoring training in the Huntington area, from 10 a.m. to 4 p.m. on Saturday, June 30, with lunch provided. You'll learn to effectively monitor water quality along pipeline routes before, during and after pipeline construction.  
We have a limit on how many we can train. If you are interested, please contact robin@ohvec.org right away.
---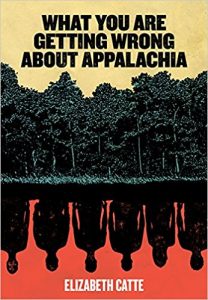 Also in June: Mark your calendar now to save this date: September 15!
September 15 is OVEC's new annual meeting (combining of annual picnic and our Treehuggers' Ball)! 
Our keynote speaker for this event will be Dr. Elizabeth Catte, author of What You Are Getting Wrong About Appalachia.
We'll have several musicians and bands, lots of dancing, good food, great friends and an all-around most excellent day.
The tentative time is for the event is 3:00-10:00 p.m. Of course, you can attend part or all of the event. Location: Upstairs at  Bahnhof, corner of 7th Avenue and 8th St in Huntington, WV. 
Check this page for updates, and do save the date.