–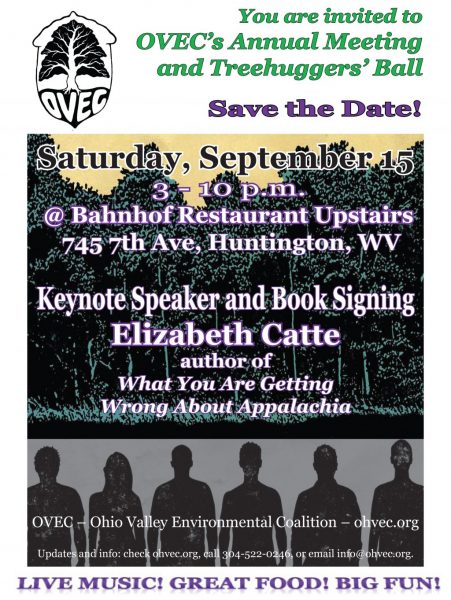 Please plan to join us on for September 15, 2018 for OVEC's annual meeting and our Treehuggers' Ball! 
Our keynote speaker for this event will be Dr. Elizabeth Catte, author of What You Are Getting Wrong About Appalachia. Come meet her, hear her, and get your books signed from 3-5 p.m.
We'll have several musicians and bands, lots of dancing, good food, great friends and an all-around most excellent day.
Here's some of who will be performing from 5-10 p.m.:
BRATCAMB
Moonshine Crossing
Tonya Adkins
Redneck Valley Girls
Keyamo Onage
Karen Scalf
Ian Nolte and four more (!) stand-up comedians
~Join in the quilted-art activity! ~Take part in the treehuggers' costume contest! ~
The raffle will include an Adventures on the Gorge adventure valued at $180!
Check back for updates.
The event takes place from 3 to 10 p.m. Of course, you can attend part or all of the event. Bring your appetite! 
Location: Upstairs at  Bahnhof, corner of 7th Avenue and 8th St in Huntington, WV. 
Read a review of Catte's book here. 
I spoke at the Southern Labor Studies Assoc. conference today in Athens GA & said @elizabethcatte's WHAT YOU ARE GETTING WRONG ABOUT APPALACHIA is the best book I've read this year & you would've thought the Holy Ghost had swept thru the room with all the Amens & hand waving.

— Wiley Cash (@WileyCash) May 18, 2018