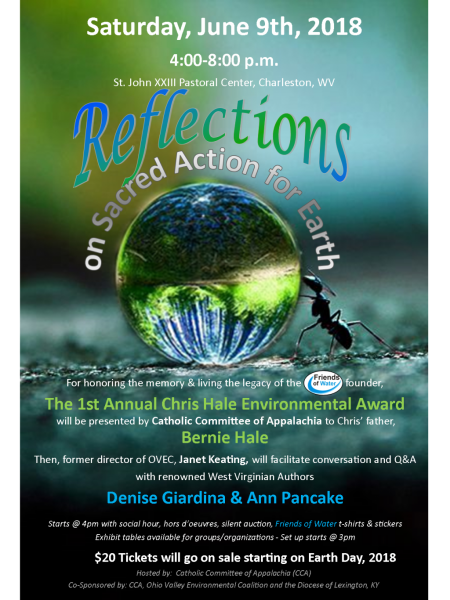 Now is the time to reserve your free tickets, here,  for Reflections on Sacred Actions for Earth.
This Catholic Committee of Appalachia (CCA) event takes place on  Saturday, June 9 from 4-8 pm at St. John XXIII Pastoral Center in Charleston.
The evening's program is a benefit for CCA and includes CCA's first Chris Hale Environmental Award, which will go to Chris' dad Bernie, to honor the first anniversary of the passing of Chris Hale, founder of "Friends of Water."
Along with a memory-display of Chris, and the award presentation, hors d'oeuvres, and a silent auction, CCA will we'll be celebrating the ties between faith-based and environmental groups by giving you an opportunity to share info on your group at a FREE exhibit table. Contact info@ohvec.org if you are interested in this opportunity. 
After the awards ceremony, participants will hear an inspiring conversation between renowned authors/activists, West Virginia's daughters, Denise Giardina and Ann Pancake, entitled "Reflections on Sacred Action for Earth," facilitated by OVEC's former director, Janet Keating. 
Join the event on Facebook here. Let us know you'll be joining us, and invite your friends.
Buy your tickets and find more information here.
Co-sponsors are OVEC and Diocese of Lexington, Chris' home diocese.