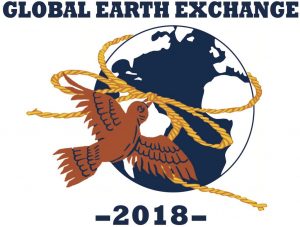 June 16 is a big day for member-groups of the Tri-State Water Defense Network, and OVEC, Marshall University Native American Student Organization, Fourpole Creek Watershed Association, and other member groups invite you to take part.
First, several members of the network will join in a Huntington, WV portion of the Ohio River Sweep. If you want to take part, starting at 8:45 a.m., come to the Harris Riverfront Park picnic shelter on the west end of the park. Find the event on Facebook here, and invite your friends. 
Next, it's the group's main event of the day: Radical Joy for the Ohio River. This event is part of People Binding the Earth, the 2018 Global Earth Exchange. See a list of the events taking place worldwide here.
The Ohio River is the most polluted river in the United States, so show it some love! Join Tri-State Water Defense Network as we gather at Harris Riverfront Park to be in solidarity with the Ohio River. We will meet at noon near the boat ramp to tell stories about our connection to and concerns for the river, sing songs to the river, do readings, and make art as a gift to honor the Ohio River.
The Ohio River, which has given us so much life, needs and deserves our love and acknowledgment of a deeper connection, more now than ever. Learn more about this event here. 
Finally, folks are off to Ritter Park in Huntington at 3 p.m. for the 2nd Annual Huntington Pride Picnic. Tri-State Water Defense Network will join the picnic and set up an outreach table at the event.  
The picnic, which is free to attend, will feature family-friendly entertainment and a cookout-style buffet, catered courtesy of primary sponsors Marshall University, Cabell Huntington Hospital and Sodexo. Find the event on Facebook here, and invite your friends. 
Contact robin@ohvec.org if you'd like to join in any or all of the June 16 events.
If you want to help spread word of the event via fliers, e-mail info@ohvec.org and we will send you a pdf of the image below that you can print. You could also make arrangements to stop by the office in West Huntington to pick up some already printed fliers.