Here is an easy e-action you can take on the issue you'll read about below. Better yet, please call members of the House of Delegates Health and Human Resources Committee who are now looking at this bill to tell them to vote against HB 2598. Why? Read on…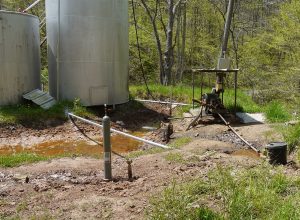 A resurrected bill to exempt oil and gas tanks from the Aboveground Storage Tank Act, HB 2598, is moving swiftly through the WV House of Delegates. This bill would deregulate and remove inspection requirements for storage tanks in zones of critical concern, many of which are located near public water intakes.
Several community organizations such as OVEC and Mid-Ohio Valley Climate Action (MOVCA), as well as individual citizens, formally requested a public hearing to allow citizens to voice our concerns about the bill on the record. Most of those requesting a public hearing also asked for a written receipt of the request. House leadership denied the request. 
That's why OVEC worked with the West Virginia Rivers Coalition, West Virginia Environmental Council, West Virginia Citizen Action Group, and the West Virginia Sierra Club to host a People's Public Hearing on the morning of Friday, February 26. Sam Hickman, the Executive Director of WV Chapter National Association of Social Workers, moderated the hearing.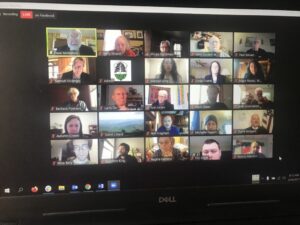 126 people registered to attend the hearing, and it was also broadcast on Facebook live, where about 80 people tuned in live. If you missed it, we will soon post the link to a video of the hour-long hearing here. 
If you want to be inspired before you reach out to your delegate on this matter, then the recording of the hearing is well worth the watch. 24 people testified with some really moving and informative statements. Young adults were especially passionate. Young and old alike noted that bills like this are one reason why so many West Virginians are leaving the state. Who wants to live in a place where clean water is not valued as the essential underpinning of a vibrant economy, let alone as central to life itself?    
If you prefer the written word, here is a sampling of the type of testimony we heard:
Good morning. My name is Elise Gooding.
I just graduated from Marshall University with a degree in Dietetics in hopes of attending medical school. Because of this, I'm looking at my options for the future in terms of where I want to go to medical school and build a life.
Because West Virginia is my home, I want to consider it a strong contender for my future. However, bills like HB 2598 make me reconsider this. The excessive use of dangerous chemicals has made West Virginia a hub of cancer and thyroid issues with people being much more likely to suffer a myriad of illnesses, just because they were born here.
This makes me feel both unsafe and extremely frustrated and want to live somewhere that cares about its people and not just the profit of companies. HB 2598 sends the message that citizens don't matter, and whatever can be done to make things easier for companies that can ruin our health will be done. Bills like this are why so many are moving out of West Virginia as soon as they are old enough to. Because of this, I urge you to vote no on House Bill 2598, thank you.
And from a another young adult: 
Good morning, Mr. Speaker.
My name is Matthew Adkins. I live in Huntington and I am a Marshall University Student as well as the treasurer of the Marshall University Sustainability Club.
I oppose HB 2598, Altering Above Ground Storage Tanks.
I grew up in a small town called Branchland here in West Virginia. In 2014, our state faced a water crisis which did not allow me or anyone in my school district to attend for several months. I was 16 at the time and we did not know that this event would be a defining moment in our lives or the state's. This water crisis was a chemical spill of MCHM, a chemical that is toxic and little is known about. This chemical ended up causing irreparable damages to not only our state, our economy but to our environment.  
The United States Congress in 1976 passed a law called the Toxic Substances Control Act which regulates the introduction of new chemicals. MCHM and tens of thousands of other chemicals were introduced before 1976, so minimal research and testing are available on them. With this minimal amount of testing and research we will never know the long-term effects that this chemical spill will have on West Virginia.
West Virginia is a beautiful and vast state. However with the introduction of this bill it shows we take it for granted. HB 2598, if made into law, would endanger every citizen the way that MCHM endangered myself and my family's lives. If passed it will leave a window for businesses to take their business else where. Young people such as myself see this bill as a smack to the face, redefining our relationship with West Virginia, looking to either stay or more than likely leave.
When voting on this bill put yourself in your constituents shoes, your family's shoes.
Do you want to come home and tell your children they can't bathe? Tell your wife she cannot cook? Or your husband he cannot shower?
No one should ever have to worry if their water is safe or not.
I urge you to, Vote no on HB 2598
And here is the (full written) testimony delivered by MOVCA chairman Eric Engle:
Good Morning. My name is Eric Engle. I reside in Parkersburg, House of Delegates District 10. One of my Delegates, Del. John Kelly, is lead sponsor of House Bill 2598. I am here today to help stress why HB 2598 must never be allowed to become law.
This legislation, to quote from the Charleston Gazette, would "remove tanks containing 210 barrels or less of 'brine water or other fluids produced in connection with hydrocarbon production activities' in zones of critical concern from regulation under the Aboveground Storage Tank Act."
According to the 7th Edition of the Compendium of Scientific, Medical, and Media Findings Demonstrating Risks and Harms of Fracking, a fully referenced 475-page compilation provided by Concerned Health Professionals of New York and Physicians for Social Responsibility, the 2005 Energy Policy Act exempts hydraulic fracturing from key provisions of the Safe Drinking Water Act. As a result, fracking chemicals have been protected from public scrutiny as "trade secrets." Companies are not compelled to fully disclose the identity of chemicals used in fracking fluid, their quantities, or their fate once injected underground. Of the more than 1,000 chemicals that are confirmed ingredients in fracking fluid, an estimated 100 are known endocrine disruptors, acting as reproductive and developmental toxicants, and at least 48 are potentially carcinogenic. Adding to this mix are heavy metals, radioactive elements, brine, and volatile organic compounds (VOCs), which occur naturally in deep geological formations and which can be carried up from the fracking zone with the flowback fluid. A 2020 study identified 1,198 chemicals in oil and gas wastewater, of which 86 percent lack toxicity data sufficient to complete a risk assessment.
These are the "brine water or other fluids produced in connection with hydrocarbon production activities" that HB 2598 would permit in storage tanks in zones of critical concern within our watersheds without adequate oversight. We cannot allow this to happen. It may be cheaper and easier for industry, but one tank malfunction could cause untold suffering. Please vote NO on HB 2598.