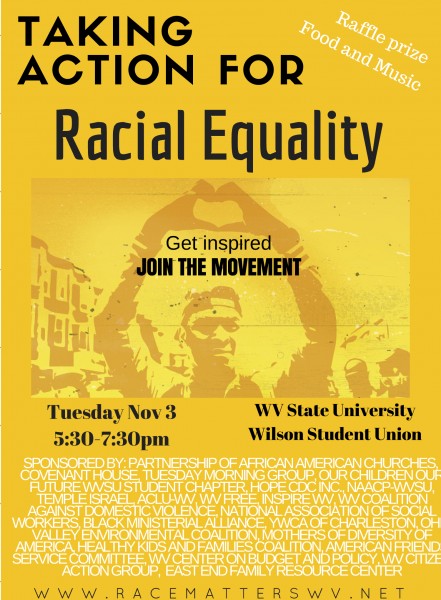 November 3: Take Action for Racial Justice
5:30 – 7:30 p.m.
Wilson Student Union
WV State University
Take Action for Racial Justice will be an opportunity to join a team that is working on a racial justice issue, such as reducing racial disparities in arrests in Charleston, Second Chance Employment Act + Let Me Drive, Let Me Work (both criminal justice reforms), juvenile justice reform, West Side/East End reinvestment, and racial justice dialogue and education.
Nearly 200 area folks (including OVEC members and staff) attended the Summit on Race Matters in Appalachia last November, 40 community leaders (including OVEC members and staff) took an Undoing Racism training in April, 40 students were educated about structural racism at the first ever WV Freedom School this summer, and more than 150 people (including OVEC members and staff) attended the Call to Action for Racial Justice event in June where a lot of inspired ideas were generated.
Now we invite you to join student and community leaders alike as we build power around a racial justice platform of issues and campaigns that we will — with your help! — advance and win on in 2016.
Before the November 3 meeting, help out:
1) Spread the word: Copy this post with your contacts and join and share the Facebook event. post, share!
2) Join a team: If there's a team you would like to join in advance of the event OR if you are unable to attend on Nov 3rd, please contact Takeiya Smith at TRSmith@afsc.org with what team you are interested in joining and she will get you connected with the team leaders!
3) Sponsor the event: If you would like to be a sponsor of this event, please contact Lida Shepherd at Lshepherd@afsc.org.
4) Visit the brand new Race Matters in WV website, created with grant funding from the WV Humanities Council and support from the WV Center on Budget and Policy. If there is something you would like listed or included on this newly developing site, please contact Tara Martinez at Tmartinez@wvpolicy.org.
5) Register to attend the Summit on Race Matters in Appalachia November 10 – 11 in Lewisburg.
Here's the list of current Take Action for Racial Justice event sponsors:
Partnership of African American Churches
WV Citizen Action Group
Tuesday Morning Group
Our Children, Our Future WVSU Student Chapter
Hope CDC Inc.
NAACP-WVSU
Temple Israel
ACLU-WV
WV FREE
Inspire WV
WV Coalition Against Domestic Violence
National Association of Social Workers
Black Ministerial Alliance
YWCA of Charleston
OVEC – Ohio Valley Environmental Coalition
Mothers of Diversity of America
Healthy Kids and Families Coalition
American Friends Service Committee
WV Center on Budget and Policy
Covenant House
East End Family Resource Center