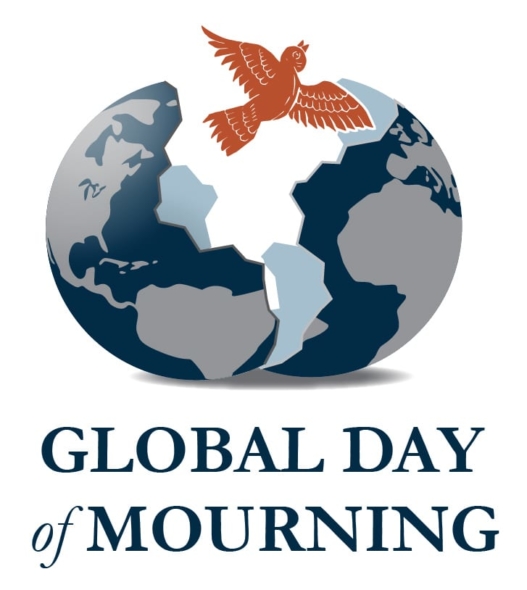 Since January 10, 2020, more than a million people worldwide have died from COVID-19, more than a quarter of a million in the U.S. alone. On December 10, our nation hit a record 3,000+ deaths, the most in a single day. As COVID-19 rages in our communities, the negative impacts have cascaded and infused into nearly every aspect of our lives—from lost jobs and incomes, unpaid mortgages, poor health (mental and physical), loss of physical contact (which we all need) and camaraderie, lost celebrations, etc.  We are suffering from a multitude of losses.
Shouldn't we take time to mourn these losses? Grieving the loss of a family member, friend, acquaintance, or other losses, gives us permission to also remember the joy and beauty that a person, an event or entity brought to our lives. In essence, we grieve and celebrate, simultaneously. To that end Radical Joy for Hard Times (Rad Joy) invites you to join us in A Global Day of Mourning for all victims of Corona virus, January 10, 2021, one year after the first recorded death from COVID-19.
Carol Warren and I, former OVEC staff, currently participate in Rad Joy's Earth Ambassadors project, a small global group that practice "attending to place," a unique way of interacting with our respective environments.  OVEC has also participated in some special events that Rad Joy has organized.  In 2014, Carol organized "The Ground Beneath Our Heart," a global event where people met to tell stories about and highlight the former beauty of places that were devastated by mining. Additionally, I co-organized 2 Global Earth Exchanges (page 3, Sept. 2017) (GEEx) bringing attention to pollution in the Ohio River. During our GEEx, we talked about our connections to the Ohio River and then made beauty in this wounded place.
Below, first Carol, and then I, present two different perspectives about the need to mourn all the losses that we are confronting since the pandemic began. We hope that you will also join us for the on-line events organized by Radical Joy for Hard Times on January 10, 2021.
On a personal note, Carol writes:
We humans really are stubborn creatures. It seems to take an intimate confrontation with Mortality to jolt us awake. I certainly was going about my life from here to there, meeting this group, doing that conference call, spending time with friends and family. And then, the first Stay at Home Order rudely inserted itself into my plans. Fortunately, I have a dog to walk, and ventured warily outside into the park across the street – a park with a beautiful garden.
It wasn't as if I'd not noticed the park and garden. Busy Me would occasionally remark on a beautiful grouping of flowers, or take note of lemons on the trees. But spending time there with only observing as my agenda, I began to find and appreciate other gifts. Pearly snail trails crisscrossing the sidewalk, luminescent in the morning light. A flower so sweet the fragrance stopped me in my tracks. And the ants. Suddenly, one day in late April, there they were! Thousands of them, their platoons wending their way along each of the garden walks, on their way somewhere unseen.
This attention to the natural world outside began to break me open to exploring the inscape. Observing the seasons passing, I found myself asking, "What season of life am I in? What is this season designed for?" One day in October, the ants vanished – not a few, all of them. I wondered if we humans might have as clear a call that tells us, "Now! Now is the time!"
Over these months, I have learned that Creation knows how to deal with relinquishment. The trees become their most beautiful and glorious right before the leaves fall. In the midst of the pandemic's shattering grief, we hold our memories close, since we can't hold each other. We learn that we can't continue to abuse our relationship with the natural world and survive, but Nature can teach us if we will listen and watch.
So on this Global Day of Mourning, I will be grieving the lives lost, the dreams abruptly ended, and the appalling lack of empathy and awareness that got us here. I will also be mourning the gifts I never claimed because I never recognized their offer of wisdom for the future. I will remember that this pandemic, too, is a Season from which we will emerge to new possibilities.
Janet's perspective:
Many of us know about the 5 stages of grief:  denial, anger, bargaining, depression and acceptance.  According to David Kessler, who co-authored two books with Elizabeth Kubler-Ross (well-known author of "On Death and Dying"), through his personal experience, suggests a 6th important stage:  finding meaning.  
Mourning is not a linear process. Nevertheless, grieving provides us an avenue for moving forward.  As a personal example, I remember so clearly a day after my divorce in 1985 sitting with my young daughter in a popular deli, waiting for lunch.  As I looked around, I was suddenly struck with a moment of clarity, which quickly changed to empathy.
Feeling despair by my own circumstances, I realized that every person in that room could be suffering silently from some emotional pain or loss.  My heart opened, transforming the experience of loss to a feeling of greater empathy for my fellow humans—the silver lining in dark cloud.  Meaning born from loss.
Like many of you, I've given so much thought to this pandemic—wondering how we've landed in this place at this time.  I've wondered whether or not the averting of our eyes from the many destructive practices impacting all life on earth and the very ground beneath our feet, avoiding the grief that comes with acknowledging the loss, hasn't in some way led to COVID-19.  
Could our world be suffering from unacknowledged grief? Are our losses compounded by our inability or unwillingness to face them?
Like the proverbial bull in a china shop, we continue to clear-cut, raze, bulldoze and develop every square inch of our earth, coming in closer contact with species that harbor viruses like Sars-CoV-2.  Committing these and similar actions, we may only look at one side of the equation—profits. Left unacknowledged, these cumulativeness loss may keep us on a destructive path, robbing us of the transformative experiences of joy (or empathy for) embodied in that person, job, forest, celebration, etc. 
Once we grieve these losses, we can begin to see the intrinsic value of all life.  We come to understand that the brokenness in our world as a reflection of our own broken selves.