A recent blog ended with a  panoramic view of a generic hydraulic fracturing project on an horizontal well pad. This photo, from December 2016, is shown again here as Photo 1. The wide- angle view shows most of the equipment needed to complete the shale fracturing process once the well bore is done. The equipment here is typical and high quality. The operator here is reputable and responsible. Well-designed equipment is used.
Unfortunately, this site is anything but typical. In fact, in my opinion, it is a very poor location. However it is not possible to see why with just this one photo. To fully understand the problems here, we need to turn back the clock a few years, and also look at the whole neighborhood. This piece of rural real-estate did not always look like this dangerous, heavy industrial work place as it does here. Let's see what it used to be like just a few years ago. We will also see how the industrial plant is allowed into this rural, residential setting.
Before you scroll down, note the red arrow in the photo below, which points out the recent pipeline right of way which comes down the hill.
Once upon a time, not too long ago, in a grassy field not so far away, we could see this field of lush green in Photo 2. Just like spring time in Narnia. This rich soil and farm pasture land in rural Wetzel County had only recently been disturbed by the new pipeline coming down the hillside where the red arrow is. This useful agricultural bottom land along the stream looks like many of the other open meadows here in Wetzel County. Or, unfortunately, it used to look like that. The land had been farmed for the past century, for many generations.
But now out-of-state fossil fuel financial powers had their eyes on it. In southern West Virginia, many massive mountain tops were first removed by the coal companies, and now in northern West Virginia many other hills have been leveled for fracked gas well pads. The gas companies like to save a few dollars when they can, and it is cheaper to use sites like this which are level to begin with, and right on a public road. What's not to like, right? Now that is convenient. So now, we do not have as many good fields here as we used to.  
In Photo 2, on the hillside in the back is the same pipeline right of way as in Photo 1. And at the bottom of the hillside is the stream that drains the valley here; it flows from left to the right. For some of us who use Google Earth, the aerial view shown in Photo 3, also helps also to visualize all of this.   
Photo 2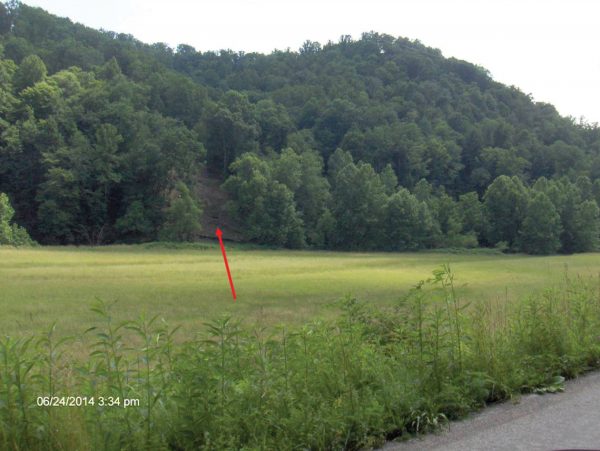 Photo 3 allows us to go up to about 3000 feet, and back in time to September 2013. We see a hard-working farmer cutting hay in the future well pad location. Also visible is the stream bed, called Wiley Fork. I have drawn it darker in blue to make its location more visible. We can sees a few buildings, too.
Photo 3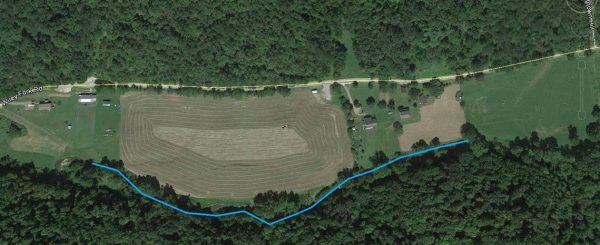 Let me point out what else can be seen in the small details. Photo 4 shows three homes and one church, the Higgens Chapel. The homes on both sides of the well pad are in red circles. There are numerous homes all along this road in both directions. I have only marked the three nearest the well pad. Anyone who has followed the past 10 years of shale gas exploration and development of the Marcellus Shale has heard of the occasional fires on and gas leaks at well pads.
The critically observant reader could easily and accurately conclude that these homes seem to be rather close to the proposed well pad. Well, you are right. That distance is important and regularly argued. In December 2011 even the industry-influenced West Virginia legislature, concluded that the "setback" distance between the center of the well pad and the nearest home must be at least 625 feet; unless the homeowner signed a waiver to allow it to be closer. (Hint: If gas company land men approach you, do not sign anything! Get a lawyer! If you live in West Virginia, OVEC can help network you with a lawyer. E-mail info@ohvec.org or call us at 304-522-0246.) 
Photo 4 shows the distance between home 1 and home 2 is about 1,420 feet. That measurement is the first legal starting point. It is critical, as it can restrict a well pad location. Let us do some math here. It is rather easy, really. If we split the 1,420 in half and subtract the 625 feet requirement, we will have 85 feet to spare.  Great. But, since the gas company needed the water storage tank (seen in Photo 5), they needed to offset the well. Therefore, with a  generous financial encouragement, they got permission from home owner number 2 to move the well pad closer. All still legal. Unfortunately home number 3, also gets the well pad closer to it. But they do not count since that dwelling is slightly more than 625 feet from the center of the well pad. Click here to see two samples of an "Easement Agreement."  These contracts have been used in Pennsylvania to prevent future legal claims of nuisance against gas companies. Note that within the agreement is a payment of $40,000. One contract is for one year, after all eleven well have been completed, which could take years. The other is forever. Covers everything. (Hint: don't sign anything without first contacting a lawyer!)
Photo 4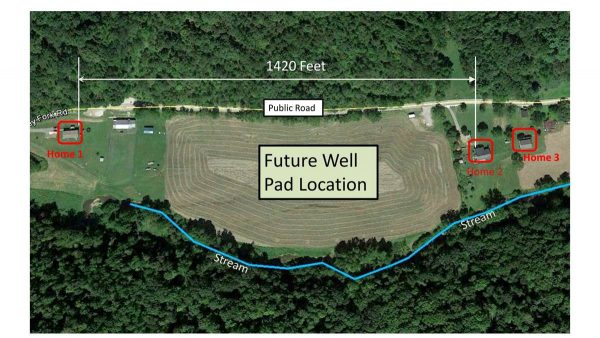 The only other legal restriction is the distance from the well pad to the stream. That must be more than the minimum setback of 100 feet. So, we have a legal well pad in this location. Needless to say, I am of the opinion, as I will further explain, that this is a very bad location for any well pad; even for a responsible, technically conscientious, reputable operator. But, strictly speaking, it is a legal location, properly permitted by the state of West Virginia. It does comply with the letter of the law. 
That short history brings us up to the past few months. Let's go to Photos 5 and 6 to see what the well pad looks like now. Photo 5 shows what the well pad looked like on October 5, 2016. The new industrial operations have permanently moved in among my neighbors. Pasture and hay field gone forever. We have no zoning laws here. Nothing is defined as "rural,"nothing defined as residential, nothing is zoned as industrial. Anything goes. Anything which complies with the minimal existing limitations is acceptable. Good for the gas companies. Not so good for the residents and my neighbors. People still live in all three homes seen in Photo 5. As we can see, it is no longer a quiet, agriculture setting anymore. No more hay to cut. No more quiet neighborhood. And no end in sight. This industrial facility will occupy this land for many decades.  
In Photo 5, we see the dimensions from the edge of the well pad to homes 2 and 3. Even at the distance of 480 feet, home 3 is still outside of the legal restriction, since the law says well pads must be measured from the center of the well pad, not the edge. No one has explained why that is considered reasonable or intelligent. We also see three homes and one church. The latter does not count for the setback rule. Must be a residence.
Photo 5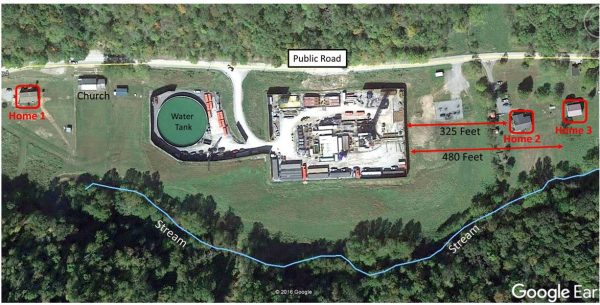 Photos 5 and 6 are at about the same time period. Photo 5, above, is the aerial by Google Earth on October 5, 2016 and Photo 6, below, is mine taken a few days before, on October 3, 2016. If you look real carefully, almost everything in one picture can be seen in the other. Maybe we could do a "where's Waldo" on the well pad?
Photo 6


This essay provides some detail on the many problems I have with this well pad location. They include: close to homes, flood plain, nearby stream, deep valley, air pollution, and traffic congestion. But for now, the last composite photograph, Photo 7,  shows where we started and where we are now.
Photo 7