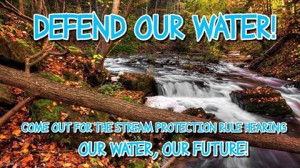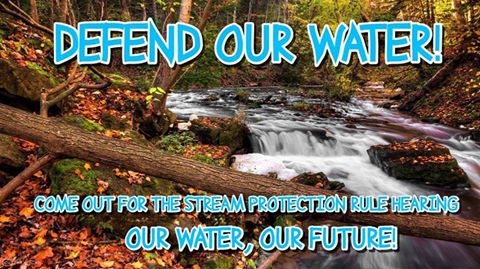 All hands on deck! Even if you don't want to speak in public, please come out. (Wear blue.) We need a good presence at the:
Stream Protection Rule Draft Environmental Impact Statement Hearing
5:00 – 9:00 p.m. Thursday, Sept. 17
Charleston Civic Center
200 Civic Center Dr., Charleston, WV

The Office of Surface Mining Reclamation and Enforcement (OSMRE) has held public hearings on the Stream Protection Rule in several states. Tomorrow night's hearing in the Charleston is the final hearing.
Written comments can still be submitted – until October 26. If you do want to speak out at tomorrow's hearing, you can either make statements in public, or you can have your statement privately recorded. Here are some talking points to help you write-up your own comments.
Before heading to the hearing, come to the Our Water, Our Future Pre-Hearing Party to enjoy refreshments and one another's company. Learn more about the proposed rule and all the groups sponsoring the party: OVEC, Kanawha Forest Coalition, Sierra Club West Virginia Chapter and West Virginia Rivers Coalition. The pre-party begins about 3:00 p.m. at the Holiday Inn Express across from the Civic Center, at 100 Civic Center Dr. More details here.
We are offering rides from Logan, Huntington/Barboursville, Beckley or Weston, but if you want a ride, we need to hear from you today. Details here.
Learn more here.