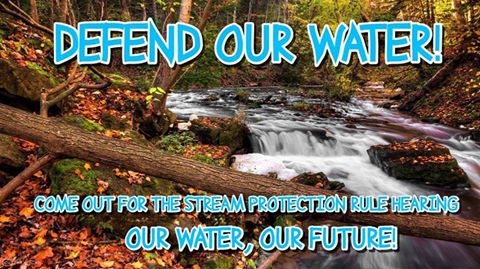 Update: Wear blue.
Calling all water drinkers: We need your voices! Come out to the "Stream Protection" Rule hearing in Charleston, WV on September 17. Water is one of the most valuable resources on Earth. Don't let anyone stand in the way of your children's and grandchildren's right to clean water.
But before you speak out, come enjoy one another's company. OVEC, Kanawha Forest Coalition, Sierra Club West Virginia Chapter and West Virginia Rivers Coalition invite water- and mountain-lovers to a Our Water, Our Future Pre-Hearing Party.
The pre-party begins about 3:00 p.m. at the Holiday Inn Express across from the Civic Center, at 100 Civic Center Dr. Enjoy refreshments and friends and pick up talking points for the hearing at our info tables.
We'll go over together to the hearing:

Where: Charleston Civic Center – 200 Civic Center Dr., Charleston, WV
When: September 17, 2015
Time: 5:00 – 9:00 p.m.
Need a ride? Check out: Rides Available to "Stream Protection" Rule Hearing
Learn more:
Stream Protection Rule? Your Comments Needed!
Make Your Voice Heard: Stream Protection Rule Talking Points