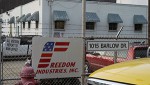 As you will recall, in January 2014 a Freedom Industries chemical spill into the Elk River poisoned the drinking water of some 300,000 West Virginians. Under intense public pressure, legislators passed some new laws to protect human health (and in following years, the legislators have been rolling back those protections, but that's another story).
One of the laws still standing requires public water systems to, with public input, develop source water protection plans.
Below are OVEC's comments to WV American Water for the Huntington-area source water protection plan (SWPPs). We offer these up for you to use as you can make your own comments to public water systems in your neck of the woods.
All state public water utilities are required to submit their plans to the WV Bureau for Public Health (WVBPH) by July 1, so the sooner you give your input to the your local public water system, the better. If you are commenting on an area "served" by WV American Water (WVAW's "service" to our area is another another story; also see Advocates for a Safe Water System), you may e-mail your comments to Jennifer L. Heymann, Source Water Protection Manager at  WVAW. Her e-mail is jennifer.heymann@amwater.com. WVAW will accept and review comments at any time; however, comments should be submitted prior to May 2 for consideration in the SWPPs to be submitted to WVBPH.
Before you prepare your comments, you may want to check out WV Rivers' Coalition's webinar on drinking water protection.
Our earlier blog, Source Water Protection Plans: Have Your Say, has more info you may find helpful.
After the public water utilities submit their plans, the WV DHHR will schedule meetings in various locations statewide for citizens to attend and offer further comments; please watch our blog and action alerts for more information, and plan to attend to protect your water!