Guest blog post by Cathy Kunkel. Cathy delivered the comments below during a January 7 tele-press conference about the one-year anniversary of the MCHM water contamination crisis in WV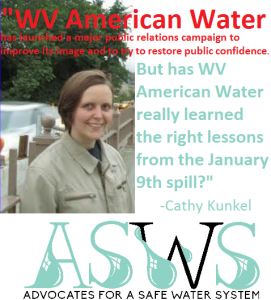 You can listen to a streaming audio replay of the tele-press conference here.
I am one of the founders of a new community organization that came out of the water crisis called Advocates for a Safe Water System.
We are focused on our water utility, WV American Water, because they are the ones ultimately responsible for providing us with safe water.  Its clear from the water company's actions since the water crisis that they are not going to make the necessary changes on their own, without public pressure.
WV American Water is a subsidiary of a New Jersey holding company, American Water Works.  Even in the early days of the water crisis, it was apparent that WV American Water bore some responsibility for what was happening.  We learned that WV American Water had no knowledge of this chemical that was sitting in a tank – clearly visible from the interstate – along the river 1.5 miles upstream of their intake.  We learned that the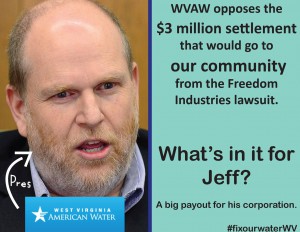 water company had been informed by the Bureau for Public Health back in 2002 that their intake was highly susceptible to contamination but that they had only researched 3 of the 27 potential contaminant sources that the Bureau for Public Health had identified for them.
We learned that the water company downgraded its chemical testing laboratory at its treatment plant about ten years ago.
We learned that the water company had no alternate water supply in case their sole intake got contaminated.
We also learned that the water company's infrastructure is in terrible condition.  The water company loses 35% of the water it treats to leaks – it never even makes it to customers. That kind of high leakage reduces the amount of time that the water company can shut off its intake in the event of an emergency.
And we learned that a passive attitude towards our water was clearly not enough to keep us safe.
WV American Water has strongly defended its response to the crisis, and has resisted attempts by citizens and regulators to understand what went wrong.   The water company is currently the subject of an investigation by the Public Service Commission, which is looking at the utility's response to the chemical spill.  The water company vigorously resisted requests for it to turn over its emergency planning and preparedness documents. The company has repeatedly tried to narrow the scope of the commission's investigation to exclude issues of planning and emergency preparedness.
The water company has made little effort to engage with the public's concerns or try to understand what it would take to restore public confidence in the water.
Last month, WV American Water announced that they have started to make some of the changes that citizens have been calling for since January 9th.  In particular, they installed new chemical testing equipment at their treatment plant, to replace the equipment that was removed in 2004.  They also announced that they have purchased and are planning to install chemical monitoring equipment at their intake.  It is not clear why they waited so long to make these changes.
One year after the water crisis, there is still a lot of public mistrust of the water company, and a lot of concern that they have not done enough to address the failings that were made apparent during the crisis.  We need a proactive, transparent water system that engages citizens in making our water system safe.  Instead, the water company's attitude has been one of stonewalling and denying responsibility.  Their actions this past year show that their top priority is protecting their corporate interest from liability, instead of putting their customers' interests first.  If there's one thing we've learned from the water crisis it is that public pressure can help protect our water.  Advocates for a Safe Water System is going to keep pushing for changes from the water company because its clear that the company is not going to make the necessary changes on its own.