Statement from OVEC Executive Director Natalie Thompson: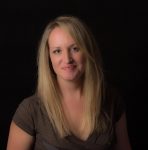 January 9, 2018 marks four years since the crisis where the coal-cleaning chemical MCHM leaked into the Elk River just upstream from West Virginia American Water's intake, leaving about 300,000 residents in portions of nine central West Virginia counties without access to potable water for more than a week.  
The crisis devastatingly underlined these facts: We simply cannot live without clean water, and our economy cannot function without clean water. The crisis underlined how cavalier our elected officials and polluting corporations have been with West Virginia's most precious resource. The citizen response to the crisis reminded us of the power of organized people; together we can  demand changes for a healthier quality of life.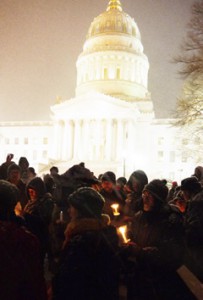 The crisis happened as the West Virginia Legislative Session was underway. Outraged citizens descended on the State Capitol to demand enforcement of existing laws and smarter regulations aimed at making polluting industries take better care of our vulnerable water resources. Citizens came out in numbers that packed the hallways, and they came out daily.
Citizen pressure brought about some excellent new protections by the end of the 2014 Legislative Session. But, every year since then, special interest lobbyists have been hounding politicians to weaken those protections to ensure higher profit margins for industry. Money is prevailing over the fundamental needs of our residents.
You can help defend our water! This year's Legislative Session begins on January 10. OVEC and other progressive groups plan to have a presence at the Capitol, but let's be real: we don't have the same access to politicians as do the industries that donate large sums to political campaigns. So, let's bring on the people power! Our legislators need to hear from all of us.
For anyone who is compelled to stop the momentum of industry persuasion in our state, please plan on joining us for the 60-day Legislative Session as often as you can. I will be there often, and I'd be happy to have you join me. Contact me at natalie@ohvec.org or at the OVEC office, 304-522-0246.
If you can't let your voice be heard in person, please make sure you are on the action alert lists for OVEC, the WV Environmental Council, WV Citizen Action Group, and WV Rivers Coalition.
To stay current, please follow assorted groups on Twitter: OVEC, WV E-Council, WV Citizen Action Group, WV Rivers Coalition.
Your voices matter, but our politicians will only hear you if you make them listen. Speak up and speak out!
—–
Current News
Final water settlement hearing falls on 4 year anniversary of Freedom spill
Related Archival Posts 
October 14: Community Meeting on MCHM Water Crisis Settlement; Your Questions Will Be Answered
#WVWaterCrisis Gains in Peril: Call Your Legislators!
Two Years After Elk River Chemical Spill
Reporters' Resources: One Year Anniversary – WV Drinking Water Chemical Contamination
Statement from our then-ED made on January 10, 2014:
This scary and broad-scale emergency focuses our thoughts on the vulnerability of our water supply, especially as it relates to energy development. We hope our state leaders realize that clean water can not be taken for granted and needs to be actively protected. Water is not only vital to all life, but also necessary for a fully functioning economy…
We will continue to monitor this serious situation and invite citizens to express their concerns to all elected leaders about the need to protect our precious and vital water resources.