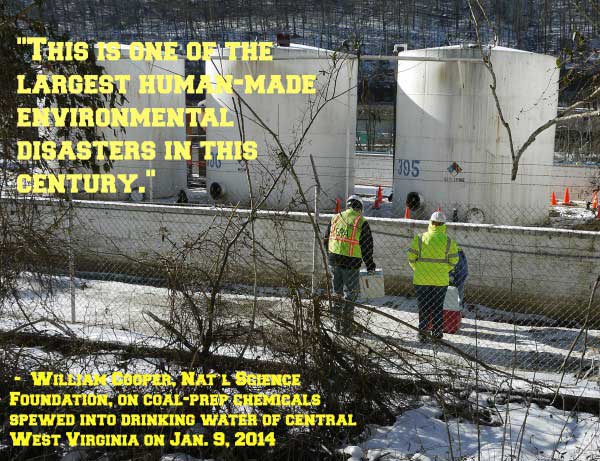 A settlement has been approved in the case of Good v WVAW, the class action against West Virginia American Water Company and Eastman Chemical Co. over the January 9, 2014 MCHM water crisis.
Got questions? Get answers! Come to a community meeting:
6:30 – 7:30 p.m. Saturday, October 14
Charleston Civic Center Little Theater
200 Civic Center Dr, Charleston, West Virginia 25301
Join the event on Facebook here, and do let your neighbors know about the meeting.
Lawyers and staff will be present to answer your questions. You can pick up claim forms and find out what kind of claims you can file. Everyone who lived or worked in the affected area is due money. Impacted business and non-profit groups may also file claims. 
Background Information
A September 21 article by Ken Ward Jr. of the Charleston Gazette Mail, titled, Judge gives water crisis settlement preliminary approval, reports, "Kanawha Valley residents, businesses and workers (are now) able to file claims to seek their share of the $151 million settlement of the class-action lawsuit over the January 9, 2014 water crisis."
The water crisis left up to 300,000 residents in portions of nine Central West Virginia (Boone, Clay, Jackson, Kanawha, Lincoln, Logan, Putnam, and Roane counties and the Culloden area of Cabell County) without access to potable water for more than a week.  
Before the settlement is considered for final approval, class members will be given an opportunity to exclude themselves or "opt out" of the settlement, or to voice any objection at a final fairness hearing, which has been set by the Court for 10:00 a.m. on January 9, 2018.
Class members will be able to submit claims as soon as they receive the notice and claim forms (now going out in by mail). Claim forms may also be downloaded at wvwaterlitigation.com or, you can call 1-855-829-8121 to get a claim form. 
The final deadline for filing claims is February 21, 2018. Distribution of the settlement funds will not begin until the settlement is finally approved by the Court and after all claims are filed. Deadline and hearing dates may change.
The Gazette-Mail article notes:
Under the settlement, residential households will be able to file a simple claim form and obtain $550 for the first resident and $180 for each additional resident. Residents also may file more detailed information about their losses—for things such as bottled water or replacement of appliances—if they provide some proof of those expenditures.
Businesses can likewise obtain flat payments, based on their size, or can submit documentation of specific losses to have those recouped.
The settlement also provides additional payments to women who were pregnant at the time of the chemical spill that sparked the water crisis, residents who had medical expenses, and hourly-wage earners who lost money when businesses they worked in closed during the crisis.
The class covered by the case includes 224,000 residents and about 8,000 businesses. It includes basically any business or resident who received tap water from the Elk River intake plant and any hourly wage earner whose employer closed because of the spill and resulting water system contamination.
More News Coverage
Public forum to help W.Va. water crisis victims learn how to file legal settlement claims
Claim forms going out, website launching for chemical spill claim filings
Judge OKs $151M Elk River Spill Class Settlement
Federal judge gives preliminary approval to 2014 water crisis settlement
Judge tentatively approves lawsuit in WV chemical spill that left 300,000 people without tap water