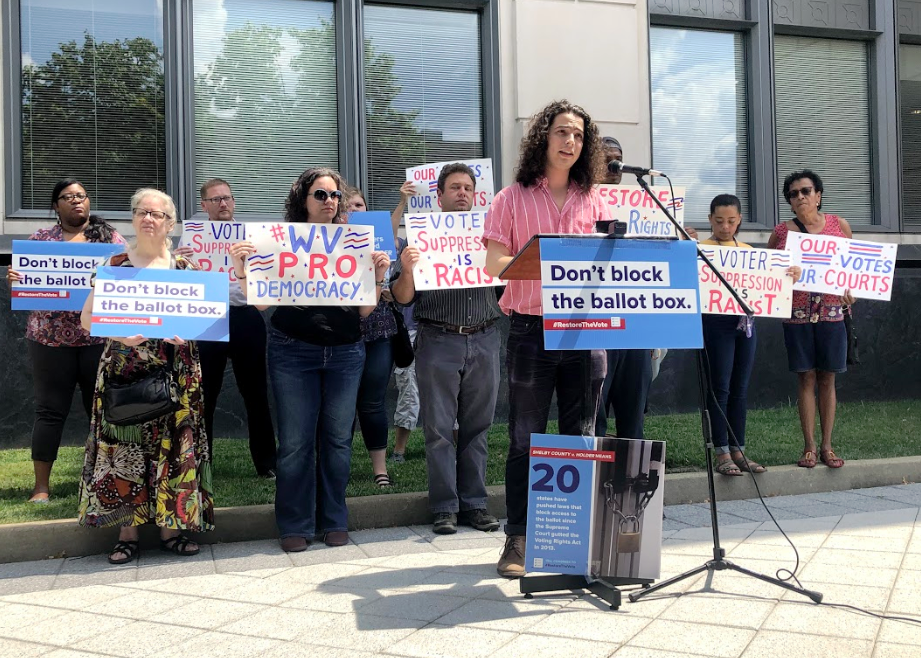 Statement by Jules Kessler, WV Wesleyan student and an intern with WV Healthy Kids & Families Coalition, presented at Stand Up For Voting Rights: Restore the Voting Rights Act
Today we have to talk about white supremacy; as I see it any conversation about voting rights and voter suppression that isn't too a discussion of white supremacy is missing a key element. We have seen over the last few days, and continue to see again and again how white supremacy is woven into the fabric of this country. And restricting who has access to the voting booth has always been one way that that system and ideology has been maintained. From systems of slavery and land ownership requirements to laws like the grandfather clause, poll taxes, and literacy tests to current racist gerrymandering and ID laws, the tools of voter suppression have always been used to limit and dilute the political and electoral power of black and brown communities. Like white supremacy in any form, voter suppression is inherently violent and we must adamantly, wholly, and collectively fight to uproot it.

Voter suppression, like white supremacy in any form, does not only harm black and brown communities. While communities of color always bear the most weight, we all get affected to some degree. Whether it be poor white folks losing their rights because of voter ID laws, rural communities losing the vote because of inaccessible polling locations, or students having their political power diluted through gerrymandering to divide campuses and make polling place less accessible, many of us are directly impacted. And all of us are affected by living in a "democracy" that actively suppresses and discourages engagement and participation. 

We ALL deserve a thriving, engaged, and true democracy. One where participating is accessible and encouraged. One where violent systems of white supremacy and voter suppression do not exist. We know that if we build an engaged and thriving form of governance at every level we too can build the equitable and just future that we all deserve. 
Take action to restore the Voting Rights Act. Call your Congressional representatives, and tell them to pass HR-4, the Voting Rights Advancement Act.
1st District
Congressman David McKinley – (202) 225-4172
2nd District
Congressman Alex Mooney – (202) 225-2711
3rd District
Congresswoman Carol Miller – (202) 225-3452