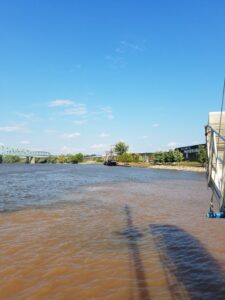 At the June 6th ORSANCO Commission Meeting, the topic of pollution control standards was settled – for now – but not to everyone's liking, as can be seen in this National Wildlife Federation press release.
Here's what happened: The Commission voted to adopt the proposal which was under a public comment review earlier this year. This proposal preserves ORSANCO's pollution control standards, and the review processes, but affirms the ability of states to utilize their own processes for arriving at pollution standards which preserve the uses of the Ohio River. The back story on this is that this has been the status quo for a couple of Ohio River border states for some time.
West Virginia, however, has been among the states that utilize ORSANCO standards in their permitting processes. We hope this will continue, and that those states which do not currently adopt all ORSANCO standards into their permitting processes will work towards this end, as Ohio is currently doing. We know, however, that there is now a danger of new permits being issued by any state in the ORSANCO compact – including WV – with diminished standards.
Rich Cogan, of the Ohio River Foundation and the current chairperson of the ORSANCO Watershed Organizations Advisory Committee – of which OVEC is a member – called this decision "disappointing." We would tend to agree; ORSANCO's pollution control standards can now legitimately be called "voluntary." We believe, however, that it is important to continue to work with ORSANCO and our state regulators to ensure continued utilization of these standards in our permitting processes. The way forward is a little murky, kind of like Ohio River Water sometimes.
It is now even more important for citizens to watchdog their regulatory and legislative officials. Citizen engagement on these issues gets results: the thousands of comments received by ORSANCO are directly responsible for maintaining the pollution control standards in this newly adopted proposal. Prior to citizen engagement, ORSANCO was proposing to completely gut their pollution control standards setting processes.
Working within the Watershed Organizations Advisory Committee, we will be working toward gaining a watershed organization member seat on the task force that will be named soon to discuss how to implement the new pollution control standards proposal. This is crucial to determining how to handle reporting standards, and to continually urging ORSANCO to put in some bench marks for improved compliance with their pollution control standards. We also want to work with them to make sure that monitoring processes currently in place continue, and possibly increase.There is some great collaboration going on between ORSANCO and the "Water Users" Advisory Committee, which includes WV American Water officials. This will help improve spill detection and emergency preparedness. There will also soon be a study on PFAS/PFOA (C-8 and related contaminants) in the Ohio River, sponsored by ORSANCO.
There are a lot of good things happening, but we, as citizens and water consumers of the Ohio River, need to take responsibility for our water quality, and work diligently to ensure it is protected. Don't sit this out… if you would like to get involved and learn more about your water system and how to protect it, please contact me, Robin.